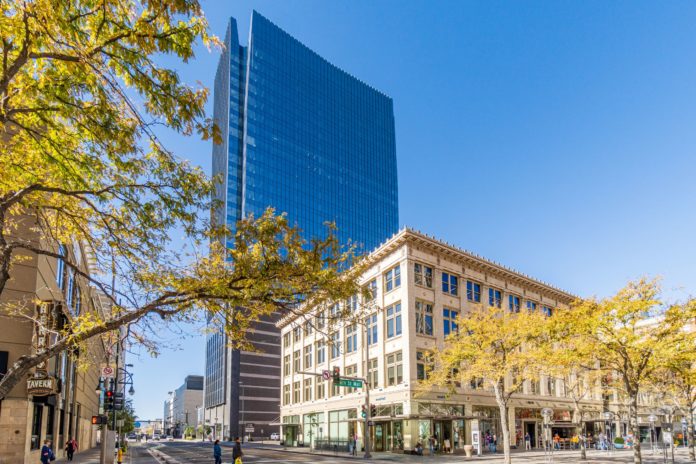 Haynes and Boone announced this week that its Denver office is relocating to Block 162, the city's newest skyscraper. The firm will move into the 30-story office tower in the third quarter of 2022.
According to Dan Malone, administrative partner of the firm's Denver office, the impetus for the move is simple: their lease is up. The firm had a five-year sublease agreement for its current space at 1050 17th Street. With that set to expire in July, Haynes Boone looked for a more permanent home.
Malone said the firm wanted to find a "state-of-the-art, premier, centrally located" space that could attract and retain talent and be used to entertain and support current and prospective clients. They also looked for a space that would lend itself to collaboration.
"As a culture at Haynes and Boone, we're very collaborative in nature. And I think the team that's been assembled in Denver thrives with the collaborative nature," Malone said. "Having a space that celebrates that and gives us all a platform to collaborate is of utmost importance to us."
Block 162's amenities help facilitate that collaboration, he added. The building's 11th floor amenity area has a fitness center, a social lounge and conference and meeting spaces. An outdoor sky terrace features a roof garden, exercise lawn, fire pits, seating areas and a conference table. The building will also have a restaurant and coffee shop.
"That creates incentive to utilize an office space," Malone said of the building's amenities. He added the space is "not just square footage that you close the door and stand behind, but it's a place that employees are attracted to and actually want to come in to work."
The building's other draws include the fact that it's a "first-generation space," Malone said, allowing the firm to build the office to fit its needs. It also has some of the best security in the city, he added, which will keep employees and their files safe.
Haynes and Boone will occupy 13,125 square feet on level 22 of Block 162. Malone noted that's an increase from the office's current footprint and comes with the option to expand during the lease to accommodate the firm's growing presence in the city. The Dallas-headquartered firm has a total of 18 offices in the U.S., UK, Mexico and China. Haynes Boone opened its Denver office in 2015 with "just a handful of folks," Malone said, "and now we're at over 20 attorneys."
"We've seen an uptick in practitioners relocating from New York, San Francisco, and California generally, into Denver," he said, adding that the firm has invested in the office "to account for the continued growth in the Colorado and Denver region over the next decade." The Denver office advises business clients across the Rocky Mountain region, including start-ups, private equity firms, financial institutions, oil and gas companies and Fortune 500 companies.
Not only will the new office have more space, but it will be "much more efficient space," Malone said, noting that the current office was not built for Haynes Boone, nor was it necessarily built for a law firm. "We got the furniture, the carpet — everything that was already there was there, which creates inefficiencies in square footage," he said of the subleased space. "The new model going forward for a lot of law firms is efficient use of square feet."
According to Malone, Stantec is doing "the lion's share" of the design, which features a lounge and kitchen with floor-to-ceiling windows and panoramic views of the Front Range as well as reception and conference areas with mountain views. "If you step foot into our suite, it's impossible not to know you are amidst the Rocky Mountains in Denver, Colorado," Malone said. "And it's something that none of our other 18 offices can really offer. He added that the office is "being designed with the future in mind in terms of custom lighting, custom acoustics [and] custom audiovisual."
Despite the pandemic, many of the firm's attorneys have elected to work from the office. "From what we've seen on a voluntary basis here in Denver, folks choose to come in to the office more than they choose to stay remote," Malone said. "And I think our clients and our teams thrive in that setting." COVID has accentuated the importance of technology, he added. "Haynes and Boone has been a technology-first firm ever since I joined it," Malone said. "We needed little to no investment to thrive during the pandemic because of our investment in technology."
Block 162, located in Denver's central business district, is the city's 11th tallest building. The tower boasts 10-foot ceilings on all office floors and was awarded LEED Gold Core and Shell Certification. "With spectacular Front Range views, large, light-filled floor plates, tall ceiling heights and generous parking, we are confident we will continue to attract high-caliber companies like Haynes and Boone, as quality, safety and flexibility remain top priorities for tenants," said Robert Fields, president and CEO of Block 162 developer Patrinely Group, in a press release.
Haynes and Boone won't be the only law firm calling Block 162 home. On Dec. 9, Sherman & Howard announced its Denver office has relocated to the building, making it the first tenant to move in.