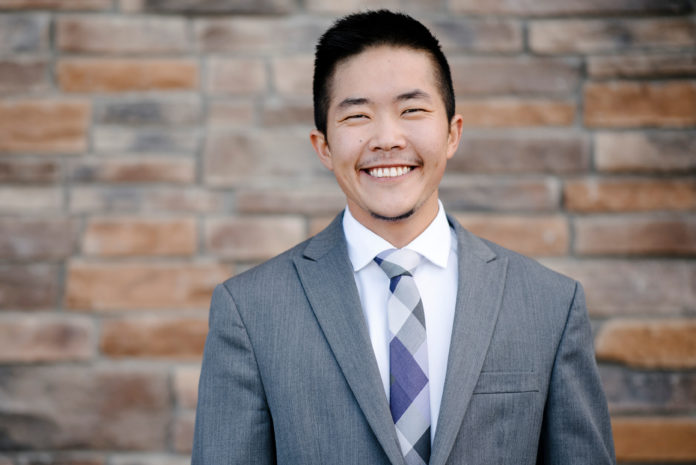 Growing up, Jordan Blisk didn't plan on becoming a lawyer. But at 27 years old, he's hit the ground running in both his legal career and his work as an activist for transgender rights.
Blisk was one of three attorneys recognized in February with the 2022 Stonewall Award from the American Bar Association, which is given to lawyers and judges who have supported lesbian, gay, bisexual, transgender and queer people in the legal profession and who have made headway in LGBTQ legal causes. Last year, the National LGBTQ+ Bar Association also named him as one of the "40 Best LGBTQ+ Lawyers Under 40." 
For his day job, Blisk is the assistant director of chapters at the legal advocacy organization American Constitution Society, which involves working with ACS student and lawyer chapters across the country, working to expand the organization's network and developing a diverse and inclusive legal community in the Rocky Mountain region and beyond. He is the current board chair and president of the Colorado Name Change Project, a legal resource and advocacy organization for Coloradans looking to update their names and gender markers on state documents, and the 2022 president of the Colorado LGBT Bar Association. While he was a student at the University of Colorado Law School, Blisk was the first openly transgender graduate and he organized the first annual CU Law Name Change Clinic. 
Blisk's path toward law and advocacy wasn't direct or painless, and he's drawn from his own experiences to try to help others and create a more inclusive legal system. 
Blisk grew up in Indiana in a conservative, evangelical community with many homophobic and transphobic beliefs. "I had really rough experiences growing up as a queer, brown kid in Indiana," he remembered. Blisk didn't know what being transgender meant until he went to college and once he understood his own gender identity, the process to transition was full of barriers. 
For one, Blisk was enrolled in the U.S. Air Force when transgender people were barred from serving in the military. "I got to a point where I was like, 'I am not going to make it on this planet if I don't transition,'" he explained, and he began transitioning about six months before ending his contract with the Air Force and moving to Colorado for law school. 
Changing his name and gender marker as part of his legal transition in Indiana was extremely difficult, he remembered. "It was a nightmare, like at every turn," said Blisk. "Not only was it an inefficient, completely cost prohibitive system, I had the judge make me out myself to the courtroom and question my immigration status." Blisk recalls the judge's office intentionally misgendered him and said the judge made him drive several hours to bring proof of citizenship even though he had an active military ID. "As a lawyer now who does this work, I realize it didn't even matter, my citizenship did not matter to his authority to change my name."
"When it comes to name change work, my passion is really there because I had horrible experiences with my legal transition myself in Indiana," Blisk explained. 
At CU, Blisk set his sights on working as a high-impact litigator. "I really wanted to pound the tables and win really big civil rights victories," he remembered. Blisk worked at LGBTQ+ civil rights organization Lambda Legal during his first summer in law school, and while he learned a lot about the law, he said, he also learned he's a "country boy, I don't really like cities." Blisk turned his attention to advocacy in Colorado and the Rocky Mountains. 
In the fall of his second year, civil rights took a hit, Blisk remembered. While there was a swell towards LGBTQ rights in the years prior, when former President Donald Trump was elected in 2016, anti-trans political topics like bathroom bans, service member bans and more surged. The legal fight for civil rights was far from over. 
"I started looking around me and realizing that there is a lot of power that I hold as a law student," he said. "There's a lot of access to materials and resources, and privilege, and education and credentials that I can just ask for now because I'm a law student and because I'm privileged to be in that position." 
One place he could make a significant difference, Blisk realized, was to support trans people navigating legal gender transitions, a process he had just been through. He organized the first name change clinic at CU Law in 2017, around the same time that attorney Emma Shinn and others started the Colorado Name Change Project based out of Denver. 
"Fundamentally, what I realized was that it wasn't that I wanted to be an impact litigator specifically, or even a litigator, it was that I wanted to make the world better," Blisk explained. 
Helping trans people change their legal name and gender marker is extremely impactful, said Blisk. Transgender people are disproportionately likely to be the victim of violent crimes and experience discrimination related to their gender at very high rates. Being transgender, Blisk explained, means everyday situations like going to the doctor, looking for an apartment, traffic stops or going to court are potentially dangerous. IDs that don't match someone's gender can out them as transgender in situations ranging from applying for a loan to catching drinks with a co-worker after work. For many, he explained, "it's life or death, it really is." 
"The two biggest reasons people don't update their legal identification is because they can't afford it and because they can't find legal help," he added. "Both of those are things that as an attorney, I feel pretty well positioned to direct much needed resources towards." 
Now, only four years out of law school, Blisk knows there's still a lot of work to be done in the civil rights arena and within the legal industry. 
In the future, Blisk hopes to expand the Colorado Name Change Project to other states in the Rocky Mountain region. 
He's also tired of "being the first," Blisk said. "I'm tired of being the first out trans student at CU [Law School], the first out trans president of the Colorado LGBT Bar, but that's where we're at in 2022."
The legal industry has long struggled with diversity, and while some areas have made progress, inclusion of noncisgender professionals is often left out of conversations around equity, diversity and inclusion. The National Association for Law Placement reported only 35 transgender law school graduates in 2018 at 28 schools across the country and in 2019 NALP reported 89 nonbinary graduates at U.S. law schools. 
"I think people think trans people are super, super rare, and we're not really that rare statistically," said Blisk. "But if you look at our representation in the law, it's abysmal and if you look at the rate of how many trans lawyers of color there are, it is even worse." 
Transgender people need to be included in conversations about EDI, Blisk said, and explained he has had friends who have been worried about coming out as transgender out of fear that they won't be employable.
Blisk thinks the legal industry should make distinct efforts to include trans voices and professionals, understand what parts of the legal and professional worlds are difficult for trans people to navigate and remove those barriers. 
"I want doors to open and it can't just be trans people opening those doors. It's gotta be allies from the rest of the LGBT+ community and also cis, straight folks," said Blisk. "We need people who care about these issues, who are willing to be uncomfortable, who are willing to invest time and money into changing things."
For students, young professionals and lawyers who would like to get involved with advocacy, Blisk recommends making the most of their positions in the law. Before joining ACS, Blisk practiced family law after "swearing I was never going to do family law." What he came to realize, though, was that helping people with everyday legal problems makes a difference in the world. 
"There's so many other ways of making a difference than being the big ACLU lawyer pounding the table at the Supreme Court," he said, explaining that while high-impact litigation is extremely important, there are plenty of smaller spaces to make a difference. 
"We can't fix the whole world. We can fix a corner of it and that's about it," Blisk explained. "Doing what you can with what you have is more powerful than you will ever begin to imagine in terms of impacting the lives of others."