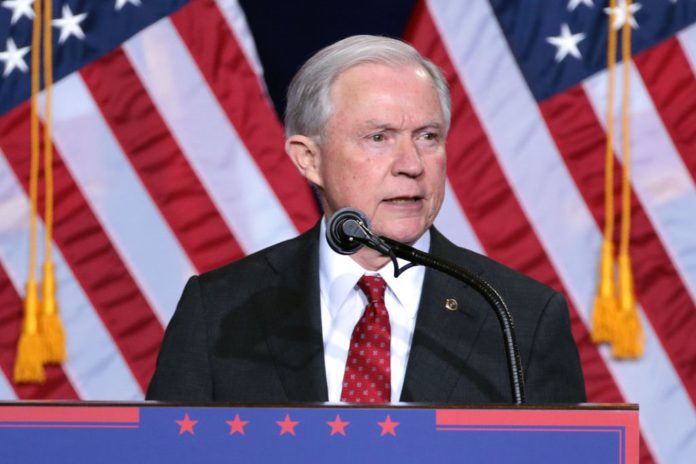 U.S. Attorney General Jeff Sessions fired a shot across the bow of states with legal marijuana, including Colorado.
On Thursday, the Justice Department issued a memo that would "return to the rule of law" regarding federal enforcement on marijuana. It also rescinded previous guidance that allowed states like Colorado to regulate marijuana with less fear of federal intervention.
In 2013, then-Deputy Attorney General James Cole drafted a memo that directed federal prosecutors and law enforcement to focus only on certain priorities when enforcing federal law in legal pot states. 
Besides preventing the distribution of marijuana to minors or to the black market, among other crimes, the Cole Memo recommended a hands-off approach on federal marijuana enforcement.
In rescinding the Cole Memo, the Justice Department describes a return to the status quo. Sessions said his new memo "simply directs all U.S. Attorneys to use previously established prosecutorial principles that provide them all the necessary tools to disrupt criminal organizations, tackle the growing drug crisis, and thwart violent crime across our country."
Gov. John Hickenlooper voiced his disagreement with the move, saying "the Cole memo got it right and was foundational in guiding states' efforts to regulate the production and distribution of marijuana."
In a statement, Hickenlooper said that Colorado is constantly seeking to strengthen its own marijuana regulation and enforcement. "We are expanding efforts to eliminate the black market and keep marijuana out of the hands of minors and criminals. Today's decision does not alter the strength of our resolve in those areas, nor does it change my constitutional responsibilities."
Colorado Republican Sen. Cory Gardner was more forceful in his criticism, calling the Cole Memo reversal "extremely alarming." 
Sessions assured him during his confirmation hearing that he wouldn't prioritize marijuana enforcement, Gardner said in a statement. "Today's action directly contradicts what I was told." Gardner threatened to vote against DOJ nominees if the Attorney General doesn't "live up to his commitment" made before his confirmation. 
U.S. Attorney for the District of Colorado Bob Troyer signaled no significant change in approach following the Attorney General's announcement. Troyer's office "has already been guided by these principles in marijuana prosecutions — focusing in particular on identifying and prosecuting those who create the greatest safety threats to our communities around the state," he said in a press release.
"We will, consistent with the Attorney General's latest guidance, continue to take this approach in all of our work with our law enforcement partners throughout Colorado."
Judicial Announcements
The 5th Judicial District Nominating Commission has nominated three candidates for an Eagle County judgeship created by the resignation of Judge Katherine Sullivan, effective Jan. 1. 
Nominees Steven Mallory of Eagle, Monica McElyea of Breckenridge and Rachel Olguin-Fresquez of Georgetown were selected in a Dec. 29 meeting at the Eagle County Justice Center.
Gov. John Hickenlooper has 15 days from Jan. 2 to appoint one of the nominees to the judgeship. Comments regarding any of the nominees may be sent via e-mail to the governor at [email protected]
The State Commission on Judicial Performance will hold a public hearing to allow the public an opportunity to address the state commission concerning "Proposed Rules Governing Commissions on Judicial Performance" Jan. 22, in Room 1F of the Ralph L. Carr Judicial Center, 1300 Broadway in Denver. Public comments will be heard from 11 a.m. to noon, followed by a state commission meeting to consider submitted comments and suggested amendments to the proposed rules from noon to 1 p.m. 
Proposed rules are available for review on the Office of Judicial Performance Evaluation website at: http://coloradojudicialperformance.gov.