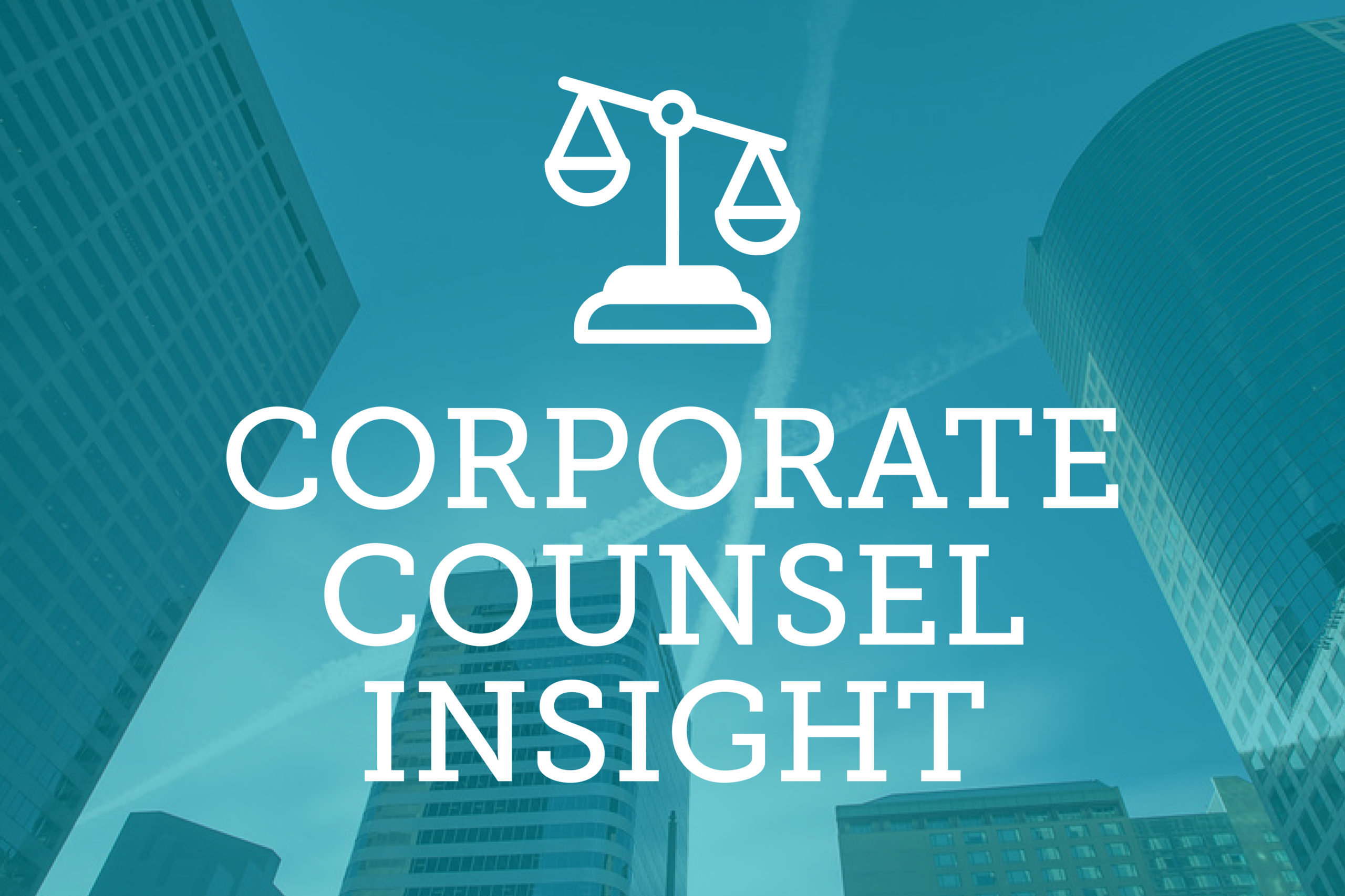 The Department of Justice continued its trend of success in enforcing the False Claims Act, at least in how much money it recovered from companies.
The DOJ announced Dec. 21 that it recovered more than $3.7 billion in False Claims Act-related settlements and judgments in fiscal year 2017. Its FY 2017 haul was a billion-dollar plunge from the DOJ's FCA recoveries in FY 2016, but white-collar defenders say there is more to the numbers, and the federal government is still enjoying a trend of success in prosecuting fraud.
Under the FCA, the DOJ prosecutes entities that defraud the federal government in various industries. Under the law's qui tam provisions, private citizens can also sue these entities on the government's behalf, and the DOJ can decide to take over those actions, itself. If the DOJ declines to take over their lawsuit, these whistleblowers, or relators, can receive up to 30 percent of the total recovery.
The recoveries are "a message to those who do business with the government that fraud and dishonesty will not be tolerated," Acting Assistant Attorney General Chad Readler said in a press release.
The central number in the DOJ's recent announcement — its $3.7 billion recovery total last year — is a decline from the $4.7 billion it recovered from FCA cases in 2016, but 2016's total got a boost from the government's $1.2 billion settlement with Wells Fargo. In that case, the company admitted to originating and endorsing mortgages as insurable by the Federal Housing Administration when those mortgages didn't meet the FHA's risk requirements.
With that in mind, it appears the department is maintaining a trend of relative success.
"What we saw this year was very consistent with what we've seen since 2010," said John Partridge, a partner in Gibson Dunn's Denver office whose practice involves white-collar defense and government investigations. With the exception of spikes in 2012, 2014 and 2016, the DOJ's recovery total has hovered around 3 to 3.5 million dollars in that span. And the spikes could be attributed to massive outlier cases the department resolved in those years, Partridge added.
Mike Theis, a Denver-based partner in Hogan Lovells' investigations, white-collar and fraud practice, said FY 2017 was "another good year" for the DOJ in terms of recoveries.
"They're obviously quite pleased with these numbers, and I think they probably should be," Theis said.
Health care cases continue to constitute a large share of FCA recoveries. In FY 2017, cases the DOJ resolved with health care companies accounted for two-thirds of all its recoveries at $2.4 billion — roughly the same as the previous year's health care recoveries and half a billion more than in 2015. In FY 2017, a third of the health care FCA cases involved medical devices and pharmaceuticals.
In housing and mortgage lending-related cases, the department's $543 million total pales in comparison with the previous year's $1.6 billion, but is actually a significant increase when not factoring in that year's Wells Fargo settlement.
But the by-industry recovery numbers don't necessarily reflect where the DOJ is applying more or less pressure, as it is only initiating a fraction of FCA cases each year. The agency's priorities are more driven by the private citizens who are filing qui tam cases, Theis said, which accounted for 93 percent of the recoveries last year.
Qui tam relators filed an average of 12 new cases every week in FY 2017, which is a "tremendous number of cases for the Department of Justice to process," Theis said. As a result, the DOJ is pressured to settle more cases or let the relators proceed without the government in the driver's seat.
But one area where the DOJ appears to have taken over more cases was in procurement fraud. In one matter, Kuwaiti company Agility Public Warehousing agreed to pay $95 million and also forgo $249 million in claims to settle allegations that it overcharged the Department of Defense in supplying food for U.S. troops.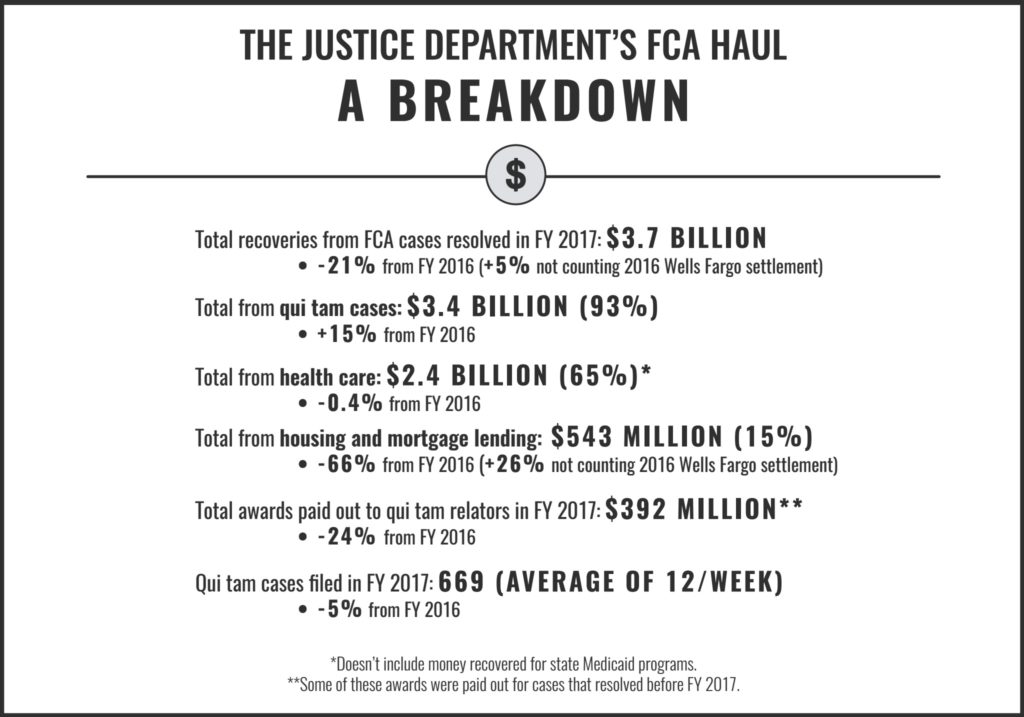 Also in FY 2017, a group of contractors that included Bechtel Corp paid $125 million to settle claims that they defrauded the Department of Energy in providing deficient materials and services for a water treatment plant. In both cases, a qui tam whistleblower initially brought the suit and the DOJ intervened. 
The DOJ also noted in its recoveries announcement that it has been aggressively pursuing individual wrongdoers in its FCA investigations. More than $60 million recovered came from individuals, including settlements with the founders of eClinicalWorks, the owner of Life Care Centers of America and the owner of MedStar Ambulances.
One factor that could influence the DOJ's FCA numbers in years to come — and is affecting these cases now — is how federal courts are dealing with the Supreme Court's 2016 decision in Universal Health Services, Inc. v. United States ex rel. Escobar. In Escobar, the court adopted the implied certification theory for FCA claims but instructed district courts to apply the law's strict materiality requirements.
Courts are dismissing more FCA cases, or deciding them in summary judgment, for failing to clear the higher bar for materiality under Escobar, Theis said. As post-Escobar cases work their way to settlements and judgments, it could affect the DOJ's recovery totals in a couple years, he added.
For companies that contract with the government — particularly Medicare and Medicaid providers — the DOJ's FCA enforcement represents only one part of the legal risk. Partridge said companies should keep in mind that they may also have to answer to the states, which will often pursue their own cases regarding the alleged fraud or false claims under their own statutes. 
— Doug Chartier