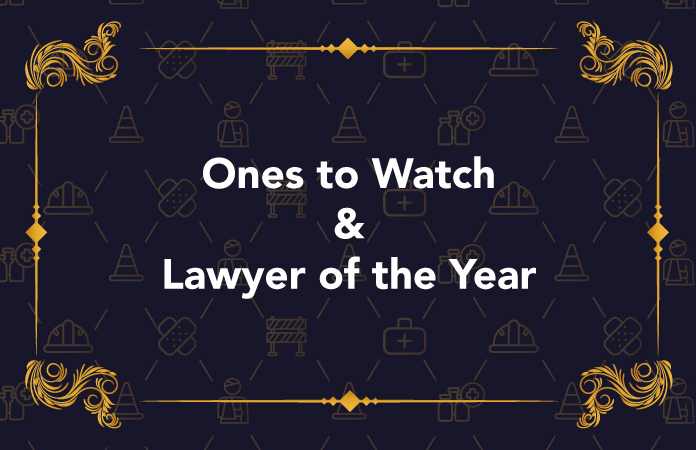 Lawyers of the Year 2022 
Any recognition by Best Lawyers is noteworthy, but Lawyers of the Year nominations are especially so. Out of the more than 66,000 lawyers recognized for their work by Best Lawyers' 2022 edition, only 5,842 lawyers made it to "Lawyer of the Year." The honor singles out attorneys with remarkably high feedback from peers and is only awarded to one lawyer per region and practice area. Colorado lawyers from a range of practices made the cut. 
Robinson Waters & O'Dorisio, P.C. equity shareholder Betty Arkell is Denver's Lawyer of the Year in Venture Capital Law for 2022 — her second time receiving the honor. "I am grateful to my esteemed peers in the legal community for recognizing me a second time as the Colorado 'Lawyer of the Year' in Venture Capital," Arkell said in a statement to Law Week, "It is a tremendous honor." The University of Colorado Law School graduate works with a wide range of clients through complete corporate lifecycles. She brings experience in corporate finance and M&A transactional experience to established and emerging companies and venture capital and other private equity funds. 
Harold Bruno III, also from Colorado-based Robinson Waters & O'Dorisio, P.C. was awarded Denver's 2022 Lawyer of the Year for Franchise Law. "Being recognized by Best Lawyers in America again as Franchise Lawyer of the Year for Colorado is a great honor not only for me but also everyone here at Robinson Waters & O'Dorisio who assists me in my representation of both franchisors and franchisees," Bruno told Law Week in a statement. The equity shareholder focuses on intellectual property and franchise litigation and arbitration. He is admitted to practice in Colorado, Wyoming, Washington D.C. and the United States Courts of Appeals for the 1st, 4th, 9th, 10th and Federal Circuits. 
Steven Cohen, a shareholder at  Otten Johnson Robinson Neff + Ragonetti PC, is Denver's 2022 Lawyer of the Year in the local Business Organizations (including LLCs and Partnerships) category. Cohen personally brings 30 years of experience to the firm but recognizes the role played by Otten Johnson's team of professionals in his success and the company's success. "It certainly feels great and it's an honor to be recognized personally in something like this by your peers and by your clients, but it really is a reflection on the team and the firm itself that we've got here," said Cohen, "No one can do it without a great team of lawyers behind them." He especially highlights his colleagues Dimitri Adloff and Matt Bender for their professional support. "I really think that's what sets people apart — those who've been able to establish a loyal, committed, service-oriented team are those who are able to set themselves apart," Cohen explained. Cohen regularly represents office, multifamily, real estate shopping centers, industrial properties and raw land clients
Ones to watch 2022
Best Lawyers' "Ones to Watch" list recognizes outstanding attorneys beginning their careers. Like other Best Lawyers awards, recipients go through an intensive peer-review process and only a select few are chosen. But the "Ones to Watch" list, which first published last year, focuses on those new to private practice — generally with five to nine years in practice — or those who returned to law after a significant sabbatical. 
More than 990,000 nominations were considered for the 2022 edition of Best Lawyers: "Ones to Watch in America" and only 14,000 attorneys in 79 practice areas made the cut including some notable local professionals. Law Week received announcements for 18 Colorado attorneys in a range of practice areas. Law Week connected with those attorneys about the recognition and their advice for lawyers beginning their careers. 
Robinson Waters & O'Dorisio P.C. 
Robinson Waters & O'Dorisio P.C. attorney Samuel John was recognized for his work in insurance law. John works at the Colorado firm's business litigation group and brings experience in complex commercial litigation, class actions, construction defect litigation and insurance coverage disputes. He is licensed to practice in Colorado, New York and New Jersey. "I am honored to receive this recognition. I would like to take this opportunity to thank everyone who has supported me throughout my career," John said in a statement to Law Week. 
Vicente Sederberg LLP 
Jerrico Perez from national cannabis firm Vicente Sederberg LLP's Denver office is a recipient in the administrative/regulatory law category. The senior associate focuses on administrative law, regulatory compliance and national marijuana business applications. Perez has helped clients obtain licenses in Colorado, Ohio, Hawaii, California, Maryland and Canada. "I am extremely grateful for the honor, and I am encouraged by the growing number of cannabis industry attorneys receiving recognition for their work in other areas of law," said Perez in a statement to Law Week, "it is demonstrative of how far this new industry has come, and it highlights the many benefits associated with legalizing and regulating marijuana and hemp."
Otis & Bedingfield 
Greeley-based attorney Lia Szasz from Otis & Bedingfield, LLC was recognized in the commercial litigation and litigation real estate category. Szasz is one of the Northern Colorado real estate and business firm's five partners and is an experienced trial lawyer. "I'm really excited and honored to make this list given where I'm at in my career," said Szasz. "I've had a whirlwind start as a young attorney and have moved up the ranks relatively quickly in my firm so it's amazing to see that that's being noticed by the legal community," the 2015 University of Colorado Law School grad added. Szasz's experience running her family's cow-calf ranch gives her a unique appreciation for clients with agricultural legal needs, "my roots and my ties to the cow-calf ranch keeps me grounded to the particular area in Northern Colorado where I work and live." She credits hard work for the success she has had early in her career, "putting in long hours and really taking time to develop yourself as a young attorney really pays off," says Szasz. "The harder you work, the luckier you get." She also recognizes the role that firm support has had in growing her career. "None of my success would be possible without my wonderful team," she said. "I owe so much to the attorneys who have mentored me and all of the staff here at my wonderful firm. It takes a village and I've got the best one!" 
Snell & Wilmer 
Several attorneys from Snell & Wilmer's Denver office were named as "Ones to Watch" for 2022. 
Snell & Wilmer associate Anna Adams was recognized for her work in commercial litigation. Adams, who clerked for Colorado Court of Appeals Judge Terry Fox, said in a statement to Law Week that her first time recognition is "an honor." Adams added, "I have gained substantial experience as a litigator in the past year and I am looking forward to further expanding my appellate practice in the coming year.".
Timothy Scalo, an associate at Snell & Wilmer, was recognized in the commercial litigation category. "I am grateful to be included on this list among other great lawyers in our community," he said in a statement to Law Week. Scalo, a trial attorney with a focus on commercial litigation, recommends attorneys kick-starting their careers take time to develop connections within their firms. "I would say developing strong relationships with partners and your fellow associates is critical. In addition to mentorship and learning opportunities, these relationships make coming to work every day enjoyable," he added. 
Commercial litigator and Snell & Wilmer associate Luke Mecklenburg made the list for the "Ones to Watch" commercial litigation category for the second time this year. "I am humbled to be included on the Best Lawyers Ones to Watch list for the second year in a row," said Mecklenburg in a statement to Law Week, "Snell & Wilmer has been a great place to develop my skills and grow my practice. Receiving this peer recognition of my development as a civil litigator is a great honor, particularly coming from such an excellent legal community." 
Cody Bourke, a partner at Snell & Wilmer who focuses on complex commercial litigation with an emphasis on real estate, construction and oil and gas disputes, made the list in the commercial litigation category. 
Hall & Evans 
Several attorneys from regional firm Hall & Evans made the "Ones to Watch" list for 2022. Ryan Browne, David Belsheim, Kendra Garstka, Vicki Pace and Paul Popovic were recognized for their work. Garstka, who focuses on workers' compensation and subrogation, and Popovic who litigates workers' compensation in Colorado and Utah expressed their appreciation in a statement to Law Week. "Paul Popovic and Kendra Garstka are honored to be selected as our Hall & Evans team continues to service our clients and grow our workers' compensation practice," said a representative from Hall & Evans in a statement to Law Week. 
Shook, Hardy & Bacon LLP
Liz Hutchinson, an associate at Shook, Hardy & Bacon, LLP was recognized in the commercial litigation, mass tort litigation, class litigation category. "It's an honor to be recognized for client work now and as a future leader in the profession," said Hutchinson in a statement. Hutchinson is chair of the Denver Bar Association's Young Lawyers Division. "I would encourage other young attorneys to take the long view of their careers and be mindful about pro bono and civic involvement," Hutchinson added, "that creates the total package for an impactful, fulfilling career." Hutchinson focuses on privacy and business litigation and appeals, especially biometric privacy and cybersecurity-related class actions and appeals.  
Eric Hobbs, a partner at Shook, was recognized in the commercial litigation, mass tort litigation/ class actions, product liability category. 
Otten Johnson Robinson Neff + Ragonetti PC
Colorado commercial firm Otten Johnson Robinson Neff + Ragonetti PC had five attorneys recognized as 2022 "Ones to Watch." 
Four attorneys — Allison Altaras, Chelsea Brune, Cassandra Foster and Cory Rutz — made the cut in the real estate law category and Andrew Peters was highlighted in the land use and zoning law category. Altaras is a firm associate who focuses on purchase and sale transactions, title and survey review, land use and development approvals, cost-sharing agreements, easements, private covenants and leasing matters. Brune, another associate, handles a wide range of real estate matters including acquisitions and dispositions, development, real estate finance, leasing and title and survey matters. Foster, senior counsel at the firm, handles negotiations on real estate matters including real estate finance and representing borrowers and lenders in connection with multifamily, office, industrial, retail and hospitality assets. Rutz, one of the firm's shareholders, represents property owners and developers in acquisition and entitlement of commercial, residential and industrial projects.
Peters, an associate, was recognized for his work which includes development approvals, construction and real estate disputes and related appeals.
Correction Note: an earlier version of this article had Vicente Sederberg LLP's and David Belsheim's names misspelled. Law Week regrets the errors.