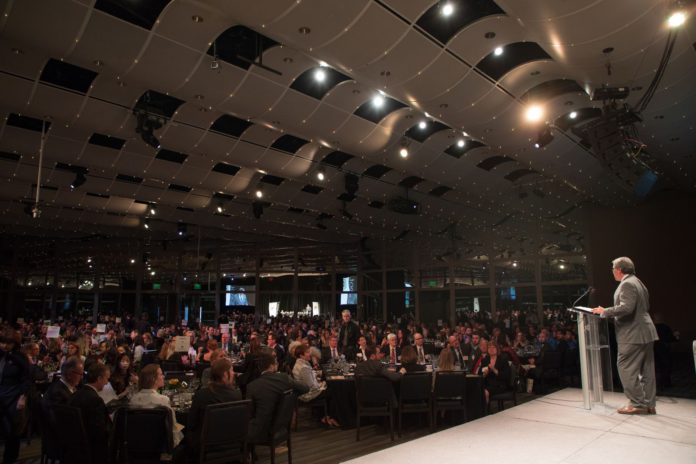 The University of Colorado Law School awarded its highest alumni honor, the William Lee Knous Award, Thursday night to Peter Dietze. Dietze escaped East Germany at age 15 and went on to serve on the university's Board of Regents and as Boulder's city attorney and also founded law firm Dietze & Davis. 
"The Knous Award is the highest honor Colorado Law School bestows upon a graduate," said CU Law Dean James Anaya. "The award is given to an alumnus or alumna in recognition of outstanding achievement and sustained service to the law school."
During is time chairing CU's Board of Regents, Dietze was involved in significant expansions of the university system, including the Boulder South Campus annex and the Health Sciences complex at Aurora's Anschutz Medical Campus. As city attorney in Boulder, Dietze oversaw legal aspects of major projects still evident in Boulder today, such as the development of the original Pearl Street Mall. 
In accepting the award, Dietze expressed his gratitude to former CU Law Dean Edward King, who persuaded the university to allow Dietze to pay tuition as a Colorado resident so he could afford to attend the law school.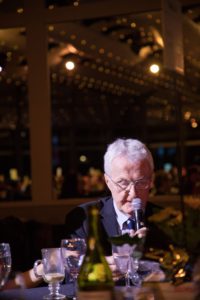 "There's a moral to this story," Dietze said. "We all need a helping hand from time to time."
At its annual alumni awards banquet, the law school honored four others for distinguished achievement and two chosen by Anaya. Also among the evening's top honorees was Colorado Supreme Court Chief Justice Nancy Rice, who Anaya chose to receive the Richard Schaden Adopted Alumna Award. Rice announced her retirement from the Supreme Court Wednesday and has taught at CU Law as an adjunct professor since 1987. 
"In light of her many years of service to the people of Colorado and Colorado Law School, this was an easy decision," Anaya said.
Rice joked about her parents, who both graduated from the university themselves, dragging her as a little girl to CU's football games and making her wear an outfit she hated. 
"I swore I would never go to CU in any capacity, they actually ruined the school for me," she said. "But I think they would be very proud today that I am finally an alumni of CU." 
Mekela Goehring, executive director of the Rocky Mountain Immigrant Advocacy Network, received the other award selected by Anaya, the Dean Edward C. King Making a Difference Award. 
The nonprofit organization, which Goehring became executive director of in 2005, provides legal services to individuals held in Aurora's immigration detention center and to children.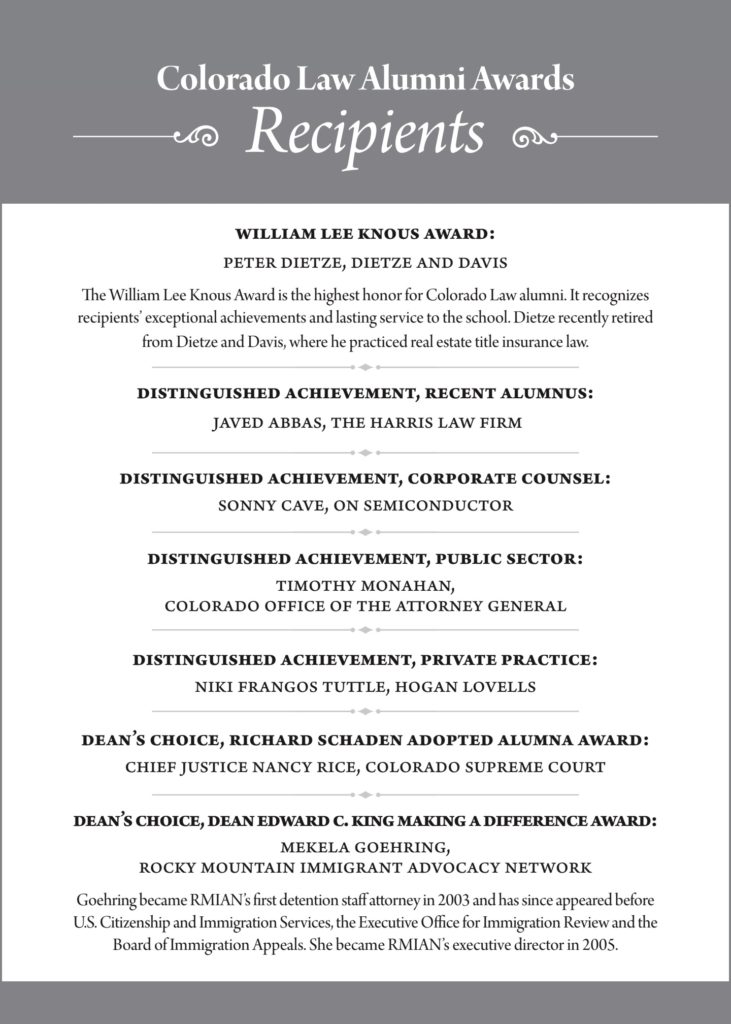 When receiving the award, Goehring thanked banquet attendees who volunteer their time to provide pro bono services in immigration cases.
Award recipients for distinguished achievement included the Harris Law Firm's Javed Abbas as a recent alumnus, Sonny Cave of ON Semiconductor in corporate counsel, Timothy Monahan from the Attorney General's Office in the public sector and Niki Frangos Tuttle of Hogan Lovells for private practice. 
—Julia Cardi