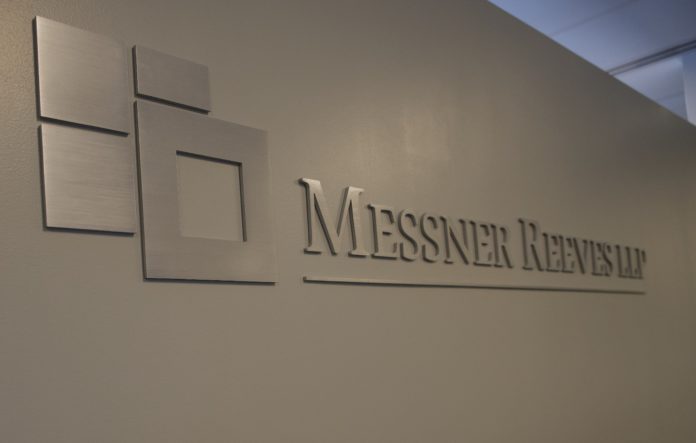 This year, Denver-founded Messner Reeves LLP is marking 28 years and in December moved into a new space. 
Since it was founded in 1995, the firm has grown to around 150 attorneys across 11 offices in seven states. Looking ahead, leadership said they hope to strike a balance to meet emerging challenges while attracting and retaining talent. 
In December 2022, Messner Reeves' flagship office in Denver moved from its previous location in a historic building near Union Station to a new space down the road. The new office on the seventh floor of The Triangle Building at 1550 Wewatta St. is around 30% smaller than the previous space, Chief Operating Officer and Denver Managing Partner Michelle Harden estimates, but was selected and laid out with hybrid and remote work in mind for the 38 attorneys based in Denver. 
In 28 Years
Messner Reeves was founded by a handful of attorneys including name-sake partners David Reeves and Corky Messner who left BigLaw to start their own firm. 
Chief Executive Officer and Managing Partner Caleb Meyer explained Chipotle was one of the firm's first clients and it grew in stride with the now national restaurant chain. 
"We like to partner with our clients for their growth and development for a long period of time. And, and that's exactly how our firm grew," said Meyer. 
In the years since its founding, the firm has expanded its practice areas, clients and footprint. 
Messner Reeves has three offices in Colorado — one in Denver, one in the Denver Tech Center and one in Colorado Springs — and many outside Colorado. 
The firm opened its first offices out of state in 2013 in New York and southern California. In 2014, the Las Vegas office opened followed by offices in Silicon Valley and Utah in 2017. Most recently, Messner Reeves opened an office in Phoenix. Other locations include Reno, Nevada, and Cheyenne, Wyoming. 
Meyer now considers the firm a full-service, regional firm with a national platform. "In terms of a trajectory, it's probably been more exponential over the last 10 years than it was in the beginning," he added. The firm now has practices in employment law, litigation, immigration law, financing and more.
Looking ahead, Messner Reeves hopes to keep growing, both organically and strategically. 
Harden joined the firm in 2005 when there were 18 attorneys. She said while headcount, practice areas and clients have grown exponentially in recent years, it's been in response to client demand. "It's been people saying, 'Hey, I've got work in southern California,' and we said let us help you with that," Harden explained.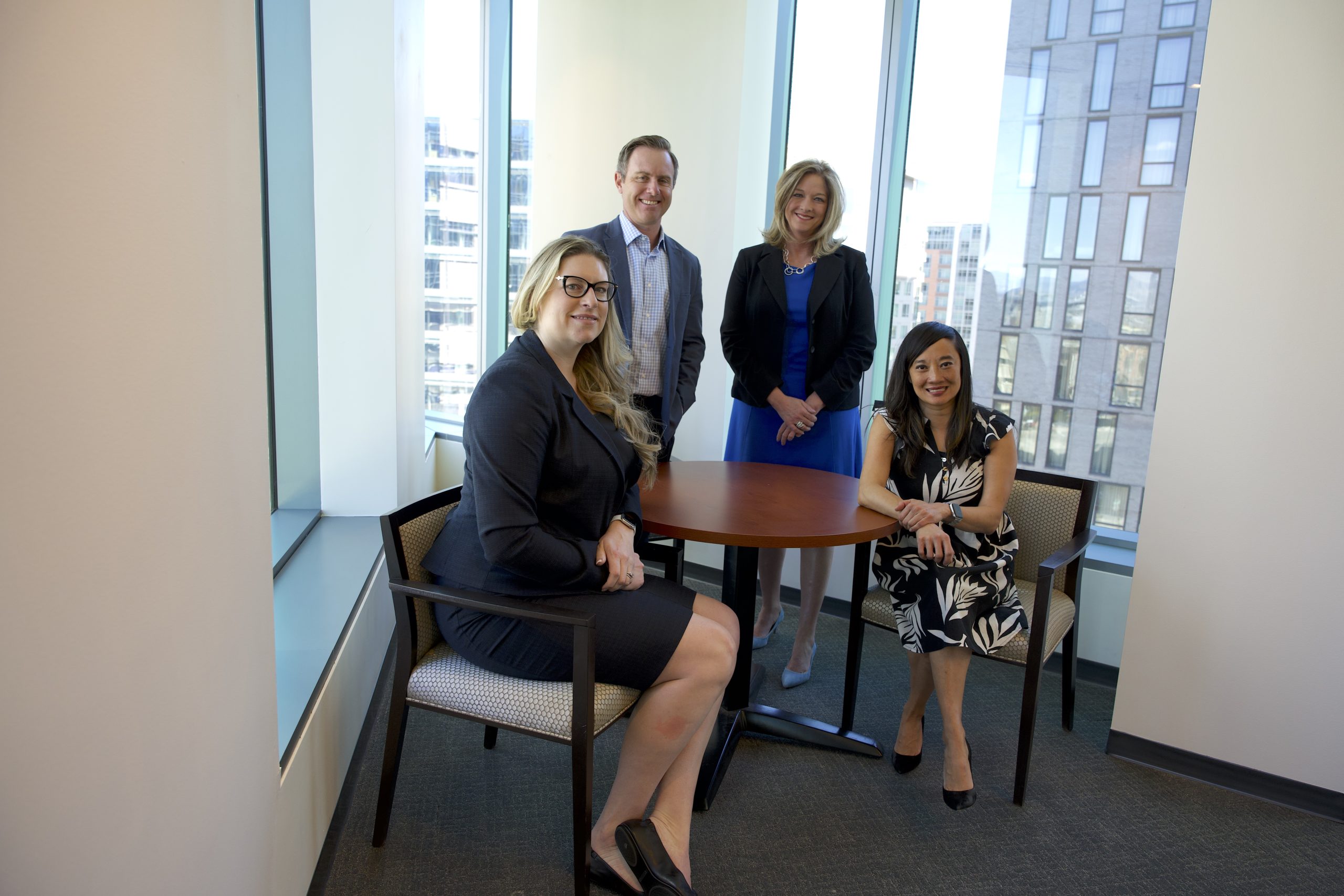 'Striking a Balance' 
The new office space has been designed with an understanding that attorneys and professionals have new expectations when it comes to in-person work. But other growing expectations of younger attorneys around work-life balance are also something the firm has in mind. 
The space has permanent desks and offices but Harden explained the expectation for most is to leave your desk clean and ready for others to use when you leave. 
"The biggest component that's different from our old space is that we thought about people's frequency in the office and what makes them successful in terms of their workspace and then still allowing that flexibility," said Vice President of Human Resources Eleanor Deaton. She explained that since the pandemic, the firm has tried to meet professionals where they are and allow remote or in-person work based on individual needs. 
Deaton said that has involved routine-check ins with offices and employee needs to assess where people would like to work and make sure there is space in offices. "We look at that on a monthly basis, because the needs change, pretty often." 
Chief Strategy Officer and Partner Renee Finch practices primarily out of Messner Reeves' Las Vegas office and said across the country, attorneys have different preferences for working in-person or remotely. For newer lawyers, Finch said the firm encourages them to come into the office more often to cultivate mentorship. 
"I think the key for us is always… striking the balance and allowing people to have flexibility. Because of COVID, the pandemic taught all of us that we can be efficient, even when we're not all in the same room," said Finch. 
Like many other firms, Messner Reeves is figuring out how to create a shared sense of culture and connection in a hybrid work environment coming out of the pandemic. 
"We certainly face all the same challenges that other firms do in terms of preserving culture, and you know, those types of dynamics," said Meyer, who added that the shift to hybrid work hasn't been too much of a shock due to existing firm culture. "Part of an entrepreneurial firm culture has been to try to give our attorneys, our professionals the ability to craft and create their own practices and so we give a lot of flexibility to people in terms of how they want to do that, whether that means being in the office or not."
Currently, each Messner Reeves office hosts an in-office lunch once a month to encourage workers to get together. A newer initiative to foster connection is a monthly, firm-wide meeting as part of an employee engagement initiative.
"Our employee engagement initiative is about recognition. It's about communication. And those two things combined I think go hand in hand," said Deaton. She said that at the monthly meeting, a handful of attorneys are recognized for their work in front of the entire firm and the meetings are meant to create dialogue between workers and offices. 
Messner Reeves leadership said the firm also hopes to foster work-life balance for lawyers and staff. 
"If people want to grow and build their practice, there's a place for that. If people want to work in a less full-time capacity and be able to be home and raise their kids, we have a place for that," said Harden, who noted flexibility is available for parents regardless of their children's ages. 
The firm is rolling out a new plan to offer 12 weeks of paid leave for all new parents that Finch said is part of attracting and retaining talent. 
"It's something that I think is going to be [at the] forefront in being able to attract younger lawyers with younger families," said Finch. "You're allowed to be a professional here, and embrace what's important to you." 
In her experience, Finch said striking the balance of flexibility for workers has been a good thing for the firm. 
"Since we've struck a better work-life balance for our employees, we've organically grown exponentially. And that's because of client service," said Finch. "I think we've [seen] that having work-life balance with your employees actually allows you to grow."
Meyer noted flexibility doesn't mean less quality work. "I think there's a real danger in at least the perceptions out there that if you're doing some of the things that we're doing, then then the quality of your work is also slipping," he said. "We're not sacrificing that for clients."