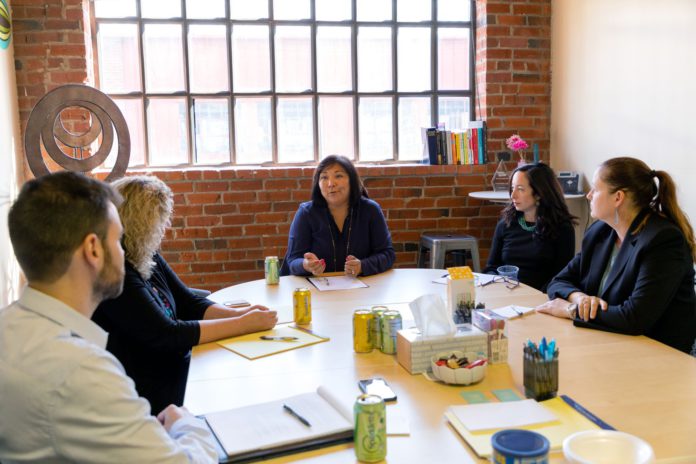 On April 25, Law Week Colorado gathered female attorneys from private practice, in-house and government roles to discuss how the legal profession has made efforts to address gender disparity in the law and what needs to be done for the conversation to move forward. 
Roundtable attendees were Barbara Grandjean, partner at Husch Blackwell and president of the Colorado Women's Bar Foundation; Jennifer Jaskolka, in-house counsel at Xcel Energy and board member of the Colorado Women's Bar Foundation; Regina Rodriguez, partner at Hogan Lovells; and Catherine "Cat" Shea, assistant attorney regulation counsel and president-elect of the Colorado Women's Bar Association.
Law Week managing editor Tony Flesor moderated the discussion, and Hunter + Geist reported it.
LAW WEEK: I think it's helpful to see how others find success in their careers. Just to start off, I thought I'd have everyone go around and describe your career path and your trajectory and how you got to where you are now.
GRANDJEAN: I went to the University of Colorado Boulder for law school and worked as a summer associate in a couple of different large law firms and accepted an associate position at the Denver office of Ballard Spahr Andrews & Ingersoll and worked there for a number of years. Then, I joined Jacobs Chase Frick Kleinkopf & Kelley, which was a local primarily real estate but also litigation firm, and from there, I ultimately joined Husch Blackwell about five years ago. So I've always been in private practice at medium- to large-size firms.
I think I've moved around a lot less than many people have. My move from Ballard Spahr to Jacobs Chase was just a practice decision — I wanted to do something different. Jacobs Chase was ultimately absorbed into Hush Blackwell, which is why I made that decision.
RODRIGUEZ: I would say my career path has been a long and windy road. 
I worked 20 hours a week as a clerk throughout my law school career at the U.S. Attorney's office. I thought I wanted to be a criminal lawyer, and I worked in the criminal division. And that was an extraordinary experience, I got to watch all kinds of great lawyers try cases. There are just so many great lawyers that I got a chance to watch in court and a lot of great judges I got to watch. But I also discovered I did not want to work in criminal law for my career. So they told me if you want to learn to try cases, but you don't want to do criminal law, you should go to this firm called Cooper & Kelley, which doesn't exist anymore. 
But back in the day, it was a lot of former criminal [U.S. Attorneys], civil [U.S. Attorneys] and DAs, so I went there. And they promised me I would get great trial experience, I would have a lot of fun, and I wouldn't make a lot of money. And they kept all of their promises. 
I had a great time there, and I learned from some of the best. And at the time, it was very unusual, because it was a firm that was 50 percent women partners, so I came up through the ranks thinking that was how it was always supposed to be.
Then I went to U.S. Attorney's office after about seven years of practice and started as a line assistant and then I became deputy chief of that civil division and then I became the chief of the civil division, and I just had a great time there. I meant to stay two years and ended up staying almost eight years. I got a broad range of experience and learned a lot. 
And out of that, I ended up going to Faegre & Benson — now it's Faegre Baker Daniels — and I was never going to work in a big law firm, and then I don't know what happened. I went to Faegre and just had a wonderful experience, great colleagues, great mentors, great friends who are still very close to me now, and I ended up being there for 14 years.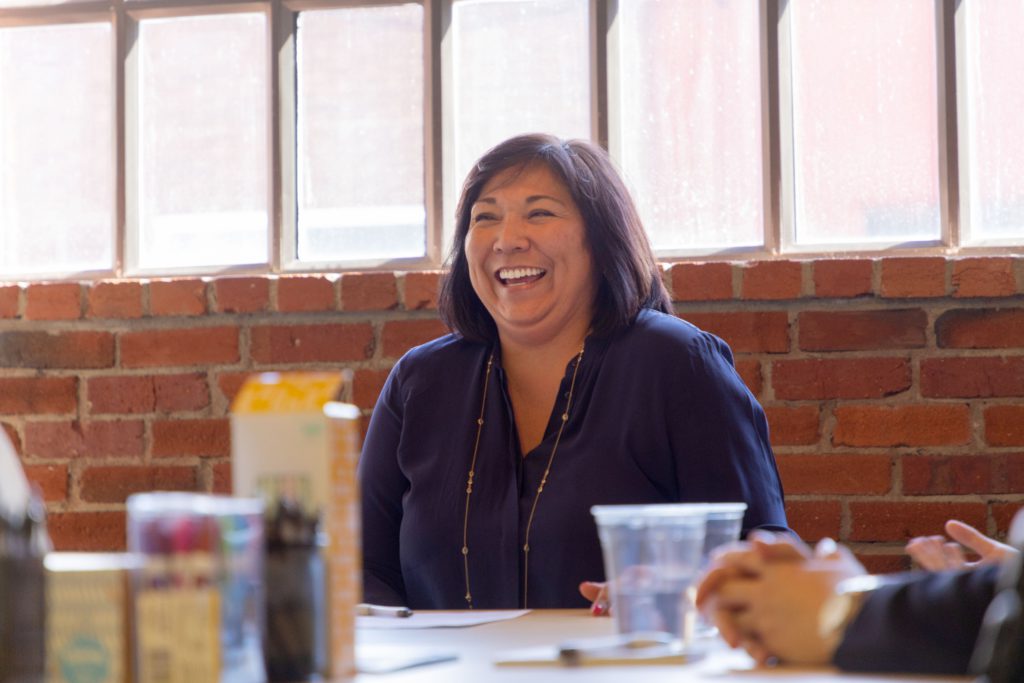 And with everything going so global, I started to think about a global firm, and that's really ultimately how I ended up at Hogan Lovells. I've been there now just a little over two years, and it's really been extraordinary. Just again, superb lawyers, a fun, great place to be, and a lot of interesting things. And it's a lot more global than I ever imagined.
JASKOLKA: I went to law school at Nebraska and ended up first practicing in Des Moines, Iowa,  for nine years. Out of the 15-plus attorneys I was the only female for many of those years. But with that said, I did get the opportunity to become defense counsel to three  tobacco companies during the heyday of the tobacco litigation. So I there I am, a first- or second-year associate, in a conference room in depositions with high-ranking attorneys from large firms such as Jones Day and Shook Hardy & Bacon. It was  trial by fire and a great experience.
I moved to Colorado in 2008 and joined White and Steele for three and a half years. But I also did work for Xcel Energy under one of the senior partners at White and Steele.
Xcel Energy posted a position around November 2011, and I and about 92 people applied. And, luckily, I was chosen for an interview and eventually offered the position. I joined Xcel Energy In March 2012. Our legal department is made similar to a mid-sized law firm: we have practice areas, and I'm assigned to the litigation practice area, and I also handle all the occupational, safety and health work for the company.
SHEA: I went to law school in Michigan — at Michigan — and moved out here shortly thereafter and spent a couple of unhappy months in private practice. 
I quit that job and was lucky enough to get hired on as a clerk at the Colorado Court of Appeals for Judge Robert Hawthorne. I stayed there for about two and a half years, and during that time, I was thinking about what I wanted to do next and decided that I wanted to work for the government, so I applied for a position at the Colorado Attorney General's Office and worked in the Business and Licensing Section for almost five years, representing different state agencies regulating other professions. I also did general counsel work for the boards, which I really enjoyed. 
Continuing my regulatory focus, I moved to the Office of Attorney Regulation Counsel just over five years ago, and spent about three and a half years at the trial division there and about a year and a half ago, I moved to our intake division, so now I deal mostly with complainants and people calling our office with issues about attorneys. So I'm the outlier here in that most of my career has been with the government.Unchanging Demographics
LAW WEEK: And it's that wide variety of experiences here that I was looking for in general, in being able to have the private, corporate and public sector perspectives on everything.
We hold our Women's Roundtable every year but also cover diversity issues throughout the year as things come up, and many times we see the numbers of equity partners and senior level positions and the disparity between men and women. 
I'm just curious what your assessment is of the landscape, and if you see there's any trajectory in either direction.
GRANDJEAN: From my perspective, I would say, unfortunately, I don't think we're seeing a significant change, really, at all. We still have a leaky pipeline where the male and female associates are joining law firms at about the same rate, and we start to lose the female associates, and once it comes to partnership decisions, we really start to lose the female lawyers. Many of them into of counsel or other roles or leave the firm altogether. And a lot of the time, when you get to equity partnership, it's just a fraction of women that started. That's what I'm seeing, and I don't think that's changed.
JASKOLKA: I actually pulled some of the statistics for this conversation. So Xcel Energy is participating in the Diversity Lab's Mansfield Rule, so I received some information earlier this week. 
The information I received says that over 90 percent of equity partners are white, even though one in four law firm associates is a person of color. The numbers for women equity partners is still at 18 percent. What's even more disproportionate is women of color account for only 2.8 percent of equity partners, which tells us that certainly there is a lot of work that remains to be done. Those are some of the more current statistics. 
RODRIGUEZ: Well that sounds about right, as one of the 2.8 percent. 
I think that we've been talking about this for a really, really long time, and with as much effort and energy and time and thought and conversation as we have around this topic, it's sort of shocking that we don't make more progress. 
I will say at Hogan Lovells this year, we celebrated that they had some specific goals of what we were committed to having. And this year, there was a commitment to have 25 percent of our partners be women. We met that goal this year. And there are bigger, more audacious goals for the future. I think that's one of the things we have to do as a profession, not just talk about it and say we're going to do things, but point over the fence and say this is where we're going to go and hold ourselves accountable to get there. 
So that's one thing. And I think that's us in the private sector, but it's also our clients as well, and I think the clients have really stepped up the way they look at things and how they are pushing things, so I'm hopeful that with all those things together, we have some opportunities to make advancements. But still, it's one of those things that does make you say, "hmm," given how much time effort and energy we put into all of these things.
GRANDJEAN: I think you're right about clients really driving change. At this point, if there's going to be change, I think it's going to come from the clients of the law firms demanding certain things.
JASKOLKA: And I would agree. I think we're the ones who are going to move the needle — the in-house counsels. And specifically, I can talk about Xcel Energy's efforts to promote females and minorities within law firms. 
About 18 months ago, we adopted key point indicators, and one of the key point indicators that our outside counsel has to meet and that we have to meet internally, is to assign work to female and minority attorneys and provide them an opportunity for meaningful work; so no longer the tokenism, no more  minority attorneys or female attorneys showing up to the pitch and then disappearing. They have to be provided with meaningful work and at the end of matters, or even mid-point, especially if it's a matter that takes a couple years to resolve, we evaluate our outside firms to determine whether they are compliant with that key point indicator;  we also are held internally accountable for making sure that our matters are staffed with female and minority attorneys. So I do agree that we have an obligation to move the needle.
SHEA: I think it also has to be an intentional process, because obviously whatever firms have been doing all this time isn't really working. I think, internally, part of the issue is if women were in the leadership positions, some of these changes would be happening a lot faster. 
It's sort of the chicken and egg problem. You have 18 percent women equity partners, and to have more female equity partners, you need more women there because they can talk about things like implicit bias and how women attorneys are evaluated and making sure there's fairness in the process and compensation and all of those things, but we also need allies.  
JASKOLKA: And frankly in-house counsel can do a better job of reaching out to the law firms and the relationship partner in determining how someone does attain a partner rank. Who gets the originating credit? Who gets the billing credit? Try to have some influence in that decision-making.
The other thing I do, and I know some of my peers do, is reach out to the managing partners at the completion of the case where there's been an exceptional result and really promote the senior associate or mid-level associate who worked on the case and provided that excellent result. 
GRANDJEAN: I think so many clients, though, are hesitant to reach out and ask about who gets the origination credit, who gets the managing credit. I don't see clients doing that and I don't know why they don't feel like it's their place.
RODRIGUEZ: I think we're starting to see it now with the ABA resolution, and we just went through a pitch process with a client where they modeled their pitch to be consistent with the ABA guidelines and questionnaire, and they asked questions like who is our relationship partner going to be and is that person a diverse professional? What experience and what demonstrated record does this person have of building diverse teams and attaining success in their particular area through building diverse teams? 
So clients are really starting to kind of peel things back. I think they're also frustrated that we have not had the progress we would hope to have over this time, and I think they're starting to assert their influence.
If you look at your customers, for example, Xcel Energy, who are your customers? They look more like us, right? And who are the decision-makers in the household? They look more like us. Clients are getting really wise to that, and they require their vendors to have percentages on this, that and the other to reflect the populations they serve and that their legal counsel should be no different. I think as we see changes in the legal departments, we're going to see changes in how things get done.
SHEA: Multiple studies show diverse teams produce better results, whether its profits or otherwise, so its in their own interests, really, to request that in their legal counsel. 
Successes So Far
LAW WEEK: There are a lot of things in there that I'd like to circle back to. Just mentioning the Mansfield Rule and the ABA resolution and talking about some of the initiatives that are out there to acknowledge the disparity and try to address that, what do you think is working well so far? What are some of the things you've seen actually move the needle?
GRANDJEAN: I can talk a little about the Mansfield Rule. I participated in the first Hackathon that the Diversity Lab put on where the Mansfield Rule arose. It's amazing to me how simple the concept really is. A lot of the other teams had relatively complicated ways to [pursue similar goals]. But the Mansfield Rule was so simple and straightforward, and I'm seeing firms all over the country just jumping on it. And a lot of them are saying, "We were already doing something like that, but now you're putting a name to it, you're getting some recognition to it," and it strikes me that it's really taken off. So I'm optimistic that that will produce at least some change.
JASKOLKA: I agree. I think it's still too early to tell how effective the Mansfield Rule will be. Law firms need to be honest with themselves and really follow the stringent requirements, which means they will interview and consider at least one woman for senior level positions such as managing partner or an executive committee seat. And as long as that is truly happening and you're seeing a fair number of women promoted into those roles, I think it could be a very effective tool. But it is still early on.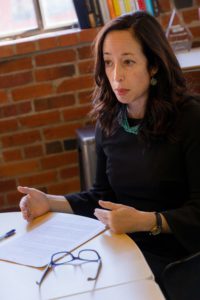 LAW WEEK: I know with the Mansfield Rule, one of the things I've heard is that having it top of mind also having it formalized — a lot of firms might have similar things in place already or its just the way they behave, but having that set in stone — changes the way firms think about these things.
GRANDJEAN: Naming it, yeah. 
SHEA: It's an accountability piece, I think. It's very easy to sort of push that to the side internally.
JASKOLKA: And it's measurable.
RODRIGUEZ: I think I've had the advantage of being at a law firm that has been doing that for a while. I definitely think we have seen results. We have a number of women in management positions and met the goals for this year for the number of women partners. The other thing I think it does is that helps build that critical mass. Otherwise, the young people look up and say they don't see any role models. That's one of the things that's starting to change, and I think that makes a difference. 
When I was starting out, I was very fortunate, because I was at a firm that had a number of women and had very strong women who were leading the firm. But I've talked to a lot of my peers at that time period who left the profession during that time period. It was just because there was nobody else that they could relate to or share with or help guide them. 
And we can't forget the men in this whole equation. I know for myself there have been any number of terrific men who have helped me enormously and mentored me and championed me along the way.
JASKOLKA: I agree with that. 
SHEA:  It's a little different for me working for the courts, since our office is part of the Colorado Supreme Court, but I know our regulation counsel, Jim Coyle, very well, and I know that diversity is always a factor in employment decisions, though I don't know if it's formalized. 
I would probably like to see the statistics, having spent most of my career in government; I feel like I see a lot more women, and not just women attorneys but across the board in leadership positions. 
For example, at the AG's Office in a deputy position or first assistant attorney general position. In the Office of Attorney Regulation Counsel, our chief deputy and two of our deputies are women, so I don't know if this is true across the board, but I think public service/government work is maybe perceived as a little more woman–friendly. 
I haven't worked at a big firm, so I can't compare it, but for the women I know who work for the government who have families and things like that, I think they feel it affords them more flexibility. Obviously, there's sometimes a pay disparity between government work and private sector, but I think that's one of the tradeoffs some people make. I think we have a little more opportunity, and you don't have a committee voting on whether this person should be elevated to partner. And you don't have the financial risks of becoming an equity partner. It's just a much different scenario.
LAW WEEK: As for other women's initiatives, I know I've heard a lot of ideas that address reasons why women might be leaving the profession, is there anything that seems like it's taking that into account or addressing it in the right way.
GRANDJEAN: I think there are lots of great ideas out there that people are exploring and firms are considering and implementing.
I think a lot of it is just interrupting the way law firms have always done business and interrupting the implicit bias that's in the way law firms have done business. Things like how you put together a team: Is the lead originating — probably male white — partner choosing the team? And is there anything to interrupt his probably natural inclination to select other people who are like him to work on his team? Because that can be very comfortable. I think some of the things that are most promising are the things that get in the way and interrupt that bias. 
An example of that might be what some of the accounting firms are doing where they're assembling the team so it's not the lead lawyer who gets to choose the team, the team is being assembled, and that's who's going to work on it, and people have the chance to work with others that they wouldn't ordinarily. 
An example at our firm is that we're actually organized into strategic business units based on industry. I'm in the health care business unit, I'm a labor and employment litigation lawyer, and if there's someone else in that health care business unit — maybe a regulatory employer who has litigation or labor and employment needs — just based on our structure, they should be coming to me for that work. 
If you weren't interrupting the bias by structuring it that way, that person might go to his office next-door neighbor and select that person to work on his projects because that's how it's always been done.
SHEA: That and how when women have children, while at law firms — I haven't experienced this, but especially what we hear from members of the Colorado Women's Bar Association — it either derails you from the partnership track or significantly slows the advancement you might make. And then there's the biases that come and stereotypes that a woman, when she comes back from maternity leave, is not as focused or can't be as dedicated and work as hard as either a man or woman without children, and so addressing that and making it easier for women to have a family and also a career, that it's not this automatic black mark or prohibition on moving up at the firm. 
Then there's the equal pay issue, which, sad to say, we've been talking about forever as well. The Colorado Women's Bar Association has been working hard on introducing a pay equity bill, which did get introduced earlier this month and made it through the first committee (the bill has since made it through the House). Among that 18 percent of women who are equity partners, there's even a pay gap there. 
They're still making 80 cents on the dollar, so making it to that top level is not enough. That's an issue that just needs to be addressed from the top down. And then, of course, women of color are disproportionately negatively affected by the pay gap.
It's sad we have to legislate that. In the public sector, there's a lot more transparency. Employees' salaries are published publicly because taxpayer funds are involved, and there's a lot more transparency and accountability in terms of who's getting paid what. I think that's part of the issue in firms, or it can be. 
Folks don't know what other people are making, and there can be issues if you start asking, so making that transparent and looking at the way associates or partners are evaluated and making sure that those evaluations aren't implicitly biased, that you're looking at the right things, that you're making sure the person doing the evaluation is not acting on some sort of implicit bias — all of these are things that factor into the compensation and promotion piece.
JASKOLKA: I think it goes all the way back to the hiring. Leadership needs to demand a more diverse, gender-based, minority-based pool of applicants to choose from. I also am a big proponent of — I don't know what the correct term is — blind resume hiring. You would black out or redact their name and other identifying pronouns, including their GPA because there's no empirical evidence to support the notion that you're going to be a better attorney if you have stellar grades behind you. 
So I think it goes all the way back to hiring and making sure your candidate pool is diverse and then making your decisions based on objective — not subjective — criteria. 
RODRIGUEZ: I think I'm hearing a theme here that I would really echo. It's opportunities. I think that people don't intentionally discredit women or give them lower ratings or whatever, but that as a general matter, the women don't get the same opportunities to interface with clients, to do the stretch project, to do the different things, so when it comes time to evaluate, they haven't had those projects, they haven't had those opportunities, so it appears that they're lacking in comparison to their male counterparts. I think about this on both sides — that the firms as well as clients can really support providing opportunities to all of the women. 
One of the best things I think has happened to the profession — and maybe the worst — is the technology. Technology doesn't have you tethered to the desk. 
Just as a mom, racing around kids trying to do stuff, I just talk to the younger women who are in the years where they're really pressed up against it, and to not necessarily have to be at your desk all the time and still be able to perform and get your job done and do things, I think, makes an enormous difference.
But the agile working environments, the different types of things that are available now, nobody did that when I started practicing. To me it seems like a big step forward.
SHEA: Like being able to work from home and still having the flexibility to do that. Yeah, it makes a huge difference for them.
JASKOLKA: I think those structural changes can be effective, but they have to be available without stigma to everyone regardless of gender.
GRANDJEAN: Absolutely. Available and used. There's maternity and paternity leave, but until there's a generation of men working in law that is taking leave that is the same length of leave as mothers take, maternity leave will always be looked at a little bit differently.
SHEA: I'm happy to say I've seen a couple of male attorneys do that lately. So it's starting.
RODRIGUEZ: I've seen that from the young male attorneys, as well. They want that kind of flexibility, they want to have time with their families, they don't want to be the unknown father figure, they want to have their children and their families and actually know them and get to participate with them. I think that push is going to be a benefit to everybody.
JASKOLKA: Absolutely, but it also requires a societal shift as well before that's embraced.
Next Steps In The Conversation
LAW WEEK: I think we've gotten to this question as it is, but in terms of changing the conversation, pushing it forward, taking those initiatives to the next step, encouraging those societal changes on the broad scale, how do you think this should evolve? What is the next step in this conversation beyond just saying, 'yeah it's still 18 percent,' or 'this is still going on, we're going to try this and see if it works'? How do you think that can evolve?
RODRIGUEZ: I think one thing we're going to have to do is set specific measurable goals and hold ourselves accountable to meet those goals. I think we need to employ the same kinds of techniques to this goal that we use with other goals in the business world.
GRANDJEAN: I think the whole #MeToo movement helps. Gender issues have never been this much in the forefront of the minds of law firms — at least I think — for a long time. And what I'm seeing at a lot of firms is it's the cobbler's children who have no shoes. 
As a labor and employment lawyer, I can advise my clients about what they should be doing in the workplace, but so many law firms with lawyers in them aren't doing those kinds of things.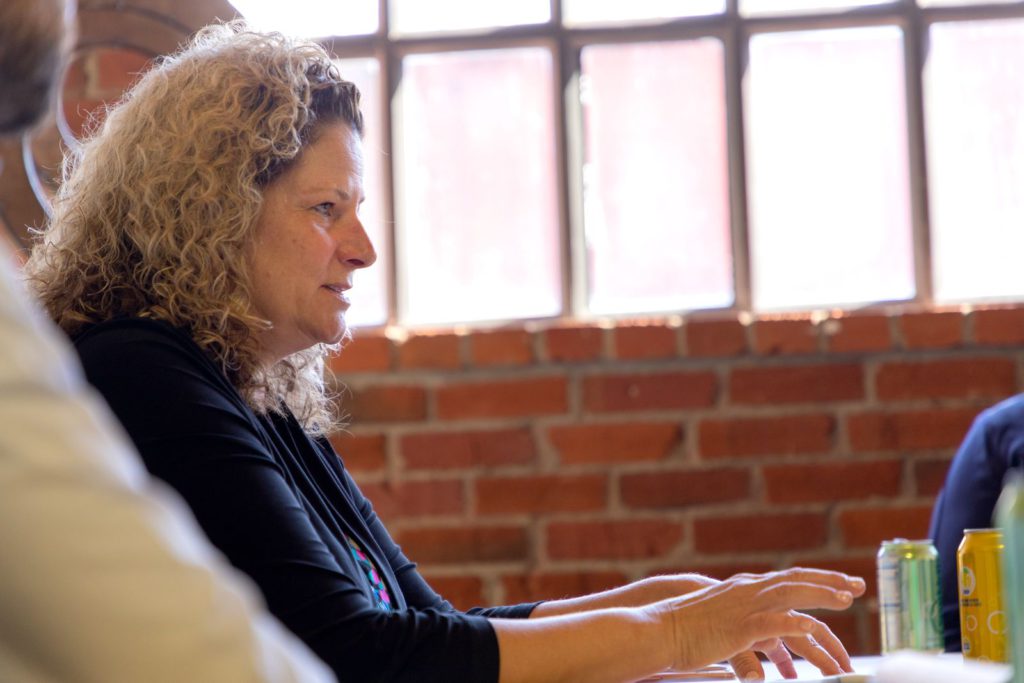 I think law firms, whether it's out of fear or coming from a good place, are taking more steps now than ever to address gender issues in the workplace, whether it's just from a sexual harassment training from a defensive perspective or general culture with respect to the workplace training. I see law firms talking now using words like "implicit bias," and we're going to train people to recognize their implicit bias. I think the time is right for changes to be made as long as there is the strength in law firms to embrace that and take some steps forward.
JASKOLKA: In essence, there should be a gender-neutral reporting and evaluation system within law firms and legal in-house departments to determine who is a viable candidate for upward mobility within the law firm rather than relying on the groupthink mentality. 
I think, often, we promote those who we see ourselves in, so when you apply objective criteria and you have benchmarks and that can be checked off, I think that might result in closing the gap a bit, they might see some progress. 
One thing that always bothered me in law firms is that women tend to do a lot more non-billable hour work than the men did, like networking events, socializing with clients and internal mentoring of newer younger attorneys, and they never got credit for it. So I think there needs to be some recognition and reward system in place for that.
GRANDJEAN: Which can be an overhaul of a law firm's compensation system, I think that's a great place to start. 
SHEA: What do you value? I think there are things outside of billable hours that law firms should value. I worry, because I see a lot of law firms have these kinds of discussions and inviting outside folks to come and talk about diversity and things like that, but I hope it's not just talk. 
I think that's what has happened for a long time. Things haven't really changed. I think they have to see that it's in their own interest. 
They either have to be personally invested in it from a point of advancing the profession or a bottom-line issue. Like I said, diverse teams produce better results. If a firm sees that it's in its interest, if it's a profit issue to have diverse professionals on staff on projects–I don't think it can be mandated from outside. I think it's really got to come from within. 
But I like to see initiatives like the Mansfield Rule. It does provide a measure of accountability to the public, so when customers are thinking about where they want to go for legal services, they start thinking about, "Is my lawyer going to look like me? I want to go somewhere I'll have people working on my case who look like me." I think that's important.
LAW WEEK: So I feel like that is a quick rundown of possibilities for things that can be measured: Having gender-neutral requirements for promotions and considering new candidates, having objective metrics for how people are evaluated, having concrete goals. 
Those all seem like ways that would be fairly simple to identify. Is there a reason you think that's maybe not being adopted? Or is there a pitch for how you think they should be or could be if you were on a Diversity Lab team right now?
SHEA: I think a lot of firms may think that's not us. 
The CEO of Salesforce, Marc Benioff, was recently on "60 Minutes," and he was convinced that there was not an equal pay issue at his company, that women were making the same as men. 
So one of his head female staffers came to him and said, "I think we have an equal pay problem and I'd like to look into it." And he was convinced that wasn't true, but he said go for it. 
And there was a massive study and it turned out there was pay inequity there. He was shocked but made huge commitments to changing that immediately. 
He changed people's pay, he talked about how much money it cost at his company to do this, they're going to go over it periodically to make sure that people are being paid fairly. 
I think that's something people are defensive about and think, "We don't have that issue here." I think it's getting past — when people talk about implicit bias, people say, "Well, I'm not biased, I'm not prejudiced," but we all are, we all have these issues, it's nothing necessarily negative, it's just unconscious and it's things we've learned and we've picked up over time and we have to consciously work against it. So not being defensive about where you are and maybe just opening your mind to the possibility that there might be things you could do better.
JASKOLKA: I think there's reticence because it would take dedicated resources, thoughtful self-reflection and time. And I think those three things may be the barriers to employ those objective criteria and making sure everybody's following them.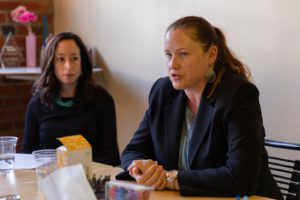 LAW WEEK: And that goes with any new initiative, right?
SHEA: It's true, that's definitely a deterrent. 
GRANDJEAN: I think changing the status quo is never easy, and law firm structures and law firm compensation systems are built differently and not necessarily focused on achieving the kinds of goals we're talking about here. 
I think we need to change the idea of origination credit that lasts forever for a client. You need to be rewarding the people working on the team for the various things they're bringing to the team. 
You need to interrupt succession planning for clients: When the senior person is getting ready to move off that case, has there been deliberate thought given to who moves into that role, and how do we make sure to interrupt any implicit bias associated with that? 
So I think part of the reason we're not seeing the change is it needs to come from the heart and soul and gut of a law firm to change it the way we're talking about.