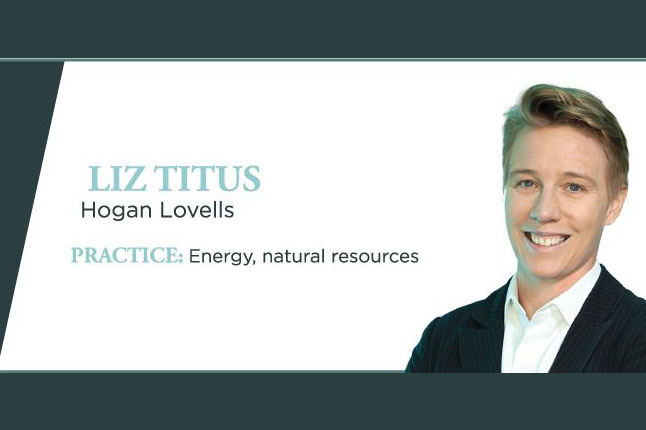 For Liz Titus, the competitive nature of litigation is part of the fun, but she always prefers to achieve a satisfactory result through other means when possible. 
"I do litigation, and there's part of me that loves the fight and loves that challenge," she said. "But at the end, it's always better to resolve things — whether you settle or come to an agreement or create a plan. That's always more satisfying work, and I'm lucky enough to be able to do both."
Titus, counsel at Hogan Lovells, started with the firm in 2013. She fell into energy law when a litigator position came open in her previous firm's natural resources practice group. She wanted to get to the bottom of the "overarching fear" of oil and gas development and said in order to do that, she had to understand the industry better.
"I learned pretty quickly that to really be a good advocate, you have to understand your client's business and their business objectives," Titus said. 
She became fascinated with the practice and enjoys finding common ground between energy companies and residents. She helps facilitate negotiations and surface use agreements between developers and landowners. She also represents Coloradans For Responsible Energy Development, an organization that provides education to the public about fracking and oil and gas development. She said education is important in helping people understand development can be done safely and effectively. 
She feels it helps public sentiment on the issue and said the problem with recent ballot initiatives to prevent development don't attempt to reach middle ground.
"Their goal is to eliminate, there's no compromise there," she said. "For its part, the industry has been willing to compromise." 
Titus has lived in Colorado for most of her life and noted that the rapid expansion that's taken place in the state in recent years inevitably places development sites closer to where people live and work. 
"Places that used to be the middle of nowhere aren't anymore, and I think that's where a lot of tension comes from," she said. "I think a lot of it comes from fear and not knowing, but it also comes from bad things that have happened." 
Last year, Titus got a "significant victory" for a Colorado oil and gas company concerning class action royalty claims on proceeds that her client hadn't received. The claims were dismissed by the district court in 2016 and that was affirmed last year by the Colorado Court of Appeals. The Colorado Supreme Court denied certiorari.
Titus, along with Anadarko's Colorado government relations manager Chantell Taylor and of counsel at Holland & Hart Abby Briggerman, also worked to start the Colorado chapter of the Women's Energy Network, an international organization focused on providing programming, education and other opportunities to women in the energy industry. Together they serve on the board of Women's Energy Network Colorado, and next year's conference will be held in Denver, something Titus is especially excited about. 
She appreciates the networking opportunities the organization provides and noted that she had the fortune of good mentorship. She said she's now at the point in her career where she can return the favor to younger attorneys, and it's a responsibility she takes seriously.
"I don't think you get anywhere professionally, whether it's a law firm or somewhere else, without somebody investing in you," she said. "You can keep your head down and work and be the best and do a great job, and that will get you so far, but unless someone [who is above you] sees something in you, or wants you to succeed, it's very difficult." 
— Kaley LaQuea