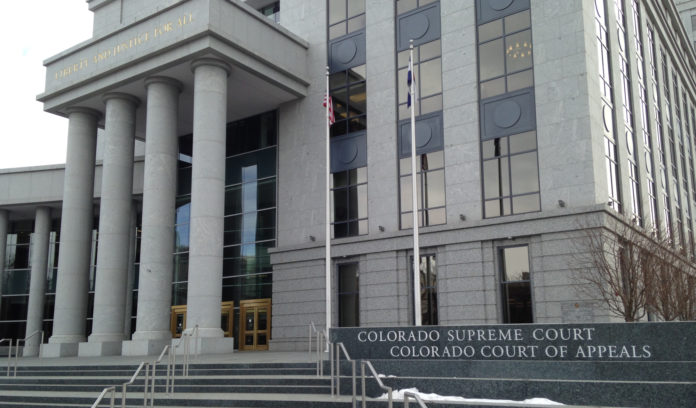 The Colorado Supreme Court will hear six cases April 4-5 on topics including double jeopardy in a murder case and a "revenge porn" case.
According to a Colorado Court of Appeals opinion, Rafael Garcia was accused about 30 years ago of killing a person in a relationship with his wife, who he was separated from.
Garcia fled to Mexico and the Mesa County District Attorney's Office unsuccessfully attempted to extradite him. The DA's office and the Foreign Prosecutions Unit at the Colorado Attorney General's Office put together a casebook and sent it to Mexican authorities so Garcia could be prosecuted under Mexico's Federal Penal Code. Garcia was acquitted under Mexico's legal system.
In 2016, Garcia was arrested on an outstanding warrant when he arrived at the Denver International Airport. A Colorado jury convicted him of first-degree murder.
Garcia appealed to the Colorado Court of Appeals arguing, among other things, that double jeopardy barred his retrial. 
Garcia argued his conviction violated his right to be free from double jeopardy under Colorado Revised Statute 18-1-303. Under that statute, if conduct constitutes an offense within a concurrent jurisdiction of Colorado, and of the U.S. or another state or municipality, prosecution in any of the other jurisdictions bars subsequent prosecution in Colorado under certain circumstances.
The appeals court addressed whether 18-1-303 applied to prosecution in foreign countries and found foreign countries were not enumerated jurisdictions within the scope of the statute based on its plain language.
The appeals court rejected the appeal arguments and affirmed his conviction. 
Now, before the Colorado Supreme Court, Garcia is asking whether 18-1-303 barred his prosecution in Colorado court after he was prosecuted in a Mexican court for conduct in Colorado. 
Trevor Pellegrin began dating a woman in 2016 and she "allowed Pellegrin to take private, intimate photos of her." She ended the relationship in April 2017.
The woman had limited contact with Pellegrin but saw him briefly from July 16-19, 2017. She was in a new relationship at the time. After Pellegrin learned she was seeing someone else, he threatened to post the photos online, according to a Colorado Court of Appeals opinion.
Between July 20-23, multiple family members told the woman her Facebook profile was altered. When she looked at her profile, she found her cover and profile photos were changed to nude photos of her. She recognized these as photos Pellegrin took, according to court records. 
She also received many text messages and photos from strangers responding to a Craigslist advertisement and learned the Craigslist ad was posted on the "casual encounters" board. The ad also showed some photos of her including two that were posted on Facebook. A second similar ad was also posted on Craigslist.
The woman called the police and provided a statement and her cell phone. Pellegrin was arrested and admitted to posting some photos after which they were taken down. The state charged Pellegrin with one count of stalking, two counts of posting a private image for harassment (one for Facebook and one for Craigslist) and one count of harassment. 
The defense argued the woman posted nude photos of herself and blamed Pellegrin because she wanted to get him in trouble. A jury convicted Pellegrin of stalking, posting a private image for harassment (Craigslist) and harassment, but acquitted him of posting a private image for harassment on Facebook.
Pellegrin was sentenced to three years of supervised probation and 90 days in jail. The court also made a domestic violence finding and ordered Pellegrin to participate in a domestic violence evaluation while complying with its recommendations.
On appeal, the Colorado Court of Appeals was asked whether harassment under Colorado Revised Statute 18-9-111(1)(e) is a lesser included offense of stalking, under 18-3-602(1)(c). The appeals court found they failed the single distinction test under 18-1-408(5)(c) because they differ in more than one respect.
Pellegrin also contended under the 2000 U.S. Supreme Court decision in Apprendi v. New Jersey, he had a Sixth Amendment right to have a jury trial, not a trial court, determine whether the crime for which he was convicted included an act of domestic violence. 
The appeals court disagreed, contending a domestic violence finding under 18-6-801(1)(a), doesn't impose a penalty contemplated by Apprendi. That section of the statute, according to the appeals court, authorized a trial court to make a factual determination about whether the crime included an act of domestic violence. If a court made such a finding, domestic violence treatment is mandated. The appeals court affirmed the judgment.
The Colorado Supreme Court will look at whether the court of appeals erred concluding 18-1-408(5)(c) created a single distinction test, meaning because harassment differs from stalking only insofar as a less serious injury and lesser kind of culpability suffice to prove harassment, the offenses don't merge.
Another question before the state high court is whether the federal and state constitutions require a jury to make a domestic violence finding that subjects the defendant to an increased penalty.
Other topics before the high court in April include cases connected to hearsay and jury instructions. To learn more about the other cases, click here.