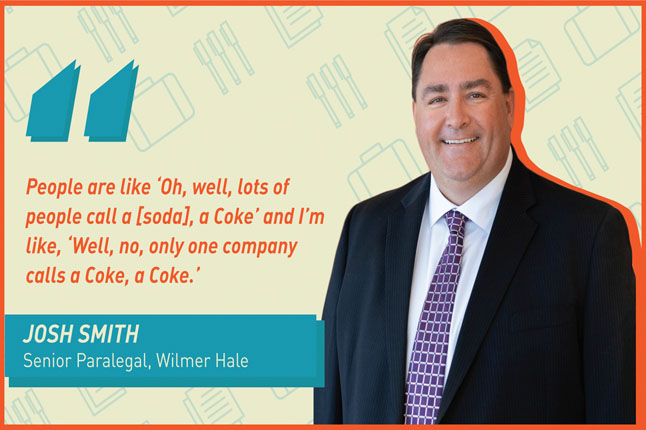 Josh Smith found the legal profession almost by accident. The first in his family to attend college, Smith received a scholarship and enrolled in night classes at the University of Colorado Denver. He needed a day job and responded to an ad posted on a campus bulletin board for a runner at a law firm downtown, two floors up from where he works now as a senior paralegal at Wilmer Hale.
"That was back in the days when you actually had to go to courthouses to file something," Smith said. "My whole job was basically going to all the courthouses to take things to the clerks and get copies of briefs and bring them back."
At the time, Smith never imagined the job would be his first in a long fulfilling career in the legal profession. His father spent most of his life working asa police officer; Smith knew he wasn't interested in following that path. In college, he studied economics and after graduation accepted a job as a statistician crunching numbers for the Federal Reserve Bank. But he soon found his way back to the law.
A friend of his father's, a managing partner at Holme Roberts & Owen, offered him a position at the fi rm as a case assistant. Smith left the Federal Reserve and settled in to what would become his new career. "I really liked being around the professionals, and I really started to see the law firm in a completely different perspective," Smith said. "I think people have a perception that lawyers are something that they're really not. Most lawyers don't do flashy things; most people don't have salacious cases. You know, there's a lot of little problems that regular people need resolved."
These days at Wilmer Hale, where Smith has worked for about the past three years, he focuses on intellectual property law and trademark protection— helping companies select, protect, maintain and defend their brands. If a company wants to adopt a new trade-mark he'll run clearance searches, and the team of attorneys he works with will determine what risk might exist for a particular brand. He also helps his team assess whether their client might needIP protection internationally.
Although brands are an entrenched part of everyday life, Smith said he thinks a lot of people still don't fully understand the IP and trademark work the firm does. "I try to explain it to people,"Smith said. "People are like 'Oh, well, lots of people call a [soda] a Coke' and I'm like, 'Well, no, only one company calls a Coke a Coke.'"
What's more, a lot of the clients Smith works with operate on the business-to-business side of things, and so they are typically big companies, but they're not necessarily house hold names. There are a few he's worked with that people might have heard of, though. And one recent example involving Crocs shoes illustrates the need for the type of work he's involved with.
"We protect brands all over the world, and people are like 'well, why would you be fi ling for that in Madagascar or Thailand?'" Smith said. "You never know where Crocs are going to be sold. They were a startup company from Boulder, basically. And here they're a huge public company and you watch a press conference of little kids that were saved from a cave in Thailand, and four of the boys are wearing Crocs."
When Smith isn't aiding WilmerHale clients with important trade-mark and IP matters, he's traveling to far flung oceanic locations to dive and shoot underwater photography. Notably, he's been in shark cages in freezing water off of Guadalupe Island near theBaja Peninsula. He says the fi sh is mis-understood.
"They're not just this killing ma-chine that Hollywood has made sharks into," Smith said. "You can see that they're very thoughtful, that they're checking you out, trying to figure out why you're in their environment and if you're menacing to them." Smith prefers photographing smaller creatures, though, like, a pygmy seahorse, which isn't much bigger than a grain of rice.
And then there's the time he spends as a national judge for the Mustang Club of America, specifically scrutinizing '67 and '68 Mustangs at car shows."It's an interesting hobby; I get to go to car shows all over the country, and you meet really interesting people, and people get really passionate about their cars which is kind of fun."
In a way, it's almost as if judging and restoring old Mustangs is one more brand Smith spends his time protecting.
— Chris Outcalt