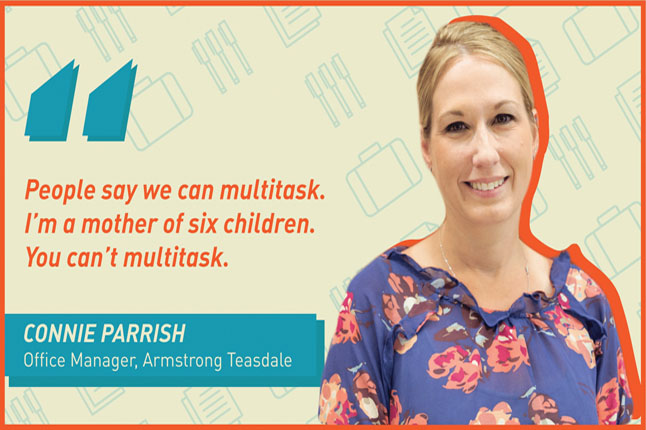 Connie Parrish has just settled into her job as office manager at Armstrong Teasdale, but she has already been working to implement new management styles in the firm.
Parrish joined the firm less than a year ago and has spent much of that time focusing on building a team mentality at the growing local office of the firm. After beginning her career in the legal world in 2007, she learned the ropes at a small Evergreen law firm where she did a little bit of everything. Over time, she grew into an administrative role at another Denver firm and made the move to Armstrong Teasdale largely because the local office provided her a place to continue growing and because she felt she had support from the local office managing attorney, Chuck Steese. Her work place philosophy of having an "agile mindset," which focuses on communication and teamwork fit in well at the office.
"When I took this job with Chuck, he just asked, 'What do you need from me? What do you need to do your job?' He just empowered me and trusted me in my skill set to allow me to do whatever it is I needed to do,"Parrish said. "The fact that our firm is just starting to grow in Denver —we need to be more innovative to at-tract people to come work here."
And her focus is entirely on in-novation. Talking with Parrish about agile management is similar to at-tending a professional development seminar. She has adopted the mind-set in both her work life and person-al life and hands out books on the subject to others she works with.
The agile mindset is, in short, about making people awesome, according to Parrish. It stresses team-work and tackling tasks with both a forward looking strategy on how to accomplish a goal as well as a retrospective look at how to improve the process for the next time around.
And in working with attorneys and staff at the firm, Parrish focuses on how to discuss conflict and make everyone feel like part of the team.
"I always felt like I was part of a team and not an underling as a para-legal," Parrish said. "I think that's huge because when you're treated as an equal in such a hierarchical typeof structure as a law firm, I think it really helps you feel like you're con-tributing. And when you feel like you are, you're going to want to do more."
Denver office managing attorney Chuck Steese said in his nomination of Parrish she has demonstrated the meaning of the word teamwork through her approach and her focus on consensus and workplace happiness.
Parrish might have taken the agile mindset to heart because it came from someplace so close to home, as well. Her fiancé, Chris, who is an agile coach himself, introduced her to the subject and put it to use in their relationship. "He was like, let's do this … at the start of this relation-ship, and let's talk about how we handle conflict, what happens when I'm triggered," Parrish said. "So we've done it. It's not romantic at all, but it worked. It's amazing."
Parrish likely had practice as a manager in her persona life long be-fore entering an administrative role, as well. She said she encourages constant communication among members of the team and discusses how to take projects one at a time.
"People say we can multitask,"she said. "I'm a mother of six children. You can't multitask."
And despite being with Armstrong Teasdale for a relatively short amount of time, Parrish is already focused on making a big impact at the firm and also on taking a holistic approach in bringing her management strategies to the firm at large. She discusses getting buy-in throughout the organization and thinks about how the firm can implement the philosophy in order to win over clients, not just improve its internal strategies."
Agile is very tied to efficiency and how to make that process better and quicker," Parrish said. "What we're finding in the legal field is that our clients are very sophisticated and they're wanting efficiency and they want us to do our work quicker better, faster and more competitive.I think this is what separates one law firm apart from any other. If our clients see this and know that we're able to provide a better value more efficiently than a competitor, that's where I think as a law firm, that will set us apart from other law firms in how we do work."
And that client pitch isn't just a matter of finding success; like many law firms, competition is a matter of survival. Parrish is focused on help-ing the law firm remain competitive and stay on top of work style changes —like emphasizing workplace happiness and remote work opportunities in order to keep the team efficient and productive — in order to grow.
"If we don't get in front of it, we're not going to be competitive, we're not going to get the client."she said.
She is confident that the Denver office of Armstrong Teasdale will continue to grow and that building a strong team in the local office is core to fueling that growth.
"Everybody is a leader here, they're not just a legal secretary or receptionist, the potential for growth is huge,"Parrish said. "They know they're the foundation of something bigger."
— Tony Flesor