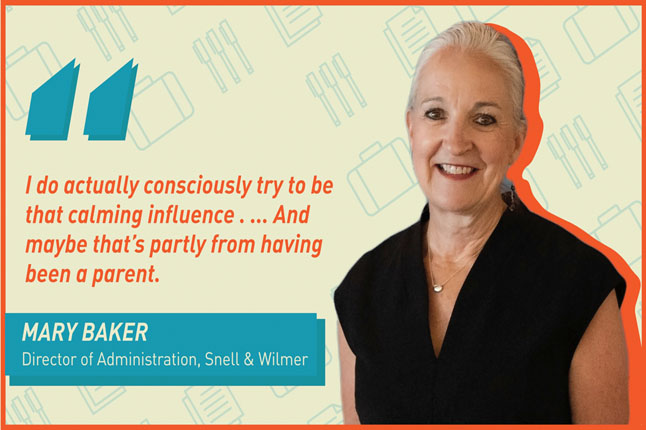 As far as Mary Baker's day to day goes, there isn't one.
"The best thing about this [job] is you never know what you're going to deal with on a day to day basis," she said.
She's the Denver-based director of administration for Snell & Wilmer, which has 400-plus attorneys practicing out of 11 U.S. locations. In that position, she oversees a swath of non attorney operations including the firm's paralegal, secretary, IT and research departments. It runs the gamut from conducting new employee orientation for a legal secretary, to coordinating a volunteer park cleanup event for the firm to assisting with the firm's recruiting efforts. She's effectively a re-liable catch-all for operations-related questions and concerns.
"Everything eventually works its way to me," she said. "You never know what it might be."
In a testament to how much law firm administration is changing, her work increasingly involves oversight of the fi rm's IT needs, and "technology has just more and more taken the forefront," she said. Lawyers and their support staff need digital tools to do their most basic work, and those tools need to be functioning properly at all times. That works its way to Baker, too.If a client needs a document sent immediately, and the legal secretary, for whatever reason, is unable to fulfill the attorney's request to send it, Baker is often called upon to troubleshoot the issue to make sure the client gets what they need.
Law firm administration is worlds different from what it was in 1992, when Baker took a job as a controller for Pendleton & Sabian. After that, she worked as a regional fi nance manager for an engineering fi rm that got acquired by an Australian company. The international breadth of her work had her traveling to locations from Calgary, Canada, to Santiago, Chile.
Since returning to the legal industry in 2014 by joining Snell & Wilmer, Baker's role has only expanded. She assumed the duties of the firm's practice group administrator for a time when that position became vacant (which has since been filled in the Phoenix office). In that capacity, Baker stepped up to plan the bankruptcy and real estate practice group's retreats that Denver will host in August andSeptember. She and her assistant arranged the dinners, hotel stays, meet-ing spaces and other logistics involved in the retreats.
That's on top of the role she took on last year in the fi rm's research and information services. Baker is in charge of coordinating the electronic research services the firm will use. That is no easy task considering that attorneys all have their own preferences when it comes to using LexisNexis, WestLaw and other legal research platforms, but a firm has to balance that with the significant subscription costs of each.
To do her job requires "flexibility, adaptability and the ability to work with people in a calm way," Baker said.
That last one becomes especially important in the shifting world of running a law firm; attorneys and staff can get excited or tense when there's a change occurring. "I do actually consciously try to be that calming influence because I think that's important,"she said. "And maybe that's partly from having been a parent. You don't want to be the one panicking, because someone's looking to you to be calm."
Given her background, Baker has a mind for finance that allows her to consider the economic cost benefit analysis of decisions she makes. That also enables her to stay objective when tackling her many human resources-related tasks, from onboarding new hires to managing day-to-day staffing.
But the human element matters, especially when it comes to respectful communication, Baker said, add-ing that she tries to treat other people how she would want to be treated. She stresses to many of the 40 employees she oversees to observe simple courtesies, like adding a "please" or "thank you" to every email to soften the messages.
Even when a job is as broad and high level as Baker's, all of the little details make a difference.
— Doug Chartier