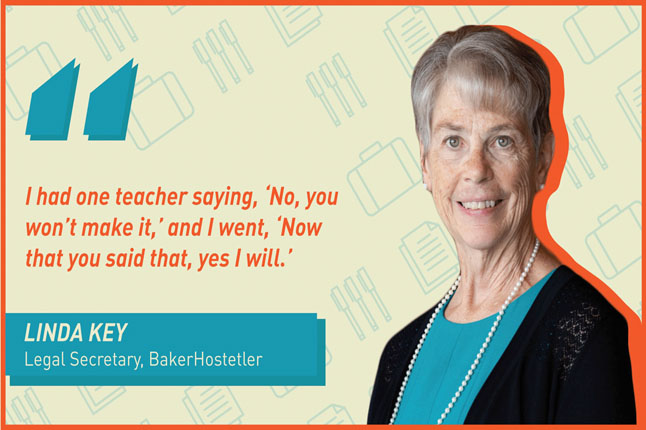 With a 47-year career as a legal secretary, it's expected that Linda Key has accumulated some knowledge. But she has made a name for herself at BakerHostetler with attorneys and clients alike through pas-sion for her job and a willingness to work hard.
And there might be something to say about her stubbornness too. Her career was kicked off at the end of high school when — for a reason she said she still doesn't know — she put it in her yearbook that she wanted to become a legal secretary.
"I had one teacher saying, 'No, you won't make it,' and I went, 'Now that you said that, yes I will,'" she said.
She's spent the past 26 years of her career at BakerHostetler and has worked with partner Ray Sutton since 2001. Her work with both the firm and with Sutton have earned her a reputation for having a near-encyclopedic knowledge of his cases, which pays off with other attorneys— one of whom referred to her as"the conductor of the symphony" in her nomination to Law Week — as well as clients, who might insist on catching up over the phone before getting down to the business about why they call.
At one point recently, Sutton asked her to find a memo he had writ-ten roughly four years ago. It turned out he penned it eight years ago, but she knew how to track it down any-way. Now, with Sutton transferring some of his clients to younger partners, he tells them that they'll need to take on Key as well. She joked that when she started working with Sutton, who was then managing partner of the office, she was scared to death of him, but now his high expectations match her own.
Key said she worked as an administrator for a short time, but left that position after realizing her expectations for hard work didn't necessarily mesh with everyone else. She said she's fine with leaving that job to someone else while she continues to put in long days, often running from 7:20 until after her scheduled end time, when she often misses her train home.
"I want attorneys to appreciate the time I put in," she said. "And they truly do."
She indicates that she hopes her efforts have earned the respect for the attorneys as her respect for them clearly shines through. She said she works with the best attorneys in the world in what they do, and that she's had a good dose of luck to work at the firm for the bulk of her career.
The hard work and "jack of all trades" type of role she has in help-ing her attorneys with anything that comes up might be what has kept her doing the work for so long."
It's never a smooth day, you don't know what's going to get thrown at you and you just have to be ready for that," she said. "I think I'm going to know. And then things come up."
In getting to where she is now, she worked at law firms in Philadelphia and New Jersey before falling in love with the Rocky Mountains while visiting her brother in Calgary. Mov-ing to Canada was off the table, so she wound up in Denver in 1978.
Her love of the Rockies has not only kept her in Denver to raise a family and see through the bust and another boom, but it is also a big component of her relationship with her husband, himself a "mountain goat hiker" who was born and raised in Colorado.
The two have had trips all around the world from hunting caribou inAlaska, to taking a National Geo-graphic photography tour to the Ant-arctic and many places in between.
Key is also known for her sense of humor, which comes through quickly as she laughs about her work, her"spinster" high school teacher who inadvertently launched her career or her willingness to laugh in the face of adversity, such as the threat of an Alaskan grizzly bear trashing a campsite or a tough and early hunt-ing trip when "even the elk need their coffee."
This October, she is set for an elk hunting trip that will have her out of the office and as a result, has many in the office planning for how to cover the blind spots that might be left with her absence.
She said it's likely to be shared responsibility."Nobody wants my job," she said."They don't want that pressure."
—Tony Flesor