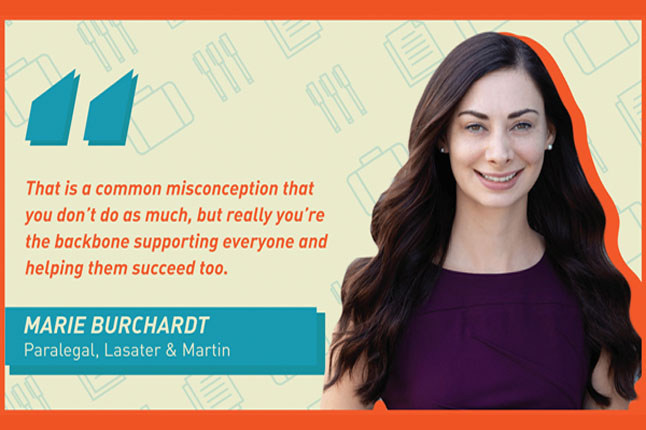 As a paralegal at Lasater & Martin, Marie Burchardt's work ethic is driven by a simple principle: If something needs to get done, take the initiative in-stead of waiting until the need becomes an emergency. And although much of her work includes helping the firm's attorneys draft motions, pleadings and other documents, her willingness means she'll also jump in on everyday tasks that keep the firm running.
"I'd rather have things run smoothly than not," she said. "So if it's chasing down a receipt or calling someone or just running and delivering something, a lot of times, it's just easier to get it done than to worry about trying to find someone who can do it."
Burchardt started at the firm in May 2017 as a legal assistant and worked her way into her goal position as a paralegal. She mainly works for attorney Emily Swanson, but is always ready to jump in to help Lasater & Martin's other attorneys if needed.
She said she was drawn to the legal field after majoring in sociology and minoring in legal studies along with health and society, and wanted to explore the legal profession more before making a commitment to go to law school.
She said she's still unsure whether law school is in the cards for her, especially because she loves her current role and feels she has plenty more to learn. Recently, Burchardt began work on a few construction defect cases, and she said she's excited to learn about that area of law.
She also gravitates to personal injury cases — especially those involving motor vehicle accidents be-cause so many different factors affect them —appellate work and constitutional law, she said.
Burchardt has never been discouraged from asking questions at the firm and has picked up important pieces of guidance. One bit that has stuck with her is that since the plaintiff's side in a case has the onus to keep it moving forward, it's important to stay in touch with the opposing law firm and on top of the case's progression without doing the plaintiff's work for them. She's had to get herself out of the habit of checking in too much to make sure the opposing side is also on schedule and on top of their tasks.
"We need to just focus on our part and let [the plaintiff] lead the suit." She said she's seen a misconception that paralegals' work is easy and doesn't keep them particularly busy."
That is a common misconception that you don't do as much, but really you're the backbone supporting every-one and helping them succeed, too."
Burchardt said if she could give her-self a piece of advice when she started out, it would be to check in with the attorneys regularly to find out what they need, be it to clarify specific tasks orin a more general sense to make sure the attorneys know she's there to help them."
Every couple of days check in with them because there might be something going on with a whole other case that you're not on, or they might be having to put out a fi re, so just asking them what they need lets them know that you can help them,"she said. "Even if it's getting cough medicine or something, that can to-tally change their whole day if they need it."
—Julia Cardi