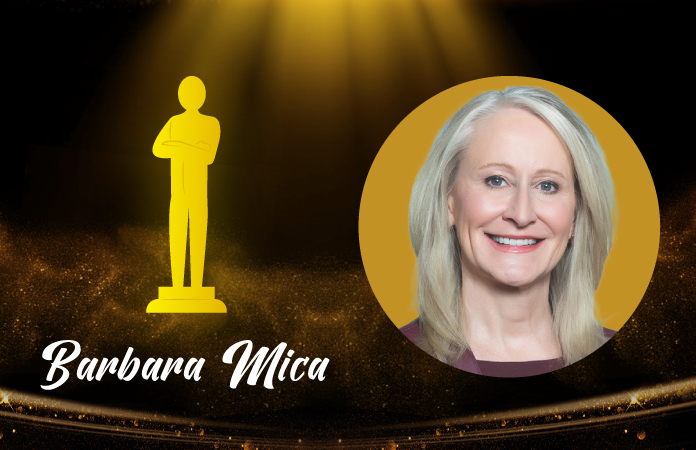 As chief operating officer at Brownstein Hyatt Farber Schreck, Barbara Mica oversees all administrative and operational functions of the 600-person firm, including business development and marketing, communications, human resources, professional development, recruiting and information technology.
Mica's day-to-day duties range from recruiting lateral attorneys to conducting client interviews, and she works closely with Brownstein Managing Partner Rich Benenson, the firm's executive committee and department chairs to advance the goals of the firm's strategic plan. "There's a big gamut. It can be from the minutiae to the really important things," Mica says of her work. "It just depends on what's happening. And that's what's great about the job." 
Mica began her career in public accounting and spent 14 years at Arthur Andersen, starting on the finance side and later transitioning to firm management and operations. But she has spent the past 15 years in leadership at law firms, first as COO at Denver's Rothgerber Johnson & Lyons, now Lewis Roca Rothgerber Christie. She held the same position at Munger, Tolles & Olson in Los Angeles before joining Brownstein two and a half years ago.
"The legal industry has that same level of professionalism and intellect and intensity that public accounting and consulting had," Mica said. "So, for me, it was a very elegant and easy transition into the legal world. It's great working with smart people, people that are really passionate about what they're doing."
One of the unique things about working at Brownstein, according to Mica, is how much the firm appreciates the perspective of the operations team and professional staff. She attributes this in part to the fact that many of the policy professionals in the firm's lobbying group come from a government or industry background and often don't have a law degree. "It's a far more complex environment that values the business teams — more than any other law firm that I've worked at or experienced," Mica said.
Mica said dealing with the "continued disruption" of the COVID-19 pandemic is among her biggest achievements of the past year. "We pretty much worked nonstop to ensure the safety of our people nationwide, as well as the seamless transition to remote work," she said, adding that despite the pandemic, client growth expanded, and the firm had "a record year" in 2020.
She is also proud of Brownstein's efforts to communicate about the pandemic and the firm's response plan. She, along with Benenson and the executive committee, led multiple town hall meetings via Zoom each month to keep attorneys, lobbyists, shareholders and staff informed about the firm's pandemic response. The town halls were supplemented by emails, small group meetings and department meetings. "I think if we've learned anything from the pandemic, [it's] that that needs to continue post-pandemic," Mica said.   
Another accomplishment was "recruiting and retaining so many great people during this past year," Mica said, which included bringing a new chief marketing and business development officer on board and adding a new director of professional development to the firm's business leadership team.
Mica also helps lead diversity, equity and inclusion efforts at Brownstein, which appointed its first DEI chair last fall. "Our people are just impassioned on topics of diversity and equity," she said. "From a programming standpoint, we have had loads of speakers and other types of events that can engage and rally people around those issues."
Mica and her team developed new wellness initiatives to address the challenges of COVID. "We jumped into a really strong wellness program immediately when the pandemic started," she said, which included working with a consultant who specializes in health and wellness in the legal profession. "One of the things that he said that really stuck with me is that the people that return to the office when this is over will be very different people than who left the office at the start of the pandemic," Mica said. 
Many of the new wellness programs were based on employee surveys. Mica and her team developed classes on nutrition, exercise, ergonomics, substance abuse, sleep improvement and mindfulness. The firm offers a virtual yoga class three times a week that, she says, is "very well attended — even 15 months into the pandemic."
Another new initiative is Brownstein Buddies, a virtual program in which staff or their kids entertain the children of other employees through book clubs, crafts, video games, dance classes and other activities. "It gave parents a well-deserved break to be able to hand over their laptop to their kids and take a breath themselves, or to participate and connect with some other colleagues and their colleagues' children," Mica said.
Brownstein's Women's Leadership Initiative, the firm's affinity group for women, introduced a "Walk with a Woman" program, which pairs members for a 30-minute walk and phone chat. "You might not have ever worked with that woman or had a practice in common with that woman, but that was the purpose," Mica said. "You got to meet somebody new, get some exercise while you chatted and form new bonds and relationships."
Mica's latest challenge is helping attorneys and staff return to the office at a pace they're comfortable with. Working from the office is "completely voluntary right now," she said, and it won't be required until after Labor Day. "Even then, we are going to have a really robust amount of remote work options available for both the practice and the operations teams," she added. 
Mica is quick to note that she shares her accomplishments with her team members. They include a nine-person business leadership team consisting of leaders from various operations departments. In total, the firm employs about 150 professional staff across 12 offices.
In her spare time, Mica loves "the outdoors, travel, biking, running, hiking, being active and spending time with friends and family." During the pandemic, she has turned to yoga and the firm's Peloton cycling group to help cope with the time spent cooped up indoors and, she adds, "[I've] done a lot of puzzles the past year."