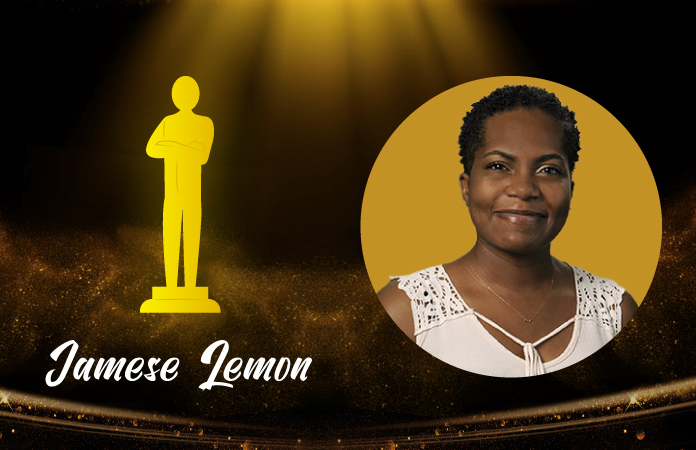 Jamese Lemon has a life-long passion for the law. As a paralegal at Griffiths Law, PC, Lemon often meets people on some of the worst days of their lives and helps to not only make them feel comfortable and confident in the next steps of their legal process, but also helping to support her attorneys and firm with complex and unique legal situations.
"I've always had that kind of litigation thought process," Lemon said. "I just love the law."
That thought process is why Lemon was selected as one of our Outstanding Legal Professionals for 2021. In her time as a paralegal at Griffiths, she's become not only a respected professional, but an integral part of some of the most important matters handled by the firm.
"Since day one, she has been a fantastic addition to the firm," Lemon's nomination states. "She has a wonderful, spirited sense of humor no matter how stressful the situation she faces."
Lemon said that she's always dreamed of a career in law since she was a young lady. As a second-grader, she read about Associate Justice Thurgood Marshall, and it inspired her to look to the law as a possible pathway in life. Throughout her school years she was involved with mock trial work and debate teams, and in having discussions with her father, her interest in becoming an attorney grew. She was preparing to attend college, when she had her son Malik, so she opted to shift from being a lawyer to being a paralegal. 
Lemon's background is mainly in family law, and came to work at Griffiths in 2018 after working with the Denver City Attorney's Office specifically with child welfare cases at the Department of Health and Human Services.
Lemon's work includes interacting and working with some of the largest asset and complex cases in the firm, and her ability to analyze complex financial spreadsheets and documents is exceptional, according to the nomination. She is approachable and speaks with multimillionaire business owners and stay-at-home moms, and Lemon's skills and demeanor helps to make clients feel comfortable and calm.
Lemon said she feels paralegals are very pivotal to the client relationship. In many instances, attorneys can be busy with other matters or indisposed, and it falls to the paralegals to help manage crises that arise and to provide a level of support to clients and deescalate situations.
"Especially with respect to family law, where they're dealing with the deconstruction of their personal and family lives," Lemon said. "And they can struggle with how to deal with that — I think that the paralegals play a large role in [helping] with that."
To be a paralegal, Lemon said that empathy is important, and even more so to work in family law as a paralegal. As a parent, she said that she has insight into the feelings that people have in relation to their children. Even if an individual hasn't had children, Lemon said that a person must be able to take themselves out of a situation and look at things from a client's point of view and how best to help.
"Being empathetic, I think, is a big factor," she said, adding that the ability to not take things very personally is important. "And recognizing that people are going through a really difficult moment, and maybe aren't themselves."
"It takes a village," Lemon said of family law work. Lemon said the phrase might be an old one, but it rings very true in family law work between attorneys and paralegals. In Griffiths, Lemon said that there is a village aspect where everyone pitches in to make sure that clients are being attended to no matter what and making sure they're available over weekends or late nights whenever the need arises. Finding a balance between supporting clients through difficult times and your own life is an important thing to keep in mind, according to Lemon.
Lemon's daily work involves a lot of putting out fires. "Your plans go awry," Lemon said with a laugh. Often beginning her day with a list of to-dos, she said that between checking emails first thing in the morning, dealing with issues in cases arising overnight, new issues between parties arising or needs with opposing counsel — "it's kind of a whirlwind."
Large discovery cases are a good example of the need of paralegals to work into the nights or over weekends to offer support and to help the firm prepare for what's ahead, Lemon said. Client and case management are both very important, she said, noting that paralegals can also play a vital role in how the needs of the client are met and comply with court needs.
Additionally, Lemon said that there's a sense of comradery at the firm and that everyone enjoys seeing each other. While it was interesting at first during COVID to adapt to doing things via video calling, like meeting with clients or communicating with attorneys. While she said she didn't like to even FaceTime before the pandemic, she's very hopeful that helpful client tools, like video calls, maximized in the pandemic remain in play beyond COVID.
Lemon is also a single mother, and homeschools Malik, currently a senior in high school. During the pandemic, she said that some of the adjustments that other families had to make to sharing work and home space and finding a balance between schooling from home and working from home, were just status quo. That being said, she added that they did have to adjust to being together so frequently.
Lemon is an avid reader and video gamer in her spare time. She said she hasn't had much time lately to play her games, such as Borderlands or Call of Duty, but they offer a great chance to connect with her son and to release stress from the workday. Lemon also blogs and writes poetry, which she said adds another way to escape from work stresses.
"Jamese goes beyond the call of duty regularly," the nomination states. "Jamese is truly one of a kind and we are so proud to have her at our firm."