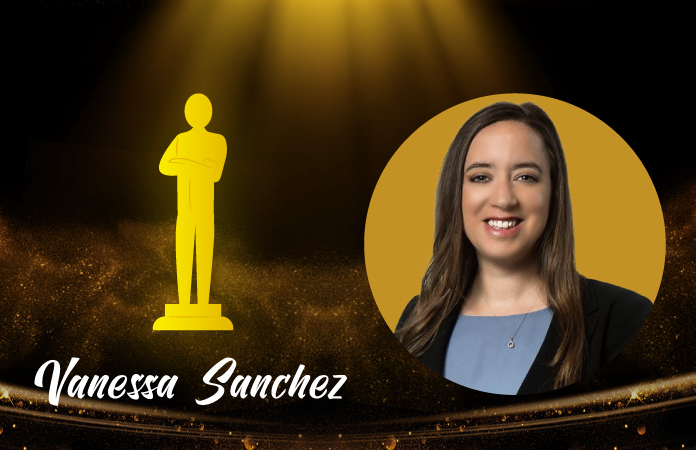 Vanessa Sanchez is a hands-on type of person — in life and at work. Based on feedback from her colleagues at Armstrong Teasdale, this direct approach is one reason Sanchez was selected as a Law Week 2021 Outstanding Legal Professional.
Sanchez's ability to "make stress disappear" is what sets her apart, colleagues say. Behind the scenes, Sanchez brings her experience and knowledge to support clients and attorneys. 
As a paralegal, Sanchez supports attorneys and clients in complex commercial litigation at Armstrong Teasdale. She's only worked at the firm for two years but brings 15 years of experience in commercial litigation, family law, personal litigation and as a Jefferson County Courthouse intern. At Armstrong Teasdale, Sanchez assists with court filings, trial preparation, pleading and correspondence drafts, legal research, cite-checking and more. 
Sanchez enjoys digging into complex legal matters; it's one of her favorite parts of the job. "Dealing with these complex matters, it definitely pushes you to get to that place where you want to be for your client," she explained, "every day is different and I think that's what I enjoy most about it. It keeps you on your toes, it keeps you moving, it keeps you engaged and doing different things to get the best outcome for the client, I think that's my favorite part."
Sanchez is known for going above and beyond the call of duty and jumping into action. Colleagues remember Sanchez flying across the country for a warehouse inspection needed to finalize a settlement agreement. One of Armstrong Teasdale's partners called Sanchez  "one of the most talented and hard-working individuals with whom I have worked, at any level of seniority," adding that "she is a go-to member of every team on which I work and has contributed immeasurably to the continued successes our firm achieves for our clients."
Sanchez brings her hands-on approach to her personal life and volunteer work. She enjoys sculpture and abstract painting in her free time, and before entering the legal industry considered pursuing a career in art. When there isn't an active pandemic, she enjoys traveling and visiting relatives in Brazil. 
Also in her spare time, Sanchez volunteers in the Denver metro community. She worked with Project Homeless Connect to provide low-income and homeless individuals access to legal assistance and other services. 
Her passion is mentoring young women who are starting their careers or education. "I've accomplished a lot in my career and I feel like I now have time to help other people," Sanchez said, "I like to be able to mentor younger women who are thinking about going to college, or are maybe in school right now." 
Sanchez was a single mother when she attended Arapahoe Community College for paralegal studies. At the time, Sanchez explained, there were not many resources for young mothers launching their careers. "When I was going through my struggles, it definitely would have helped to be able to reach out to a mentor. Now, I feel like this is my chance to be able to do that for other people." Through mentorship programs at Denver-metro schools, Sanchez connects directly with young women and offers guidance, advice and resources for the young professionals. She has also hosted career workshops for prospective legal professionals at her alma mater. 
Not one to stay on the sidelines, Sanchez's direct approach when assisting clients and attorneys, as well as supporting the Denver-metro community makes her an outstanding legal professional. 
"In addition to when I'm at work and helping clients, it's really important for me to be able to reach out to the community and be able to assist in any way possible," Sanchez adds.