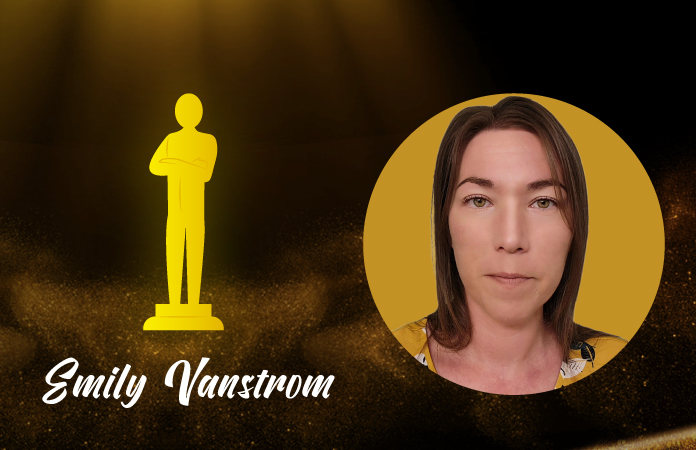 For Emily Vanstrom, a patent assistant at Kilpatrick Townsend & Stockton LLP, the firm's inventor clients are priority one. 
"We are our clients and would not be here without them," Vanstrom said. "I strive to go above and beyond for our clients so they can see no one else handling their patent work as competently as we do."
On a month-to-month basis, Vanstrom works with a varied cast of 10-15 lawyers at the multinational law firm to prosecute patents on behalf of a diverse range of inventors. The work involves aiding patent attorneys in their quest to convince the U.S. Patent and Trademark Office that an idea is worthy of protection. "They are trying to make sure that your information in your patent application is new and that it's something that deserves to be patented," Vanstrom said. 
She explained that her work involves helping patent attorneys to meet the varied demands that prosecution may involve. "My job is to make sure that everything is ready and available, [so that] what the attorney needs is there for them when they are ready to go ahead and respond to the examiner in these situations," she said. Vanstrom also helps to manage deadlines and fee payments. 
Vanstrom's work as a patent specialist keeps her interested, both because of the challenge involved in managing many patent applications, none of which are like any other, and because she gets an opportunity to keep an eye on upcoming technology developments. "I work with a lot of technology clients that have a lot of new technology on the forefront," Vanstrom said. "It gives you a chance to kind of see what's new and upcoming and what's out there."
Vanstrom grew up in Wisconsin's Fox River Valley, a region stretching southwest from Green Bay. She attended Menasha High School, where she graduated with honors, and Normandale Community College in Bloomington, Minn. before becoming a paralegal. In 2007 Vanstrom began her career at a small firm in Appleton, Wis. 
"Within about a year or so of being there I realized that intellectual property was something that I was interested in, something that I was good at doing," she said. By 2009, Vanstrom earned her paralegal certificate.
In 2015 Vanstrom and her family came to Colorado. She and her husband, Craig, were drawn to the Centennial State by the promise of an active lifestyle and opportunities, including in the classroom, for their son, a high school sophomore. "Moving here to Colorado has opened up a whole bunch of opportunities outside of work," Vanstrom said. "It's a beautiful state." 
Vanstrom and her family wander Colorado in their free time, enjoying opportunities to hike and fish. "My son likes photography, so sometimes we just go for a drive in the mountains and find new areas to discover," she said. Among her favorite destinations is Great Sand Dunes National Park. 
Kilpatrick Townsend in particular drew Vanstrom's interest, she explained, because the firm maintains a resolute commitment to volunteerism. "I think it is important to give back to the community," Vanstrom explained. "The value Kilpatrick Townsend places on volunteerism is second to none and it is a core value of the firm."
Since joining the 19-office firm, Vanstrom has participated both on the committee that oversees and organizes volunteer activities for its staff and on its technology panel, where she participates in the evaluation of possible technology enhancements for the enterprise. "This allows me to consistently help with research [and] beta testing of new software and/or systems that will be beneficial for the firm," Vanstrom said in an email.  
Kilpatrick Townsend's varied practice is notable for its intellectual property emphasis. The firm has represented at least three of the nation's four technology giants – Apple, Facebook, and Google, as well as Oracle and Sony. The firm has more than 300 lawyers worldwide with practices attuned to patent, trademark, copyright, trade secrets, and advertising matters and has been classified by U.S. News as a "Tier 1" choice for patent prosecution.
More than 160 paralegals firm-wide support Kilpatrick Townsend lawyers, said Maureen Orcholsky, the firm's Denver office administrator in an email. Ninety-two of them are involved with patent prosecution. Eleven paralegals work in the firm's Denver office. 
Patent specialists at Kilpatrick Townsend are called on to collaborate with colleagues across the world, juggle numerous patent prosecutions, and interface with clients. "There's definitely times where we have to collaborate with attorneys that we have never met before or attorneys that we haven't met in person before," Vanstrom said. "We are assigned clients and then we work with the attorneys that work with that client. It's something that works really well and it gives our clients top service because they are always working with the same people consistently."
Vanstrom explained that success as a Kilpatrick Townsend patent specialist also rests substantially on a capacity for organization and attention to detail. "There are a lot of moving parts and you need to make sure that you have all your pieces to the puzzle together when you go ahead and send that to the patent office," she said. "Being able to efficiently navigate the process is what our clients have come to appreciate and expect from us and that is exactly what we deliver."
Those who work with Vanstrom rave about her. "Emily is the best patent prosecution specialist I have ever worked with," said Karam Saab, a Denver-based patent law partner. "Her ability to manage communications and procedures with entities ranging from complex Fortune 100 companies to small startups is unparalleled." Rachael Maschka, a fellow patent specialist, said that Vanstrom is also a good teacher. "She has been a fantastic trainer because she knows the patent rules and always makes herself available for questions and does this without egotism," Maschka said.