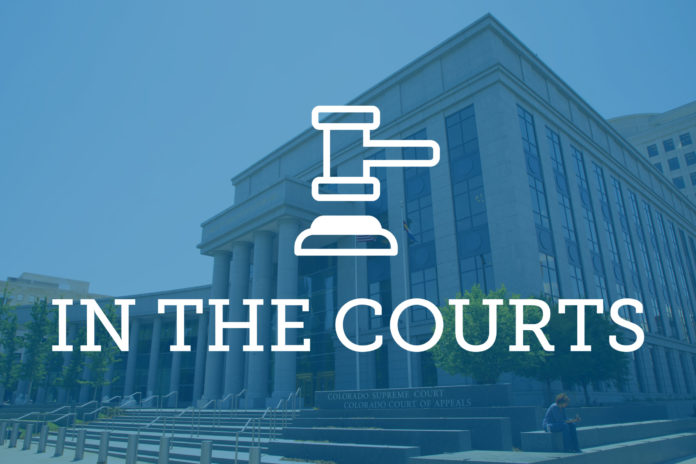 Today, students at Overland High School in Aurora will observe oral arguments presented to a division of the Colorado Court of Appeals as part of Judicial Branch's Courts in the Community Program. 
Judges David Furman, Lin Lipinsky de Orlov and Jaclyn Casey Brown and Chief Judge Steve Bernard will hear arguments in Kelly Stackpool v. Colorado Dept. of Revenue, Motor Vehicle Division and People v. Robert Scott Schweizer. 
Since 1986, the Court of Appeals and the Colorado Supreme Court have hosted oral arguments at high schools. The community outreach program helps high school students learn about the Colorado judicial system and how disputes are resolved in courts. 
The two DUI-related cases will be argued in front of the judges and an audience of students. 
In Stackpool v. Colorado Dept. of Revenue, Kelly Stackpool appealed a decision by the Motor Vehicle Division to deny a request for early reinstatement of her driver's license with an ignition interlock device. Stackpool pleaded guilty to a felony alcohol DUI, it was her fourth such offense. Stackpool's attorney argued that state statutes allow those with multiple DUI convictions to apply for interlock reinstatement after one month of a revoked license while the DMV argues it does not allow interlock reinstatements for felony DUI convictions. Although Stackpool's one-year revocation passed, her attorneys would like the Court of Appeals to hear the case since interlock reinstatement eligibility is a common issue. 
In People v. Schweizer, Robert Schweizer appealed his convictions for possession of a controlled substance and driving under the influence. He claims that the search of his van where officers found a pipe and meth did not meet requirements laid out by the U.S. Supreme Court. Prosecutors on the case argue the search was reasonable, pointing to the circumstances around Schwizer's arrest that led officers to believe the van would contain evidence that he was driving under the influence. 
After oral arguments, students will have the opportunity to ask questions to the attorneys and Court of Appeals judges. Decisions on the two cases are expected to be issued within a few weeks of arguments. 
Stackpool is represented by Abraham Hutt and Andrew Ho from Recht Kornfeld, P.C. and Schweizer is represented by Emily Hessler from the Office of the Colorado State Public Defender. 
In October, the Colorado Supreme Court heard oral arguments and Pomona High School in Arvada.