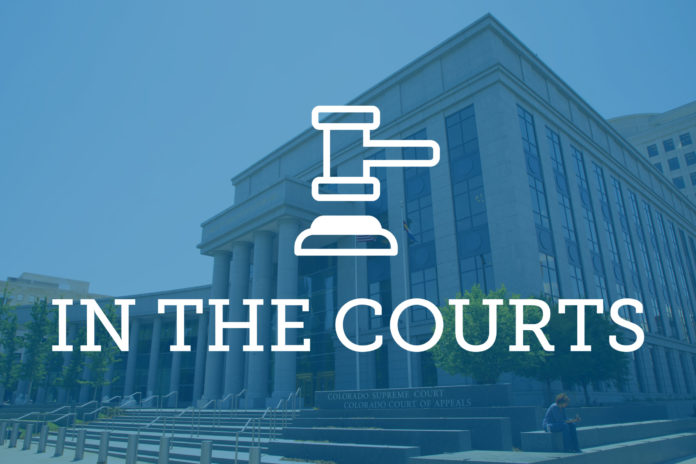 Editor's Note: Law Week Colorado edits court opinion summaries for style and, when necessary, length.
People v. Antoine Perria McCants
A jury convicted Antoine McCants of vehicular eluding and reckless driving following events on March 8, 2016. Police officers identified a vehicle that did not pull over and ran a stop sign and then informed officers in the area including Officer Jonathan McCants (no relation to Antione) and his partner. Officer McCants saw the vehicle's driver and, after finding mail addressed to McCants in the abandoned vehicle, his partner searched in the police database for a photo of the suspected driver. Based on the photo, Officer McCants made a positive identification. 
At trial, McCants claimed that a police officer's identification was impermissibly suggestive. The trial court found the officer's identification was per se and reliable and therefore was exempt from a reliability analysis required by Neil v. Biggers and Bernal v. People. The trial's prosecutor conceded at sentencing that the two charges should have been merged, but the court entered both convictions at sentencing. 
A division of the Colorado Court of Appeals rejected the trial court's reasoning that an officer's identification from an allegedly over suggestive photo lineup should be exempt from reliability analysis based on the application of People v. Howard.
The appeals court interpreted Howard to provide a very specific set of circumstances that did not line up with McCants' case. It also stated that it couldn't find any court opinions that allow Howard to override the application of Biggers and Bernal in out-of-court police identification. 
The Court of Appeals remanded the case to a lower court to review if Officer McCants' testimony should have been admitted under Biggers and Bernal. The court rejected a handful of other appeal arguments, but agreed that the conviction for reckless driving should have been merged into the vehicular eluding charge. 
People v. Anthony Phillip Restrepo
In a matter of first impression, the Colorado Court of Appeals ruled that decisions prior to the Colorado Supreme Court's 2019 ruling in People v. McKnight are not binding since they are distinguishable. 
In 2017, Anthony Restrepo was arrested after Colorado Springs Police officers found meth and drug paraphernalia in his car following a traffic stop. Restrepo was followed by police after a suspected "high level" drug dealer told police Restrepo was a customer. At a traffic stop for rolling through a stop sign, Officer Jeremy Sheldon of the department's canine unit commanded a dog trained to sniff marijuana and other drugs to investigate Restrepo's car. The dog raised an alert and the officers found the illegal items in a backpack inside the car. 
A district court found that under the first ruling in McKnight, the officers had reasonable suspicion to bring in a drug sniffing dog and the alert gave officers probable cause to search Restrepo's car. The district court therefore denied Restrepo's motion to suppress the evidence found in his backpack. 
Before his trial, the Colorado Supreme Court issued McNight II and Restrepo moved to have his motion to dismiss reconsidered since the court case elevated the threshold of suspicion to use marijuana-trained police dogs. At a trial to reconsider the motion, the district court sided with prosecutors who argued that since McNight II had not been published based on a Westlaw notation that it was subject to modification, the case did not have precedent. The court added that the dog sniff search was not supported by probable cause. 
At trial, Restrepo was convicted of possession of paraphernalia, possession with intent to manufacture or distribute meth and possession of a controlled substance. He appealed the decision arguing the backpack contents were found during an illegal search and were erroneously admitted at trial. 
The state argued that since the dog's drug sniff occurred before either McKnight ruling, it was a good faith search under 2017 law and the good faith exception to the exclusionary rule applied. Specifically, prosecutors argued that national and state cases Illinois v. Caballes, People v. Esparza and People v. Mason were binding precedent on a good faith search. The Court of Appeals disagreed and found that the cited cases did not address key aspects of McKnight, specifically that the dog was also trained to look for state-legal marijuana. 
Finding that Restrepo's conviction relied on an erroneous admission of contraband, the Court of Appeals reversed the judgement and remanded the case for further proceedings. 
Lisa Bradley v. School District No. 1
On Nov. 12, 2018, Lisa Bradley slipped and fell on icy stairs at Asbury Elementary School in Denver. Bradley informed the school's principal and superintendent and opened a claim with the Colorado School District Self Insurance Pool. CSDSIP ruled Denver Public Schools was not at fault for the fall but offered $1,000 to cover medical expenses. 
Bradley then obtained a lawyer who began investigating the circumstances around the fall. In January 2019, Bradley's attorney sent a letter to the interim superintendent of DPS, the Denver Attorney's Office and the Mayor of Denver that outlined the claim and its factual and legal basis but did not explicitly request money. Bradley filed a premises liability lawsuit against DPS that the city moved to dismiss, claiming the 2019 letter did not explicitly request monetary damages and therefore missed the 182-day cut-off to file a written complaint. A district court ruled the letter counted as written notice and allowed the suit to move forward. DPS appealed the ruling. 
The Court of Appeals upheld the lower ruling and found that "the letter made clear that Bradley assert[ed] a claim against the School District." It further concluded "that a claimant need not recite particular words or talismanic language to strictly comply with the written notice requirement."
Kenneth and Delinda Evans divorced in 2013 after 15 years of marriage. In the 2013 dissolution decree, the district court approved a separation agreement and parenting plan that resolved issues over property division, parenting time, child support, maintenance and attorneys fees. 
In 2016, Delinda Evans sought to increase Kenneth Evans' monthly child support based on her anticipated employment and a suspicion that he had more income than originally reported. Delinda Evans discovered that Kenneth Evans had 100% ownership interest in a company called Premier Earthworks & Infrastructure, Inc. and asked the court to reopen their property division decision to allocate the ownership interest as a marital asset. Kenneth Evans objected. 
Following a four day hearing in 2018, a district court magistrate granted the modified child support request and found that Kenneth Evans did not disclose his interest in the company as a marital asset during dissolution. The magistrate granted Delinda Evans $1,168,639 for her share of Premier Earthworks & Infrastructure, ordered Kenneth Evans to provide security to insure payment and increased Kenneth Evans' child support from $534 a month to $12,000 a month. Based on the couple's incomes and Kenneth Evans' failure to disclose interest during dissolution, the magistrate ordered him to pay for Delinda Evans' $62,691.75 in attorney and expert witness fees. 
On judicial review, a district court judge agreed with the magistrate's rulings on child support and attorneys fees but remanded the case for further findings to determine Delinda Evans' allocation of ownership interest in Premier Earthworks & Infrastructure. In 2019, the original ownership allocation was readopted and Kenneth Evans appealed. 
Kenneth Evans argued in his appeal, among other claims, that the magistrate did not consider factors in Colorado Revised Statutes 14-10-113. The appeal brought up three de novo questions for the court to review: does reopening property division require a complete reallocation of the marital estate?; Are section 14-10-113 factors relevant when allocating omitted or missed assets?; Should a court allocate these assets based on the parties' circumstances at the time of the proceedings or the original decree? While the court did not address all questions, it ruled that when allocating missed assets, 14-10-113 factors and economic circumstances during proceedings should be considered. 
Reviewing the magistrate's orders, the Court of Appeals found no explanation for the new child support allocation or security order and remanded both for further findings. The court upheld all other aspects of the order.