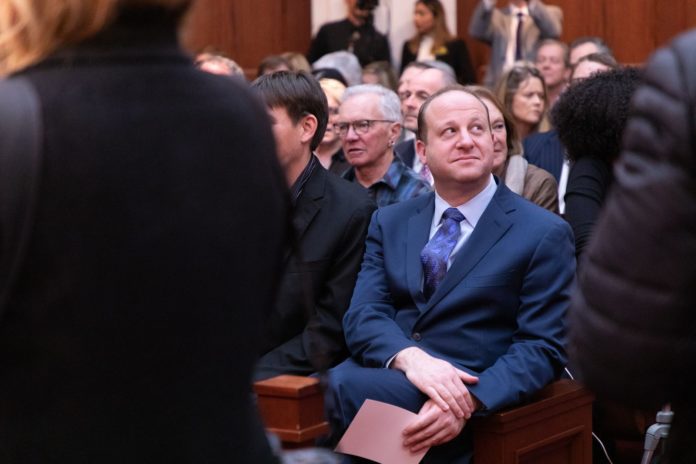 Gov. Jared Polis on Jan. 13 delivered the State of the State address, focusing on session priorities to deliver more affordable housing projects and reduce health care costs. 
"Because of this pandemic, the cost of living in our fair state continues to escalate, and Coloradans are desperate for relief," said Polis. "So let's deliver." 
Polis stressed the urgency to address Colorado's rise in cost of living, noting inflation accelerated during the pandemic and supply chain disruptions have compounded. He recited several lines from Paul Simon's "50 Ways to Leave Your Lover," but offered a reframing of the classic into "50 ways to save Coloradans money." "Now, I'm no Paul Simon," he said, "I'll be pushing for more than 50 ways to save Coloradans money."
The governor said, "my version of Simon's lyrics goes a little something like this: Just cut the tax, Max; lower the rate, Nate; you don't need to pay more, Thor; just send your kids for free (to preschool and kindergarten)." He went on to note the various ways his administration has worked to save Coloradans money through cutting health care costs, passing free full-day kindergarten and offering new tax credits and rates. 
Polis proposed additional efforts to reduce fees, "like the unemployment insurance premium and the Paid Family and Medical Leave premium." He also said he looked forward to working this session with Secretary of State Jena Griswold, Reps. Lisa Cutter and Tom Sullivan, and Sens. Brittany Pettersen and Chris Kolker to make it free for Coloradans to start their own business.
"If it isn't clear, saving Coloradans money and keeping our state affordable is my top priority during this legislative session." – Gov. Jared Polis, 2022 State of the State
As for the coming year, Polis said lawmakers intend to prevent increases in drivers' license fees, and reduce vehicle registration fees. He went on to note again the rising housing costs will be a priority focus for this session. "To create even more housing opportunities, to improve affordability, we should capitalize on the once-in-a-lifetime funding from President Biden's American Rescue Plan Act," he said. 
In addition to the Polis administration's 50 ways to save Coloradans money, the governor announced a plan for "historic investment in kindergarten through 12th-grade education, which will reduce the Budget Stabilization Factor to a 13-year low, while increasing per-pupil funding by roughly $12-13 thousand per classroom, supporting smaller class sizes and enhanced pay for teachers." 
Along with the K-12 plan, Polis announced he'd be proposing higher education changes this session including expanding available financial aid, and "investments to help reduce costs and keep tuition flat."
Polis addressed strains on health care professionals, doctors and nurses. "Looking ahead, I am proposing that we waive licensing fees for nurses and mental health care workers, as well as for our nursing homes and assisted living facilities whose residents have been particularly vulnerable throughout the pandemic," he said. "Eliminating these fees puts money back into the pockets of our dedicated healthcare workers."
"If it isn't clear, saving Coloradans money and keeping our state affordable is my top priority during this legislative session," Polis said.
The governor also announced "a three-year plan to make historic investments to stabilize our healthcare workforce and expand career paths" for health care workers.
Addressing public safety, Polis announced plans to "put forward a responsible public safety plan that builds on historic legislation of years past, gives much-needed support and funding to local law enforcement while also investing in community-based approaches and organizations that can help prevent violent crime from occurring in the first place." 
Among plans to make the state one of the top 10 safest in the nation, Polis said he will work with lawmakers to continue to address the climate crisis head-on. While addressing how the climate crisis is impacting public safety, the governor acknowledged the Boulder County fires that raged through neighborhoods in Superior and Lousiville. 
"Just like 2021 was the year that Britney reclaimed her freedom and Taylor Swift reclaimed her music, it was also the year we began reclaiming what it means to live happy and healthy lives here in Colorado, even in the midst of tragedy — and this is the year we double down on that," the governor said.