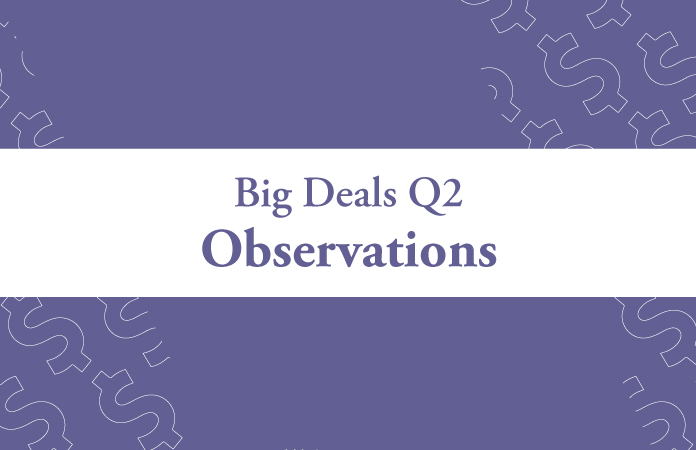 Many of the biggest dollar figures on Q2's Big Deals List were connected to the energy and natural resources industry. In June, attorneys from Gibson Dunn & Crutcher advised Colorado-based oil and gas producer Crestone Peak Resources in its $4.5 billion sale to Civitas Resources. Civitas is a recent creation resulting from the May merger of two other Denver oil and gas companies, Bonanza Creek Energy and Extraction Oil & Gas.
According to Reuters, the merger created the largest exploration and production company focused on the Denver-Julesburg Basin, and the addition of Crestone is estimated to bring the company's combined production base to around 160,000 barrels of oil equivalent per day. 
"The benefits of in-basin consolidation are compelling, and we are pleased to become part of the dynamic enterprise that is Civitas," Crestone President and CEO Tony Buchanon said in a June news release. "Crestone has long been a leader in safety and sustainability issues, and we look forward to continuing that leadership at Civitas."
In another ten-figure transaction, Gibson Dunn represented Dallas-based Atmos Energy Corporation in an at-the-market offering with respect to $1 billion of shares of its common stock. The natural gas distributor serves 3 million customers in eight states, including Colorado.
According to media reports, Atmos was one of several natural gas companies hit with high costs in February, when a polar vortex brought record low temperatures to Texas, Colorado, and other parts of the Southwest, West and Great Plains. Atmos reported it faced up to $3.5 billion in extra costs due to the cold, and the company said in late February it was considering financing options to cover the costs.
Another notable energy industry deal was the May sale of Ovintiv Inc.'s assets in the Eagle Ford region of Texas to Validus Energy, a Denver-based oil and gas startup. Attorneys with Davis Graham & Stubbs represented Ovintiv, which has its headquarters in Denver, in the $880 million sale. 
According to Ovintiv CEO Doug Suttles, the sale of the company's Eagle Ford assets was aimed at "unlocking value from non-core assets" and will "significantly accelerate" its progress toward its debt-reduction goals.
Deals involving clean energy companies also made the list. Holland & Hart represented Verdant Microgrid in a $150 million financing agreement for the development of microgrid projects with ClearGen, LLC, a Blackstone Credit portfolio company.
Verdant develops, designs, builds and operates distributed generation projects, including solar, energy storage, combined heat and power systems and backup generators. According to a June 24 news release, the partnership will allow projects to be owned by GlearGen and operated by Verdant, and the energy produced will be sold to consumers under long-term contracts. Verdant has a pipeline of more than $500 million in projects, according to the press release, and more than $50 million of those projects are expected to be under construction in the next nine months.
"This new partnership with ClearGen will accelerate the growth of our business across the country," Verdant Co-Founder Robert Babcock said in the news release. "The key to bringing cost effective, on-site generation using renewable and other clean technologies to our target market is to integrate our designs with robust operators and financiers. This deal is a leap forward for the microgrid industry." 
Q2's Big Deals also included a couple of high-profile transactions in the sports world. In late June, Hogan Lovells announced it represented the NBA's San Antonio Spurs in a strategic investment from global investment firm Sixth Street and Michael Dell, CEO of Dell Technologies. Dell and Sixth Street joined the Spurs investor group as strategic partners.
Peter J. Holt was named Managing Partner in connection with the transaction, the financial details of which remain confidential. According to the NBA, the Holt family has been part of the Spurs investor group since the 1990s, and they remain the largest shareholders following the deal.
"I am excited to join Peter Holt and Sixth Street, and the entire San Antonio Spurs community, as a partner in this extraordinary franchise," Dell said in a press release. "As a Texan and as someone who appreciates how unique a culture of excellence is—in sports or in any organization—I have tremendous respect for the record the Spurs have established in San Antonio over many years. It is our goal to serve as true stewards of the franchise going forward."
Hogan Lovells also represented Joe Tsai, co-founder and vice-chairman of Chinese e-commerce giant Alibaba Group, in his latest foray into sports team ownership. In Q2, the firm advised Tsai in the purchase of a Las Vegas-based National Lacrosse League expansion team for an undisclosed amount. The NLL is a men's professional league for box lacrosse, which is played indoors, with teams in the U.S. and Canada.
Tsai is no newcomer to the sport. The billionaire played on Yale University's varsity lacrosse team and has owned another NLL team, the San Diego Seals, since 2017. Tsai is also an investor in the Premier Lacrosse League, a U.S. professional field lacrosse league that got its start in 2019.
Hogan Lovells attorneys previously advised Tsai in deals to buy the NBA's Brooklyn Nets and the Barclays Center in New York.