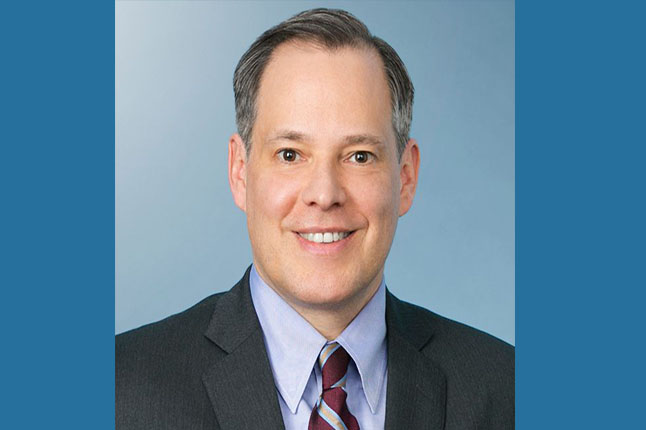 Most lawyers don't take a bar exam nearly two decades after they're first admitted to practice. But that's what patent attorney Brian Lefort had to do in order to get admitted as a solicitor in England and Wales. Having a license to practice there benefits his clients because for many of them, it's a large market for their products outside the U.S. But while the benefit is easy to understand, the process of getting admitted in the U.K. was anything but. Lefort had to spread the process of studying and taking the exams over a few years, since he was working at the same time.
"I really wasn't around a whole lot," said Lefort, a partner at Faegre Baker Daniels. In addition to his admission as a solicitor, he's also admitted to practice in the European Patent Office, which means he can get patents for clients in both regions. "I was spending my nights staying late, working at the office studying." He motioned to several file boxes in the corner of his office, saying, "I had a stack of boxes at least that size full of paper and binders and things that I would work on."
Lefort got admitted under the Qualified Lawyers Transfer Scheme, designed for attorneys already licensed in a foreign jurisdiction. It consists of a one-day multiple choice exam, which he had to pass before moving on to the second section. 
That part lasts six days and involves a series of practical tests that simulate actual practice scenarios, such as appearing in court. Lefort said they simulate training U.K. law students do at law firms, only much more condensed and intense.
He said he believes his admission in the U.K. helps him advise clients better. Patent applications for a product vary from region to region, so it's beneficial for clients to have an attorney who is well versed in an important market for them. 
"My goal is to know that I'm more informed," he said. "I can do a better job from the get-go." Because he's admitted to practice in the U.S. as well as England and Wales, he can work on transatlantic IP litigation and transactional work.
Lefort recently returned from Munich, Germany, after serving on the EPO Liaison Council. He represented the Colorado Bar Association's IP section. A handful of U.S. delegates meet with the EPO once a year to learn about new developments in the office.
"We're representing the majority of their [foreign] customer base," Lefort said. "They're looking for feedback, so we each provided them feedback, asked them questions and understand what's going on there so we can better use their system."
He said about 53 percent of the EPO's customer base is outside Europe. European patent applications originating from the U.S. represent about one-quarter of all EPO applications. According to data from the World Intellectual Property Organization, the EPO received 159,358 patent applications in 2016. According to the same data set, patent applications worldwide increased by 8.3 percent from 2015 to 2016. 
Lefort's patent practice focuses on products that include medical devices, software, and food and agriculture-related products.
Lefort said the rigor of the QLTS process is likely the hurdle that keeps attorneys from going through it — the time commitment as well as the difficulty of passing. He added he doesn't know of any other patent attorneys in Colorado who are also licensed in the U.K. According to data from Kaplan, the multiple choice portion of the QLTS had a 50 percent pass rate in July 2018. The practical portion had a 72 percent pass rate in May 2018.
For the exam, Lefort had to revisit practice areas he hadn't studied in decades, like criminal law. But he said the refresher on some areas that overlap with his IP practice was helpful, such as contract law and corporate law. Among other IP areas, Lefort does a lot of IP transactional work, which can include licensing and selling patents, and the logistics of IP transfer when companies get bought and sold.He said he also benefitted from understanding how the U.K.'s patent court system works. 
The six-day practical portion of the QLTS included interviewing a client to glean a fact pattern, then writing a memo and presenting to a senior partner about what should be done. Lefort also had to present to a judge in a mock bail hearing. 
He said the written parts of that portion were done on computers, with everyone in one room. He struggled to adjust, he said, because he still prefers to work with paper.
"I'm still reading the question on my computer and [everyone] starts banging away," he said. "The amount of content you've got to get down on the computer in that short amount of time — digest everything, read it, comprehend it, and then apply it — the compression of the timeframe was kind of like going back to law school."
But Lefort said he caught a lucky break with one question about litigation related to IP. He said he remembers the question dealt with what would happen if a defendant doesn't respond to a patent suit against them. "I know I nailed that question," he said. "I was so excited."
— Julia Cardi