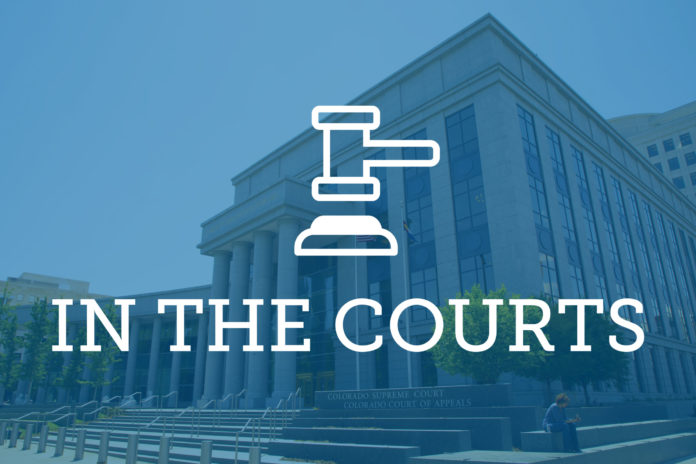 The Colorado Supreme Court on Nov. 1 agreed to hear a case about whether removing a defendant's wife from the courtroom violated his right to a public trial.
Christopher Cruse was tried in 2017 for an alleged attempt to rob the marijuana dispensary where he worked. On the third day of the trial, the prosecutor informed the judge that Cruse's wife had a hostile encounter with a witness and victim coordinator in the court hallway the previous afternoon. Cruse's wife was arrested and charged with retaliation against a witness, and a mandatory protection order prevented her from contact with the victim coordinator.
Due to the protection order, the prosecutor asked the court to keep Cruse's wife out of the courtroom. The judge prohibited her from being in the courtroom or hallway outside the courtroom for the rest of the trial.
A jury convicted Cruse of multiple felonies. He appealed, claiming juror bias, prosecutorial misconduct and several other errors by the trial court. However, he didn't claim the court violated his right to a public trial.
A division of the Court of Appeals affirmed Cruse's convictions in a now-withdrawn opinion. That opinion included a footnote explaining that the court reversed the conviction of Cruse's co-defendant, Terrel Turner, because the exclusion of Cruse's wife from the courtroom violated Turner's right to a public trial.
Cruse filed a petition for rehearing, arguing that his right to a public trial was violated. He said that although he failed to assert the public trial violation earlier, the Court of Appeals should take note of the error and reverse, setting aside the party presentation principle. A division of the Court of Appeals granted the petition for rehearing and issued a modified opinion, reversing Cruse's conviction.
The state appealed, and the Supreme Court agreed to take the case to consider whether excluding Cruse's wife from the courtroom for cause constituted a "closure" implicating the right to a public trial. The high court will also consider whether excluding the defendant's wife violated his right to a public trial and, if so, whether a remand for further findings is appropriate.
In its petition for certiorari, the state says no closure occurred because Cruse's wife was excluded for cause after harassing trial participants. The Colorado Supreme Court's 2020 decision in People v. Jones left open the question of whether exclusion for cause constitutes a closure, and Cruse's case offers an "ideal vehicle" to answer it, the state says.