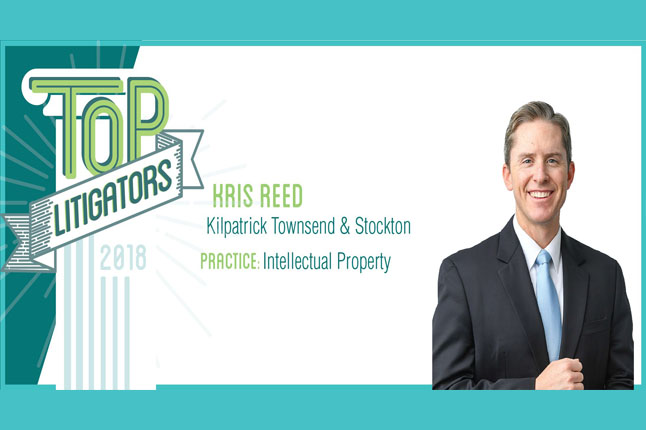 If Kris Reed and his team didn't win their patent case defending a public transit system, it would be little exaggeration to say that the city of Chicago might have come to a grinding halt.
The Chicago Transit Authority and its vendors faced an infringement suit over the technology they used for turnstile access to the city's new "Ventra" transit system. The plaintiff company claimed the city infringed on five patents it owned, and it sought tens of millions in damages, plus royalties, and an injunction that would have shut down the system.
Reed, a partner at Kilpatrick Townsend & Stockton, led the trial team that won a complete defense at federal court in Chicago. He also argued the appeal at the Federal Circuit Court of Appeals, which affirmed the lower court's invalidation of four of the five patents.
The key to those victories, and others in Reed's intellectual property practice, was to translate the complexity of IP into basic terms that anyone can understand.
"There's power in simplicity," Reed said.
A lot of patent litigators feel compelled to try and make their audience understand the underlying technology, he said. To Reed, that's a mistake that has them "wading into complicated issues that confuse the jury and ultimately hurt their case."
Instead, Reed focuses on distilling Byzantine technical issues into simple concepts that any juror or jurist can grasp without technical training. His biggest recent victory is an example of that approach.
In 2014, the city of Chicago modernized its public transit system to allow passengers to pass through the turnstiles by using contactless smart cards instead of tokens or paper tickets. Smart Systems Innovations claimed that it had invented the technology for the smart cards, and it sued the Chicago Transit Authority and the contracting companies that installed it.
If CTA had lost the lawsuit, "the consequences could have been disastrous," Reed said. The potential damages and royalties could have cost the city and its vendors tens of millions. But the bigger threat was injunction, which would have forced Chicago to somehow revert back to its previous turnstile access system, which "would have been outrageously difficult," he said.
But the city would avoid that result. One of the key trial strategies was to strip away the technical jargon from Smart Systems' patents, Reed said. The defense argued that what the patents ultimately described was a credit card used for mass transit, which had already been employed for decades — therefore the patents were invalid. The federal judge issued a 2015 opinion declaring four of the five patents invalid, and in October 2017 the Federal Circuit upheld the finding. The district court dismissed the remaining patent claim last month.
"We didn't win the case by demonstrating our mastery of this complex technology," Reed said. "We won the case with simplicity."
As he is also managing partner of Kilpatrick Townsend's Shanghai office, Reed has a multifaceted practice. Every month to two months he flies back and forth across the Pacific, alternately litigating IP cases stateside and counseling Chinese companies in what he calls "a new frontier for legal work."
His stateside litigation success wasn't limited to the CTA case. His work for Broadcom put him on the prevailing side of an influential patent law decision late last year.
In December, the Patent Trial and Appeal Board ruled that the University of Minnesota couldn't use sovereign immunity to avoid a validity challenge to one of its patents. In an issue of first impression, the PTAB said the university, a state entity, couldn't dodge inter partes review as it had waived its Eleventh Amendment immunity by filing a patent infringement claim against Broadcom.
Reed is lead counsel representing Broadcom in the IPR proceeding to have the university's patent declared invalid. A PTAB panel denied the university's motion to dismiss the proceeding.
While his patent cases tend to have millions of dollars on the line, the highest stakes work Reed takes on, he said, are the matters he argues pro bono. 
These include child abduction cases under the Hague Convention. Oftentimes in those cases, a couple that is raising children together outside the U.S. sees their relationship collapse, and then one of the parents takes the children to the U.S., refusing to return to their home country. For the other parent to seek their children's return, he or she has to file a civil action under the Hague Convention, and "that's a daunting prospect" for the parent left behind in Mexico, Australia, or whatever other Hague signatory country it happens to be, Reed said. Those parents are "in a really bad place" when he first speaks with them, as they haven't seen their children in months.
All three of the child abduction cases Reed has handled so far have gone to trial. He has won all of them, resulting in the children's return to the left-behind parent in each case.
"I consider these to be my highest-stakes cases," Reed said. "I feel more nervous approaching trial for these cases than I feel [in] any patent case. Because the consequences of failing here are immeasurable."
Reed also worked with a federal prisoner, Samuel Johnson, at the end of 2016 in helping to have his life sentence commuted by President Barack Obama. Johnson was convicted of possession of more than 50 grams of cocaine when he was 23, and because he had prior convictions, the judge had to sentence him to life without parole. He had served 15 years of that sentence when Reed had intervened. Reed remembers getting the call from the White House Counsel informing him that Obama granted Johnson clemency.
"You can imagine, telling someone who the last 15 years had been facing the prospect of [spending] the rest of his life in federal prison, you get to let him know that he no longer has to spend his life in prison, that he's going to be a free man? That's it. That's a conversation I'll never forget." 
— Doug Chartier