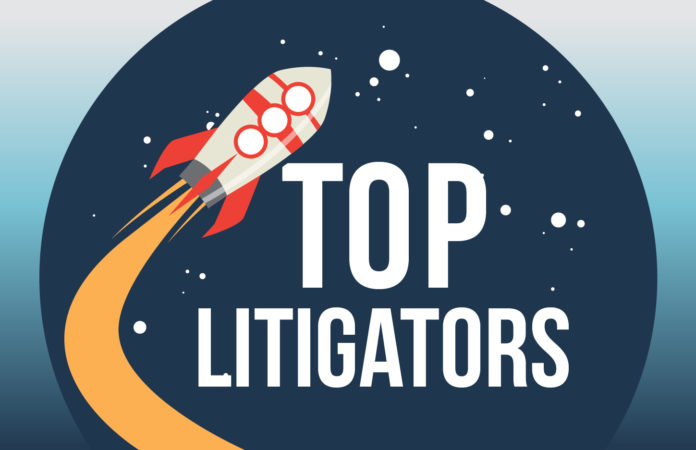 As one of our 2023 Top Litigators, Emily Swanson can do it all.
Swanson, a partner at Lasater & Martin, primarily does civil defense litigation dealing with personal injury, product liability, medical malpractice and licensing issues (like a complaint made against a professional's license). 
Swanson said she did plaintiff's work for a while, but found it wasn't for her and decided to try the defense side.
"What I found was that I feel like I get the best of both worlds," Swanson said. "When you hear the plaintiffs lawyers talk or you see their commercials, they're always telling you about the injustice done to this injured person … and that's a very noble thing."
Swanson added sometimes she finds the client does need to pay the person making the complaint, but on the flipside, she said there's a lot of frivolous, non-legitimate claims where organizations are being taken advantage of. 
Swanson has been busy in her law career. And she believes she's never gotten a verdict that was a loss. 
"I've had jury's return numbers, but they were either less than we had offered or right about what we'd already offered. I guess in that respect, I wouldn't say I've lost a case," Swanson said. "I only try cases that I feel really strongly about." 
Swanson's paralegal Marie Kosmos nominated her for Top Litigators and said Swanson is a commanding presence in the courtroom, while being assertive and still respecting the other party.
Swanson said she lives by the mantra of "Do what you say, say what you mean, but don't be mean when you say it." 
"I just really try to be genuine," Swanson continued. "I just try to be respectful of everybody involved in the process. … I try to try the case, not the people, and sometimes that's hard."
Swanson, who works between 40 and 80 hours a week, said it's not easy performing this juggling act while helping raise two young children. One of her big wins in the courtroom was obtained about three months after having a baby, while having another toddler at home. 
"Some days are way harder than others," Swanson said. "I, by no means, think that I've got this figured out. … I think for me, what's been really important is understanding that it really does take a village and not being too proud or too afraid to rely on that village and ask for help."
She added her husband is amazing in helping raise the kids and her firm has also been incredibly supportive. She also knows she can't be perfect.
"I've never been one of those moms that feels like I have to have it all together," Swanson said. "I think we live in a society with social media being what it is now and the Instagram influencer world, where we only let people see what we want them to see, has created this unnecessary anxiety in moms … [of] having to be perfect all the time and comparing ourselves and things like that and I just don't do that." 
Giving back is also ingrained in Swanson. Due to the baby formula shortage, Swanson created a Facebook group about a year ago, which has almost 2,400 followers right now and had around 4,000 at one point. Members of the group nationwide would post what they needed, then people who were out looking could grab it and ship it to them. 
Others in the group would go to a store and take a picture of the baby formula aisle and post where they are. Swanson said a bunch of people helped her get it off the ground.
"It just kind of grew and grew and it was this grassroots effort of a bunch of us," Swanson said, who estimates she shipped out about 1,000 cans over the course of about nine months. "I started it … but it was by no means only me."
She also coaches volleyball with 12-year-olds, is on the board of directors for the Rocky Mountain Region of USA Volleyball and works with the U.S. Olympic Committee to keep sports free of bullying and sexual harassment.
Swanson has also worked to keep an accused predator out of coaching including being involved in a campaign to ban the prominent coach from USA Volleyball.
Swanson has won numerous accolades for her law practice including being named a Top Women Attorney by Law Week Colorado in 2018.