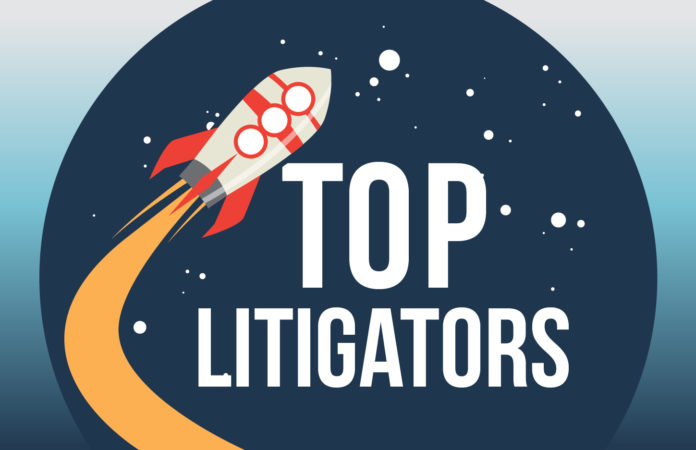 Throughout litigation, Jessica Prochaska tries to never lose sight of her clients' voices. 
"Our system is very complicated and giving victims an opportunity to be heard and to have a voice and to navigate the system is really important to me," says Prochaska. 
Prochaska is a shareholder at Burg Simpson Eldredge Hersh & Jardine's Denver office where she works in the firm's personal injury group handling a range of cases including motor vehicles, premises liability and bad faith insurance. She's also developed a specialty representing victims of sexual assault in civil litigation, a practice she says is challenging but also immensely rewarding. 
The ability to litigate cases in the complex and difficult area of sexual assault is one of the reasons Prochaska is one of Law Week Colorado's 2023 Top Litigators. 
Prochaska joined Burg Simpson in 2013 after moving to Colorado from Ohio where she worked in litigation preparation as a contract attorney and then for WilmerHale. The Marquette University Law School graduate wrote for the Marquette Sports Law Review as a student, earned a Sports Law Certificate from the National Sports Law Institute and interned in a number of sports law positions while in school. 
While Prochaska and her family are still avid sports fans, she's made a career representing vulnerable clients, such as children or people with physical or mental disabilities, in cases against institutions that employed perpetrators of sexual assault. 
Most recently, Prochaska was part of the team that represented Jane Doe, who was sexually assaulted as a child by her tennis instructor at Colorado Athletic Club-Monaco in Denver, and her mother in an appellate case. That case resulted in a December 2022 Colorado Court of Appeals ruling that found a liability waiver for "any and all claims" didn't bar negligence and Premises Liability Act claims against the club for assault by one of its employees. Prochaska was lead trial counsel for the case in district court and assisted other Burg Simpson attorneys to prepare for oral argument in front of the court. 
"I do really enjoy personal injury, representing victims. I think that the work is important," Prochaska said. "It's why I do a lot of the sex assault work. I think it's a really important area that is hard to do, but rewarding. A lot of firms don't even handle it. It's just a complicated area."
A client-centric approach to litigation is what makes Prochaska persuasive, according to others. "I believe that she succeeds in the courtroom because she cares for her clients," wrote Marcela Stras, an attorney and adjunct faculty at the University of Colorado Law School, in Prochaska's nomination. "She excels in preparation and organization, in making the cases understandable to the jury and making the jury care about her clients. She is a good speaker and relatable in the courtroom."
Prochaska was first introduced to sexual assault civil litigation in 2015 when representing a client with cerebral palsy who was the victim of assault. She said the case allowed her client to tell her story and effect change, and she's been drawn to that work ever since. 
Since most of her cases are against the employer of the person who assaulted her clients, Prochaska said at trial one of the most challenging parts can be drawing a connection between an employer and their responsibility to supervise employees. 
"They're the ones who are providing the supervision; these acts often happen on the employer's watch," explained Prochaska. "So it's creating that connection … creating the notice that's required under the law and then it's really making sure that the employer is found equally culpable, not just the employee." 
There's often a criminal case that runs parallel against the individual who committed the assault, but Prochaska added civil litigation can help spark change in ways criminal cases don't always. 
"The civil litigation really is an avenue to say policies and procedures for the employer need to change," said Prochaska. "Money can effectuate change, which is the goal for the majority of my clients." 
The cases that stick with Prochaska are those that create change and increase public safety. The Colorado Athletic Club-Monaco case is one of them, she said, as is a wrongful death case that wrapped up a three-week trial in February and resulted in a multimillion-dollar verdict against Xcel Energy and others for their role in a 2018 natural gas explosion that killed Carol Ross at a retirement home in Aurora. Prochaska was part of the Burg Simpson team that represented Ross' children and others injured in the explosion. 
"I never lose sight of being an advocate, being the voice for my clients," said Prochaska.