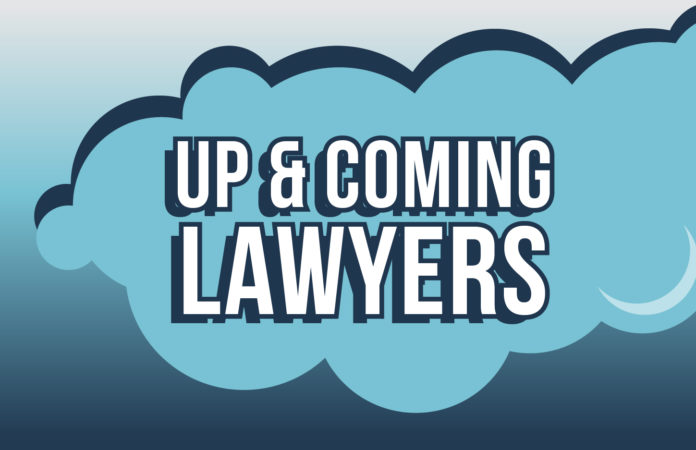 Blake Barnett just fell into the law field. 
The McConaughy & Sarkissian P.C. associate's family had been telling her since she was little that she should be a prosecutor. So much so that in first grade, she stood up and proudly told the whole class that she wanted to be a prostitute when she grew up. 
"I obviously meant prosecutor, but that kind of sparked my interest in law after that, I got a very long talking to from my mom of how to pronounce the word," Barnett said. 
While Barnett was looking at law schools, a tour guide told her that she didn't get to pick what area of law she did, it picked her. After trying to get jobs in prosecution, Barnett landed an internship with a small family law firm while attending the University of Miami Law School. 
"From day one, I was like, 'This is absolutely what I should be doing,'" Barnett said. "And that was that. I moved out to Colorado. The first firm that I applied to actually offered me a job the day I got my bar results and I have not looked back." 
Barnett has been an associate attorney at McConaughy & Sarkissian since May 2022 and focuses on high-conflict divorce cases involving children. In the last year, Barnett helped a client relocate to Israel during a contentious divorce and successfully argued that a client's spouse's business was significantly undervalued, which she said was a particularly proud moment for her. 
Barnett said the case felt hopeless at first because the client was in such a bad spot because of the amount of debt the husband took on. But once they got to court, they walked away with about $50,000 more than expected and the client was "stoked." 
In her family law practice, which includes experience in child support, maintenance, child custody issues, relocation and marital estate allocations, Barnett brings her perspective as a member of the LGBTQ community that she said helps put clients at ease. 
"It makes me less scary to prospective clients, especially clients who are members of the LGBTQ community. I know personally, like if I were to have to go through something like this, I would want someone who understood where I was coming from," Barnett said. "You can always get a little bit nervous … 'Oh are they going to be upset that I'm gay…' They already know it's safe for me to tell this person." 
Barnett also helps clients understand and navigate the law based on her own personal experiences with the court system as a child with pro bono work through Metro Volunteer Lawyers. 
"I watched the court system fail my sister and I while we were young … And I just didn't ever want that to happen to another child or another family," Barnett said. "I really always wanted to, if I could afford to, just be a lawyer who worked pro bono type cases." 
Barnett said through Metro Volunteer Lawyers and McConaughy & Sarkissian, she's able to help those who need it most. 
Throughout her work, Barnett said the most rewarding aspect is being able to take a family from their worst point to a spot where they feel confident they can move on and rebuild a life for themselves and their kids. 
"It's sometimes really beautiful to see. I had a client come to me with a really bad situation and never saw his kids, and I am very proud to say that he's got a fantastic relationship with those kids now. Those are the really rewarding ones when you can really help turn an entire situation around," Barnett said. 
Outside of family law, Barnett is dedicated to legal rights education. Barnett founded Vigilante Legal, a "community of lawyers, scholars, regulators, journalists, paraprofessionals, organizers and PR agents united to fight for social progress," according to the group's website. 
Currently, the group is focused on a campaign called "The Swiftiest Ticketmaster Campaign," which is focused on breaking up the ticket-selling company Ticketmaster after botched ticket sales for Taylor Swift. Barnett, a huge Taylor Swift fan, said she founded Vigilante Legal after trying to get tickets for Swift's concert. 
"I did get tickets, but the whole thing was irking me and a friend of mine, Jordan, and we were just like, 'Let's see if there's anything we can do.'" Barnett said. "Our biggest goal is to try to educate people about their rights about these different things that are affecting them. So their yelling into the void isn't just 'This isn't fair!' It's 'This is a violation of United States law.'" 
Barnett said Vigilante Legal has received good responses and is working with different coalitions to fight the "very blatant anti-trust violations that Ticketmaster is currently undergoing." 
When she's not fighting for families or trying to break up ticket-selling monopolies, Barnett said she loves camping, hiking and collecting vinyl. Barnett said the outdoors help her escape the hectic nature of the law field.