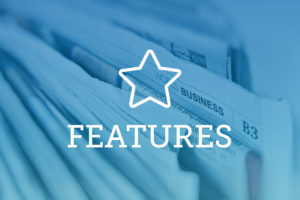 Every year, Thomson Reuters publishes a list of highly ranked peer-reviewed attorneys in over 70 practice areas. The annual "Super Lawyers" list uses a patented, multiphase research process that combines peer nomination, independent research and peer evaluation to assign scores to attorneys in various regions. Within the annual Super Lawyers list is the Top 100, Top 10 and Top 50 Women lawyers lists, which bring together some of the industry's best local attorneys across practice areas. 
Making the cut isn't an easy feat, and some of this year's "Top 100" who announced their recognition to Law Week Colorado reflected on what making the list means to them, what's helped them in their careers and more. 
Greg Goldberg isn't a new name on the Top 100 list for Colorado. The Holland & Hart partner has been a Super Lawyer since 2009 and has made it to the Top 100 or Top 50 11 times since 2011 for his work in criminal defense. The Denver office partner and Columbia Law School graduate has been with Holland & Hart since 2003 and previously worked as federal prosecutor and a clerk for former 10th Circuit Court of Appeals Judge Paul Kelly Jr. Goldberg defends companies and individuals in government investigations by grand juries, U.S. Attorney's Office, the Department of Justice and federal and state agencies. He also represents clients in complex commercial litigation.
Goldberg credits a number of factors including education, work ethic and commitment to getting him where he is now in his career, but singled out mentoring as a key part of his career development. 
"Since graduating from law school, I have intentionally sought out mentors at every stage of my career, including as a law clerk, prosecutor, law firm associate and partner," said Goldberg in a statement to Law Week. "I have benefited from the countless hours invested by many lawyers and judges senior to me in the profession who dedicated their time and energy to show me the right way to practice law." He added that he wants to pass on the support he has received to others, explaining that he's committed to mentoring junior attorneys to support their professional growth and client support. "I am honored to be recognized by my professional peers. It means a great deal to be selected as a Top 100 lawyer in Colorado along with five of my Holland & Hart colleagues," said Goldberg. 
Lucy Stark, managing partner at Holland & Hart's Denver office, made this year's Top 100 as well as the Top 50 Women lists. She's made both lists since 2020 for her work in securities and corporate finance matters and climbed from a Rising Star in 2011 to a Super Lawyer starting in 2012. 
Stark, a University of Colorado School of Law alum, has a wide ranging practice that includes debt and equity capital markets deals, M&As, joint ventures, public and private securities offerings and exchange offers as well as advising on disclosure and corporate governance matters. She's worked with clients in industries ranging from grocery, energy, mining and natural products to information services and real estate. Stark has been with Holland & Hart since 2007 and previously worked at Gibson Dunn & Crutcher, LLP.
In a statement to Law Week, Stark expressed gratitude to be included on the Top 100 list shoulder to shoulder with other notable attorneys. "Colorado is home to some truly talented lawyers and I'm thrilled that Holland & Hart has so many on this list," said Stark. As for her success, Stark credits the support, advice and guidance of her colleagues and mentors, but said, "working with amazing clients has helped me most in my career. I'll always be grateful to them for their friendship and trust." 
Jonathan Bender has been with Holland & Hart for almost 20 years, first joining in 2003 as an associate then moving up to partner in 2011. Bender splits his practice between local and state tax matters and commercial litigation. He's been recognized by Super Lawyers since 2009, moving up the ranks from a Rising Star to a Super Lawyer and making the Top 100 list since 2021. Bender is a University of Denver Sturm College of Law graduate. 
In a statement to Law Week, the University of Denver Sturm College of Law graduate said he is "humbled and grateful" to make the Top 100 list alongside "this group of mentors, leaders, and the most highly skilled practitioners in our legal community." Before joining Holland & Hart's Denver office, Bender was a judicial law clerk at the Colorado Supreme Court. Reflecting on his career, Bender said the attorneys at Holland & Hart and other in the industry have helped push him to develop his skills as an attorney. 
"My partners at Holland & Hart and colleagues in other firms I've worked with over the years, both as co-counsel and adversaries (many of whom are on this list) have pushed me to be better and helped me hone my judgment, trial skills and professionalism," said Bender. "I'm inspired to continue to learn and develop my skills as a litigator to earn my place among such esteemed company." 
Holland & Hart announced three of the firm's other attorneys – Marcy Glenn, Chris Toll and Maureen Witt – also made the Top 100 list. 
Lewis Roca, a multi-state firm with offices in Colorado, California, New Mexico, Nevada and Arizona, announced that Denver partners Frederick Baumann and James Lyons made this year's Top 100. Baumann was also recognized on Colorado's Top 10 list.