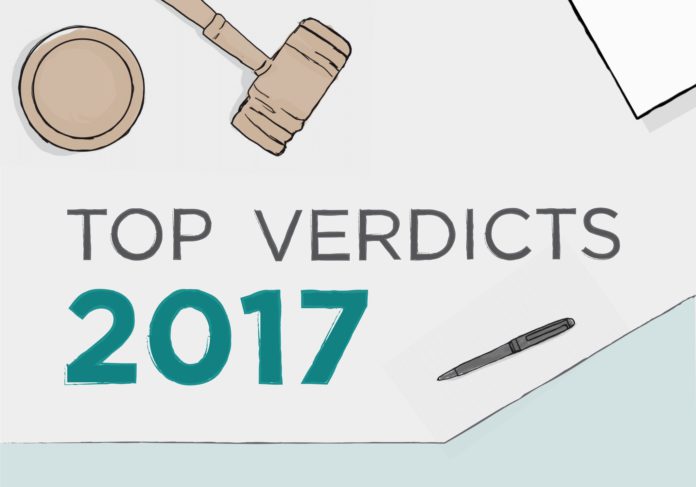 The 2017 top verdicts range from large commercial disputes and class actions to personal injury cases with punitive damage awards. Due to damages caps, post-trial motions or other reasons, final judgments often differ from the amount awarded by the jury.
Information on 2017's largest verdicts was provided by Jury Verdict Reporter of Colorado with some additional reporting done by Law Week Colorado. The following case ranking only reflect the jury verdict amount and do not reflect post-judgment awards, adjustments such as treble damages or post-trial settlement amounts that might be included in the descriptions.
$60,215,413
Antero Resources Corp. v. South Jersey Resources Group and South Jersey Gas
Judge: Robert Blackburn, U.S. District Court for the District of Colorado
Plaintiff's Attorneys: James Thompson III, Kathleen Spangler, Nicholas Shum, Phillip Dye Jr. and Conor McEvily, Vinson & Elkins (Houston, Texas); Michael Gallagher of Davis Graham & Stubbs
Defendants' Attorneys: Christopher Raleigh of Cozen O'Connor (New York); Mark Lazaroff, Cozen O'Connor (Cherry Hill, New Jersey); William Peterson and Winstol Carter Jr, Morgan Lewis & Bockius (Houston); Jennifer Wnek of South Jersey Industries, Inc.
Type of Claim: Breach of contract
Antero Resources Corporation, headquartered in Denver, entered into a contract with South Jersey Resources Group for the sale and purchase of natural gas in October 2010, and Antero and South Jersey Gas Company executed a contract on June 10, 2011. 
Antero claimed that both defendants breached the contracts by failing to pay the agreed-upon price for natural gas. 
The defendants claimed that because of a market disruption event, they did not breach their contracts, but Antero refused to recognize that a market disruption event occurred. The defendants counterclaimed for breach of contract and claimed that Antero was obligated to negotiate a new price for natural gas. Antero asserted the affirmative defense of prior material breach of contract by South Jersey Gas and South Jersey Resources Group.
The jury awarded $16,227,991 for Antero against South Jersey Gas Company and $43,987,422 for Antero against South Jersey Resources Group.
Following the May trial, the court entered judgment in favor of Antero, affirming the jury's verdict plus post-judgment interest and costs. 
The case continued on appeal. The plaintiff's attorneys declined to comment on the outcome.
$14,905,000
Robbin Smith and Doyle Edward Smith v. The Surgery Center at Lone Tree
Judge: John Stevens, Douglas County District Court
Plaintiffs' Attorneys: Bruce Braley and Brian Aleinikoff, Leventhal & Puga
Defendant's Attorneys: Mark Stinnett and Margaret Masters, Stinnett & Masters
Type of Claim: Medical malpractice: negligence, negligence per se, lack of informed consent and loss of consortium.
Robbin Smith was a patient at The Surgery Center at Lone Tree on Sept. 9, 2013 when she received an epidural steroid injection of a drug called Kenalog, suffered a spinal cord infarction and became paralyzed from the waist down. 
The plaintiffs alleged that the defendant failed to comply with state and federal regulations and negligently failed to obtain Smith's informed consent prior to the injection. 
Bristol-Meyers Squibb, the manufacturer of Kenalog, received permission from the U.S. Food and Drug Administration in 2011 to change the Kenalog label to read, "Not For Epidural Use." The Kenalog label also was changed to add "Adverse Reaction – Neurologic." The plaintiffs said they were never informed of the label changes prior to Robbin's injections. 
Bruce Braley said the label was a crucial part of the case and argued in trial that the hospital's policies should have had the warning label read thousands of times since the FDA changed it in 2011.
The defendant denied the negligence claims and contended that it acted reasonably and within the standard of care for an ambulatory surgery center. The defendant stated that the decision about the drug used and the appropriateness of the drug belonged to the physician, not the surgery center. The defendant denied that Robbin Smith's injuries were caused by the injection of Kenalog and contended that her spinal cord infarction was caused by an arterial vasospasm, a complication that could not be foreseen or prevented. With respect to the informed consent claim, the defendant asserted that it was the physician's responsibility to obtain Robbin Smith's informed consent.
$10,840,000
Wellons, Inc. and Wellons Group, Inc. v. Eagle Valley Clean Energy et al.
Judge: R. Brooke Jackson, U.S. District Court for the District of Colorado
Plaintiffs' Attorneys: Stephen Leatham, Heurlin Potter Jahn Leatham Holtmann & Stoker (Vancouver, Washington); Michael Frazier and Joel Richardson, Campbell Latiolais & Averbach
Defendants' Attorneys: Sarah Baker, Sarah J. Baker, PC; C. Scott Greene, Curtis Romig and Aiten McPherson of Bryan Cave (Atlanta); Jared Inouye, Ryan Braithwaite, Bennett Tueller Johnson and Deere (Salt Lake City); Brad Breslau and Cheri MacArthur, Cozen O'Connor
Type of Claim: Breach of contract, breach of promissory note, fraudulent transfer 
Wellons, a Vancouver, Washington-based company that designs and builds biomass-fueled power plants, built such a power plant for Eagle Valley Clean Energy Corporation in Gypsum. 
Wellons filed a lawsuit against Eagle Valley claiming that Eagle Valley breached the design and build contract by failing to pay the final $10.8 million it owed. Wellons also sued Eagle Valley's parent company, Evergreen Clean Energy Corporation, for breach of a promissory note contract for the same final payment of $10.8 million. Wellons also sued other companies and related parties for receipt of funds that Wellons claimed Eagle Valley had fraudulently transferred to those companies to delay final payment to Wellons for the plant construction. 
Individual defendants Dean Rostrom and Kendrick Wait, who owned Eagle Valley Clean Energy, asserted counterclaims against Wellons for negligence and breach of contract and claimed that Wellons had defectively constructed the power plant. Eagle Valley claimed damages of $30.4 million. 
GCube Insurance, which insured the biomass plant, claimed that Wellons defectively constructed a fuel conveyor and alleged that the defective construction was the cause of a fire that resulted in approximately $3 million in damage to the plant. GCube paid damages for the fire and filed a subrogation claim against Wellons. 
Prior to trial, Wellons demanded $10.8 million; Eagle Valley, however, demanded Wellons pay $20.8 million, including forgiveness of the $10.8 promissory note, relinquishment of $4 million in stock and payment of $6 million in cash.
The jury delivered its verdict in favor of Wellons, Inc. and against Eagle Valley Clean Energy, on the breach of contract and on the breach of promissory note claim for $10,840,000, plus interest and found for defendants Eagle Valley Clean Energy, Evergreen Clean Energy Corporation and Clearwater Ventures and against Wellons on the fraudulent transfer of funds claim. It also found for Wellons, Inc. and against Eagle Valley on its counter-claims of breach of contract and negligence and for Wellons, Inc. and against GCube Insurance Services on GCube's breach of contract and negligence claims. 
$8,421,367
CGC Holding Co. et al v. Sandy Hutchens 
Judge: R. Brooke Jackson, U.S. District Court for the District of Colorado
Plaintiff's Attorneys: Kevin Roddy and Michael Fried, Wilentz Goldman & Spitzer (Woodbridge, New Jersey); and Scott Shepherd, Shepherd Finkelman Miller & Shah (Media, Pennsylvania)
Defendants' Attorneys: Steven Klenda, Scott Gessler and Monica Anne Flanigan, Klenda Gessler & Blue
Type of Claim: Class action – violations of the Racketeer Influenced and Corrupt Organizations Act
Judge Jackson certified the class in March 2013; the defendants appealed the class certification and the 10th Circuit Court of Appeals affirmed. 
The three lead plaintiffs, on behalf of the class of 124 U.S. borrowers, alleged that defendant Sandy Hutchens operated an advanced fee loan fraud scheme and collected advance fees of $8.4 million from 124 U.S. borrowers during the class period of 2008 to 2014. Hutchens issued loan commitments that totaled more than $3 billion; however, he never funded a single loan in the U.S. 
The plaintiff and class members contended that Hutchens, through the use of aliases and shell companies, created the illusion that he was operating a bona fide real estate lending enterprise and he concealed material information about his personal background from prospective borrowers. The plaintiffs also claimed that Tanya Hutchens and Jennifer Hutchens were participants in the scheme that Sandy Hutchens organized. 
The defendants denied the plaintiffs' claims. They claimed that Sandy Hutchens was an established private lender who had successfully arranged funding for private loans to numerous qualifying borrowers who would not typically qualify for standard bank financing. In 2008, Sandy Hutchens, a Canadian citizen and resident, sought to expand his business into the U.S. through various lenders. The mortgage broker through whom the lenders ultimately received most of the U.S. loan applications was later indicted by Colorado and federal authorities and pleaded guilty to mortgage fraud. The defendant claimed that this fraud, combined with a decline in real estate values from the financial crisis and other borrower misrepresentations, precluded the lenders from funding all but one loan in the U.S. The defendants said that the plaintiffs' own misrepresentations and failure to qualify for the loans they sought caused the plaintiffs' losses.
On May 15, following a 10-day class action trial, the federal court jury returned a unanimous verdict finding the defendants, Sandy Hutchens, Tanya Hutchens and Jennifer Hutchens, liable for violations of RICO statute. The jury awarded damages in the amount of $8.4 million. The jury awarded $8,421,367 for the plaintiffs on the violations of the RICO Act, but the plaintiffs and class members filed a motion for entry of partial judgment of $24,239,101 against defendants Sandy Hutchens, Tanya Hutchens and Jennifer Hutchens, which is treble damages based on the jury award of $8,421,367 less $1,025,000 for a pretrial settlement with former defendants.
The court also entered a constructive trust over defendants' entities and properties located in Ontario, Canada, and the plaintiffs are pursuing judgment collection proceedings in the Ontario courts.
Plaintiffs' attorney Kevin Roddy said the case was significant because class actions are infrequently tried before juries, and RICO class action trials are even more rare.
$5,285,455
Newcastle Properties, Inc. v. Kinnickinnic Realty Co.
Judge: Elizabeth Weishaupl, Arapahoe County Court
Plaintiff's Attorneys: Andrew Petrie and Sarah Wallace, Ballard Spahr
Defendant's Attorneys: Shannon Petersen and Travis Anderson, Sheppard Mullin Richter & Hampton (San Diego)
Type of Claim: Breaches of contract, anticipatory breach, breach of management agreement and breaches of agreements to pay deferred asset management/exit fees. 
Newcastle Properties and Kinnickinnic Realty Co. claimed to be entitled to damages from the other. Newcastle is a property management firm that provided property management and asset management services to Kinnickinnic Realty Co., which owns commercial and residential properties in the Denver area. 
Sarah Wallace, who represented Newcastle, said the plaintiff went into the case thinking it was a simple matter only to have it escalate into a case with counterclaims up to $15 million in damages.
Newcastle alleged that the Kinnickinnic breached the parties' management agreement by terminating it improperly and breached other agreements to pay deferred asset management fees on the back end as Newcastle sold properties. 
Kinnickinnic claimed there were no agreements to pay additional amounts or that any such agreements were superseded by other later agreements or that Kinnickinnic had been fraudulently induced to enter into those agreements. 
Kinnickinnic counterclaimed and sought damages of over $16 million. With respect to the counterclaims of breach of fiduciary duty, fraudulent concealment, intentional misrepresentation and negligent misrepresentation, Newcastle asserted numerous affirmative defenses.
"Newcastle was thrilled with the verdict because they eventually got everything they asked for," Wallace said. "This was one of those situations where it was a small Colorado company that wanted to be heard by a jury of its peers, and it worked out well for them."
The case is currently on appeal, and briefing is expected to begin within the next month. 
$5,047,500
Distribution International Southwest, Inc. and Rhem, LLC d/b/a E.J. Bartells v. Justin Hargis and General Insulation Co.
Judge: Elizabeth Starrs, Denver District Court
Plaintiffs' Attorneys: Steven Zadravecz and Ann Rossum, Jones Day (Irvine, California); Paul Schwartz, Shoemaker Ghiselli & Schwartz
Defendants' Attorneys: Kevin Snyder, Kevin J. Snyder & Associates (Henderson, Nevada); David Japha, Levin Jacobson Japha
Type of Claim: Misappropriation of trade secrets, breach of duty of loyalty, interference with prospective business advantage, intentional interference with business advantage and request for exemplary damages.
Distribution International Southwest, Inc. and Rhem, LLC are large commercial insulation distributors. The plaintiffs sued Justin Hargis, their former employee, and General Insulation Company, a major competitor. 
Distribution International alleged that Hargis stole trade secrets and other confidential and proprietary information and breached his duty of loyalty and that defendants used the confidential and trade secret pricing, budget and margin information to unlawfully compete. 
Distribution International alleged that Hargis plugged a USB thumb drive into his computer and downloaded more than 1,600 files and folders. The plaintiffs sought lost profits or lost value damages. Plaintiffs claimed that the defendants acted in a willful and wanton or malicious manner and plaintiffs sought exemplary damages. 
Both defendants denied that they misappropriated or unlawfully took confidential, proprietary or trade secrets information from the plaintiff, and defendants otherwise denied plaintiffs' allegations and claims for damages.
The jury found for Distribution International on the misappropriation of trade secrets and intentional interference with prospective business advantage claims and for Distribution International against Hargis on the breach of duty of loyalty claim.
$4,000,000
Francis Rudnicki and Pamela Rudnicki, as parents, guardians and next friends of Alexander Rudnicki, a minor child, v. Peter Bianco, D.O.
Judge: David Gilbert, El Paso County District Court
Plaintiffs' Attorneys: David Woodruff and Henry Miniter, Denver Trial Lawyers
Defendant's Attorneys: Bradley Robinson, Robinson Waters & O'Dorisio; Barbara Glogiewicz, Fennemore Craig
Type of Claim: Medical malpractice – birth injury
The plaintiffs alleged that their son, Alexander Rudnicki, sustained a permanent brain injury and other injuries as a result of the defendant's negligence during a vacuum-assisted delivery on Oct. 5, 2005. The plaintiffs claimed that defendant Peter Bianco, improperly placed a vacuum device on the side and back of the infant's head, instead of on the top of his head as required by the standard of care and attempted to extract the infant using excessive force. 
Plaintiffs alleged that, as a result of the improper vacuum cup placement, the infant's head became lodged in the birth canal for approximately 25 minutes, during which time the defendant continued pulling on the infant's head. The infant suffered intracranial and extracranial hemorrhages, as well as hypoxic-ischemic brain injury. He was born unresponsive and not breathing and was immediately transferred to the ICU at Children's Hospital. 
The defendant denied negligence and causation. When plaintiff was unable to deliver vaginally, Bianco consented her for a vacuum assisted delivery. The defendant said that after the second push, the fetus became tachicardic and additional attempts with the vacuum were felt by Bianco to be the fastest way to deliver the baby. 
At approximately age 2, Alexander was diagnosed with autism and defendant argued that much if not all of his deficits could be explained by his diagnosis of autism.
In trial, David Woodruff emphasized the after-effects of the birth injuries and the day-to-day assistance Alex needs with evidence such as a video demonstrating his difficulty in making a peanut butter-and-jelly sandwich. 
"It's always a heartbreaking privilege to be able to help families of injured babies, because while it's a satisfying feeling to help them recover millions of dollars, it's never going to bring back their child's life," he told Law Week in July. 
The jury found for the plaintiffs on all counts and included in the verdict awarded $355,000 for past and future non-economic losses.
$3,011,000
Jason Packer v. Avis Budget Group; Budget Truck Rental and Ryan McGrath
Judge: Ross Buchanan, Denver District Court
Plaintiff's Attorneys: Marc Bendinelli and Erik Cansler, The Bendinelli Law Firm
Defendants' Attorneys: Ellis Mayer, Nathan Dumm & Mayer; Timothy Marion, Deisch Marion & Klaus for Ryan McGrath
Type of Claim: Personal injury
On Aug. 15, 2013, Jason Packer was using a rental truck owned by defendant Budget Truck Rental. There was a looped strap that connected to the truck's metal ramp. The plaintiff said he placed the strap around his right wrist while the plaintiff and a co-worker pulled the truck's ramp out. 
The plaintiff said the ramp became disconnected from the truck and the ramp fell to the ground. The plaintiff claimed he was injured when the full weight of the metal truck ramp pulled his arm backward and down.  The plaintiff claimed the truck ramp was defective and caused him to suffer permanent injuries. The plaintiff alleged that Ryan McGrath, an employee of Avis, failed to discover a broken ramp before he rented the truck to the plaintiff's employer. 
The defendants said the ramp was used improperly, claimed the plaintiff was comparatively negligent and disputed the nature and extent of the plaintiff's injuries and damages.
The total verdict of $3.01 million was reduced with 67 percent negligence allocated to Budget and Avis and 33 negligence allocated to Packer. 
$2,929,025
Orion Air Group Holdings v. Arapahoe Airport Joint Venture #1 et al
Judge: Jennifer Torrington, Denver District Court
Plaintiff's Attorneys: Brett Godfrey, Aaron Bakken and Karen Porter, Godfrey Johnson
Defendants' Attorneys: Robert Zavaglia and Kathleen Johnson, Treece Alfrey Musat
Type of Claim: Premises liability  — construction defect. 
Orion Air Group Holdings, a dealer of Piper and Pilatus Aircraft, sued the landlord it leased hangar space from after a hangar roof collapsed in August 2015. According to plaintiff's attorney Brett Godfrey, the roof collapsed under the weight of thousands of gallons of water that pooled on the roof. The collapse damaged aircraft components and parts, many of which were rare, stored in the hangar. 
The defendants denied they knew of any problem with the hangar and claimed many of the parts had not been damaged by water and that the plaintiffs couldn't prove which ones had been without a test prior to the collapse. 
Following a five-day trial, a Denver jury awarded $2.92 million dollars. With interest, the judgment entered by the court should approach $3.5 million, according to Godfrey. 
"Interestingly, one of the six jurors who decided the case was himself a practicing appellate lawyer. Another juror was an expert in financial and investment operations," Godfrey said on his website's blog. "We had a very smart jury, which is probably why their deliberations took an unusually short time for a verdict of this size."
$2,450,000
Hayes v. SkyWest Airlines
Judge: Robert Blackburn, U.S. District Court for the District of Colorado
Plaintiff's Attorneys: Paul Maxon, The Law Office of Paul J. Maxon; Sarah Parady, Lowrey Parady; and Amy Trenary, Appeal to Justice
Defendant's Attorneys: Vance Knapp and Jonathan Shulan, Armstrong Teasdale; Todd Emerson, SkyWest Airlines
Type of Claim: Employment: violation of the Americans with Disabilities Act: failure to accommodate, disability discrimination and retaliation under the ADA, and retaliation under the Family and Medical Leave Act.
John Hayes was employed by SkyWest Airlines. The parties stipulated that the plaintiff had a disability, polycystic kidney disease, during his employment with the defendant. Plaintiff took a medical leave and had a catheter placed so that he could begin dialysis treatment. 
The plaintiff returned to work on Aug. 20, 2014. He worked for three days following the start of dialysis and the defendant placed him on involuntary unpaid medical leave. The defendant did not reinstate plaintiff to his previous position, did not reassign him to another position, refused to modify his  job duties, cancelled his health insurance and terminated his employment. 
The plaintiff said he applied for six positions with the defendant but the defendant rejected him for each position for which he applied. 
He claimed that the defendant retaliated against him after he submitted an internal complaint of disability discrimination and filed a formal charge of discrimination with the EEOC. The plaintiff claimed he was a trainer and the defendant alleged the plaintiff was a ramp agent.
SkyWest argued the plaintiff's dismissal was necessary because Hayes suffered a medical incident while on the job. The plaintiff's nephrologist testified that such incidents are common after the start of dialysis and the nephrologist medically cleared Hayes to return to work. 
The defendant was self-insured when the plaintiff initially took his medical leave prior to beginning dialysis. 
The plaintiff claimed SkyWest had a financial motive to place him on involuntary leave and ultimately terminate his employment because the cost of plaintiff's dialysis treatments could have exceeded $100,000 per year. 
SkyWest contended that the plaintiff was part of a mass layoff at Denver International Airport which defendant announced in September 2014. The defendant asserted that it made reasonable, good faith efforts to accommodate the plaintiff, and alleged that providing the plaintiff's requested accommodation would have posed an undue hardship on defendant's business operations.
The defendant also claimed the plaintiff failed to mitigate his damages.