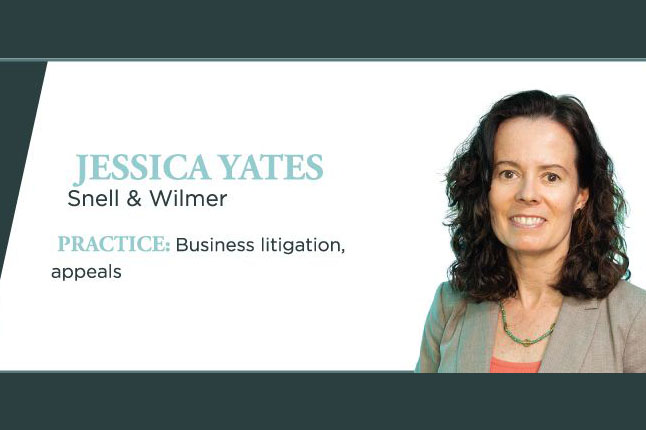 Snell & Wilmer partner Jessica Yates didn't initially plan on becoming an attorney. But after working in public administration and policy in Washington, D.C., with lawyers, she liked the work they did and became interested in taking her career in that direction.
She's a self-described "procedure geek" and naturally fell into business litigation and appellate work after she did a clerkship with the 10th Circuit Court of Appeals.
"I love the rules. I love the rules of civil procedure, the rules of evidence, of appellate procedure," she said. "And in litigation, you get to use all these rules in addition to the statutes — which are another set of rules that have their own procedures — and figure out what is the best path forward doing that."
One of Yates' biggest wins this year involved a 10th Circuit resolution on a Fair Debt Collection Practices Act case. She represented a major financial institution in an appeal from a homeowner who claimed that her client and co-defendant breached the FDCPA. 
"This was the first published case addressing whether foreclosures that did not collect money would be subject to the FDCPA, and that would really change a lot of the post-foreclosure litigation in this circuit," she said. "It has a lot of implications for major institutional lenders that limit a lot of residential mortgages."
She also successfully represented an electrical services contractor who was sued by a flash drive manufacturing company that suffered a power outage. She used the economic loss doctrine to ensure that contractual relations between the parties were enforced. 
In addition to her litigation practice, Yates is the co-chair of Snell & Wilmer's pro bono committee. She ensures that associates are supported in doing pro bono work and that they receive guidance and mentorship, but she also appreciates the opportunity to "set a culture of expectation so that when people do pro bono work, it's celebrated, it's not seen as a lesser-than but something that is important and a core value to the firm."
Whether female associates want to pursue pro bono work or serve on a board, it's important to her to continue supporting and inspiring women in the law. 
"I want to make sure that they feel they're not just cogs in a wheel, but that they're growing their own careers," she said. "And I would love to continue to be part of their story." 
She acknowledges that gender still plays a role in her actions as a litigator, especially because she's a fairly small woman, she said.
"There are a lot of times when I'm in a deposition room and the male litigators are posturing, voices are being raised, but nobody really sees me as a threat, so I can sort of keep an even keel." 
She said she also uses that to her advantage at trial with difficult witnesses — when they sometimes get combative with male litigators, she's able to approach them in a nonthreatening way and get the jury to see them how she wants.
When she's not in a courtroom, Yates serves on the board of several community organizations, including the Colorado Health Foundation and Open Boulder, an organization that promotes civic engagement. She also enjoys rock climbing and trail running with her dog. 
Last week, Yates was appointed as the new attorney regulation counsel for the state. She'll step into the position later this summer to replace Jim Coyle, who retires on June 30.
— Kaley LaQuea