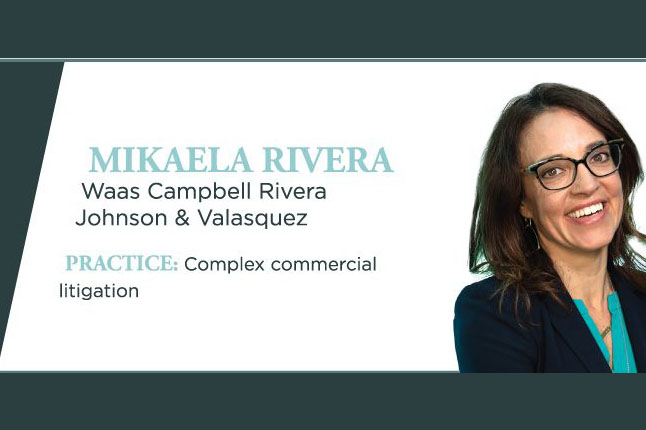 It's rare for someone to have the opportunity to bring their career full circle, but Mikaela Rivera has just that. 
Rivera worked on a landmark eminent domain case 10 years ago and now is involved in another major cases that could seal a loophole in Colorado case law that the first created.
While still a new associate at Otten Johnson Robinson Neff + Ragonetti, Rivera had the opportunity to gain plenty of litigation experience in land use and property disputes. Town of Telluride v. San Miguel Valley Corporation brought in her into a case that ultimately went to the Colorado Supreme Court to decide whether the Town of Telluride could seize property from a landowner outside its borders in San Miguel County in order to prevent future development. 
As for Rivera's work, she was able to argue for a change of venue away from the protests of Telluride residents, which enabled the landowner to turn a $26 million settlement into a $50 million ruling in exchange for the land. The Supreme Court said Telluride's actions were legal and made the case one of the biggest issues in the world of eminent domain law. 
Last year, Rivera took Lafayette v. Erie to the Colorado Court of Appeals a decade after the Telluride case with an issue that might close the loophole that allows municipalities such as Telluride or Lafayette to seize land outside their borders. Thus far, Rivera argued in trial that Lafayette acted in bad faith by using that loophole to seize land from Erie in order to prevent development and, thus, outside retail competition. 
That case is now on appeal, and Rivera said that if the Court of Appeals affirms the trial decision, it will "bracket" what municipalities can do with eminent domain and set guidelines for how to weigh economic development against conservation.  And while both the Telluride case and the Lafayette case have implications for Colorado, they've defined Rivera's career, as well.
"The initial Telluride case, I was thrown into that when I was a very young attorney. I just came into it, and it ended up being the most significant case so far of my career," she said. "And now to be able to do this case exactly 10 years later, Erie v. Lafayette, and to be front and center to that, it's all just sort of perfect justice. It's all come full circle."
Rivera has demonstrated her expertise in the area of eminent domain law with the cases, but she has found success in the business side of the law as well in launching her current firm, Waas Campbell Rivera Johnson & Valasquez, alongside a tight group of attorneys. 
The firm launched at the height of the economic downturn and a time of turmoil for the real estate world. Rivera was involved in every part of the process of starting a law firm and continues to be a rainmaker for the firm while also managing its marketing and human resources operations. Despite the uncertain time of the firm's launch, Rivera said she didn't have uncertain feelings about her move. 
"Moving for me was really just about staying with a group of people I knew we could always work with. The pod that, no matter what firm we were with or what we were associated with, we were going to be successful together," Rivera said. "Having the things that mean the most to you — the people you believe in and the people who believe in the work that they're doing, those sort of things are the recipes to make a business work, and if you have those you can make almost anything work. I think it's the belief that more is possible."
— Tony Flesor