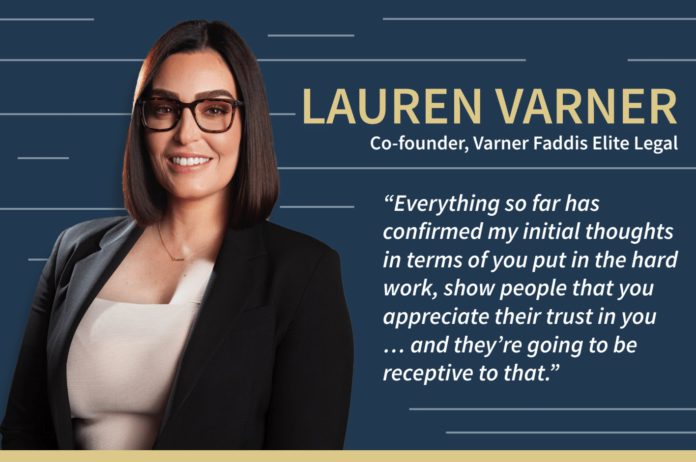 Even before Lauren Varner was an attorney, it was clear she was going to do personal injury work.
"From the very beginning, even from my first year of law school, I've just fallen into personal injury," she said. 
Her father was an orthopedic surgeon who saw many personal injury patients. She had worked in his office and saw what the work was like from the medical side. "So it seemed like a natural path for me," she said. 
She is now running her own firm, Varner Faddis Elite Legal, with her fiancé Eric Faddis, but her career thus far has been set in that path. She worked for roughly five years at another personal injury-focused law firm and took a case to the Court of Appeals after starting work on it as a clerk. 
Her young career has involved, by her count, hundreds of settlements, countless mediations and several six-figure settlements for her clients.
Varner didn't end up winning on the appeal, but she said she valued the experience. That case was heard at her alma mater, the University of Denver Sturm College of Law, and brought a crowd of law students. She was only about one year into practicing, herself, and the oral argument experience was educational in handling nerves and being able to stray from the outline while being interrupted with questions.
And while many personal injury cases are focused on bringing in a large quantity of cases, Varner and Faddis started their law firm last year with a focus on "white glove" service. 
"My favorite part of my job is just working with the clients. Most of them come in, and they're stressed and they're frustrated," she said. "I love getting to know my clients and giving them some peace of mind. When they leave, I think they just feel like a weight has been lifted."
That idea of "white glove" service might trigger ideas of luxury, but she describes it with the same client focus. Essentially, giving clients the type of service she would want to receive. For example, providing transparency about what's going on in a client's case by putting things in writing, sharing copies of pleadings and making phone calls to clients to discuss what is happening in their case.
"I know a lot of firms don't do that, but I think it's important that the client knows what work you're doing on their behalf. I just know that I would appreciate that. Everything so far has confirmed my initial thoughts in terms of, like, you put in the hard work, show people that you appreciate their trust in you, that you appreciate their business, and they're going to be receptive to that."
As for the firm itself, Varner said there is an expected adjustment when a partner is also a work partner, but she and Faddis have been enjoying working together. 
Putting in long hours might be easier when your partner is already doing the same thing. And having the established trust that comes with the relationship means she knows they have similar tastes and expectations for the business.
And although the wedding is still in planning stages, the firm has been succeeding by their metrics.  
"We got engaged in May, and then we started the firm three months later. So, all of our spare time is put towards the firm," Varner said. "Right now, we haven't set a date yet for the wedding, but we are in the process of planning a party for the firm opening."
Since opening in August, the firm has grown its caseload to about 170 cases, by Varner's count. She said she's felt that their focus on clients is paying off; in addition to Varner and Faddis, the firm has a third attorney, who is of counsel, and recently added a paralegal to its staff. She said they hope to add another attorney soon. 
"There's some concern about whether a small firm is going to be able to sustain itself because it's difficult to compete with the firms that are spending a million dollars advertising. 
We're just not in a position to do that," she said. "So just to know that medical providers trust us enough to send us their patients, high school friends refer to us and just to know that people have that confidence and trust in us is an incredible feeling." 
— Tony Flesor