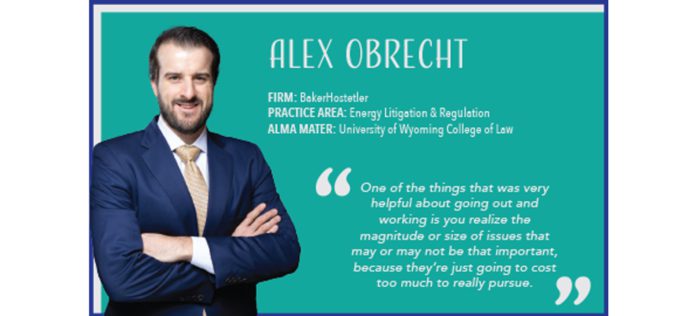 Alex Obrecht's career as a securities trader took him from Wyoming to New York, and then back again for law school to concentrate on oil and gas. He said he assumed he'd work in Wyoming, but the BakerHostetler associate has become a rising star in oil and gas litigation under Colorado law.
He has had an active role in pioneering a legal theory that royalty owners of oil and gas interests who believe they have been underpaid royalties under the payment of proceeds provision in the state's Oil and Gas Conservation Act have to exhaust their remedies with the Colorado Oil and Gas Conservation Commission before going to district court. In 2015, Obrecht was part of a team at BakerHostetler representing an oil and gas producer, and the team filed a motion to dismiss the case that was the first one granted in the state they knew of under the theory that royalty underpayment claims must first go through the COGCC.
"We like to affectionately call it the Gagnon Rule, for Carrie Gagnon who used to be with our firm," he said. Gagnon and partner L. Poe Leggette led the team in writing the motion to dismiss. Obrecht has since picked up several similar cases and authored similar briefs.
"But they keep evolving because they're obviously another court ruling and are new strategies that are taken at this issue, including adding claims such as civil theft," he added. "The idea being the Oil and Gas Conservation Commission can't hear a civil theft claim."
Obrecht is in his fifth year of practice, including a clerkship for Judge Gregory Phillips on the 10th Circuit Court of Appeals. He got the inkling he was interested in the oil and gas sector while working as a securities trader for Credit Suisse in New York. A number of high-profile events such as the Macondo well blowout in the Gulf of Mexico resulted in securities trading that Obrecht had the chance to take part in, and after the 2008 market crash, oil and gas seemed like one of the safer sectors to invest and work in. He subsequently returned to his home state of Wyoming for law school.
"Part of the idea of Wyoming is it's a phenomenal natural resources school, whether that's the broadest sense of natural resources … but it also has a very strong backing in energy," Obrecht said, adding the school focuses on both traditional fossil fuels and renewable energy sources. He focused his studies in oil and gas, both in the administrative and regulatory aspects.
He believes working for a few years before going to law school gave him valuable real-world perspective that he can use in his practice now. The environment of a university, he said, can be somewhat of a bubble. And a young lawyer also may not grasp the relationship between the size of the issue at hand and what it will cost the client.
"So sometimes it can be kind of hard to understand the business issues that lead to work coming to your desk," Obrecht said. "So I think that was definitely one of the things that was very helpful about going out and working, is you realize the magnitude or size of issues that may or may not be that important, because they're just going to cost too much to really pursue." But he joked being out of school for a few years between college and law school probably made his study habits turn stale.
Because he specializes in one sector, Obrecht said when work lands on his desk, figuring out what he doesn't know about the issue at hand can often be one of the biggest challenges.
"On just a general basis, law school doesn't teach you how to actually be a good lawyer, it teaches you how to think like a lawyer," he said. "Hopefully you've picked up those kind of skills."
As an important lesson in litigation, Obrecht said he's learned the importance of not internalizing the issues in his cases, because it can lead to a lot of stress and burnout. Things that can be risky to take personally can include obsessing too much over deadlines or thinking an opposing counsel is mean, when in reality they're also just doing their job for their client.
"It's just issues that come with the job and how you're supposed to actually practice," Obrecht said. "I think you become accustomed to those things and separate the wheat from the chaff, and really focus on the things that you do need to work on, rather than all the other external things that just come with the job."
Obrecht may be a rising force in oil and gas law practice, but he's had the chance to get his feet wet in other areas through his pro bono work. He's represented clients in landlord-tenant disputes, which he thinks is a type of issue where the people involved can get pushed around quite a bit, and be in need of legal help. Obrecht said he's still looking for an avenue of pro bono work that has a steady need for help so he can keep coming back. BakerHostetler does work for a civil rights group involved in some high-profile litigation matters, and Obrecht said he has enjoyed that.
"That's been fun, because you do look at the underlying facts of what has happened, it is crying out for some help and for really kind of a higher power of legal take on it."
— Julia Cardi