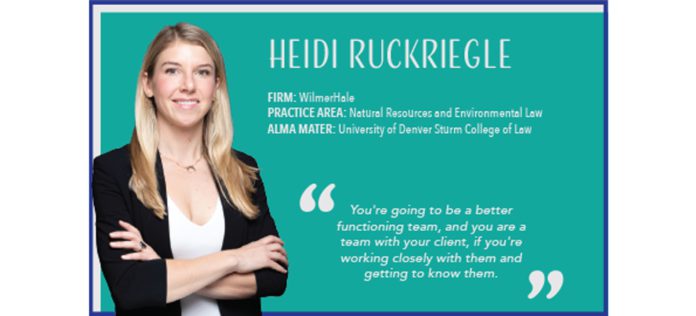 As a native Coloradan who grew up in the mountains, Heidi Ruckriegle places a lot of value in the Colorado lifestyle and the environment that creates it. Her connection to her home state was strong enough that she chose to stay in Colorado for both her undergraduate and legal education and chose to build a career in natural resources law.
"I've always been passionate about the world that we live in," she said. "This is definitely the place for me."
And at WilmerHale, a law firm with a strong focus in natural resources law and a stable of established attorneys in the area, such as Ken Salazar, Tom Strickland and Andy Spielman, she's found another place to call home.
After receiving her law degree in 2014 from the University of Denver Sturm College of Law, she started her practice at Welborn Sullivan Meck & Tooley, a Colorado law firm with litigation and public lands practices. She said her mentors at the firm helped her discover her passions and interests while building her early litigation skills.  
"I really busted my butt to make a name for myself during my time there, not only in the typical associate duties of billing your hours and getting your work done but also taking on the extracurriculars and writing and getting involved in the Colorado Bar Association natural resources and environmental law section, meeting people and networking within the industry."
Her networking paid off when she reached out to WilmerHale co-partner-in-charge of the Denver office Andy Spielman to get coffee and talk about the public lands practice. It wasn't too long before she made the move to the national firm. 
At WilmerHale, her practice is focused on natural resources and environmental law, and she has recently gotten involved in Foreign Corrupt Practices Act and Sarbanes-Oxley investigations as well. But some of the most significant work she's done in the past year to her was her pro bono work to help get four immigrant women released from the Aurora detention center after they were detained through the federal government's family separation policy. 
She had already been doing pro bono work through the firm on an unrelated immigration matter and for Project Safeguard, a nonprofit organization that helps victims of domestic violence navigate the legal system. "When this crisis happened, it was definitely like opening the floodgates," Ruckriegle said. WilmerHale partner and former U.S. Attorney John Walsh got the firm's pro bono efforts focused on the issue right away with an open invitation to anyone at the firm who wanted to get involved. "There was an endless need, so I could have taken on an unlimited amount of cases but had to stop myself out what was humanly possible."
She worked to help get the women released from detention and reunited with their young family members. Ruckriegle said working with them closely and seeing the emotional toll on her immigrant clients hit her hard as well. 
"I was just like, 'oh my god, I'm nobody, but I'm trying so hard to help,'" she said. "But everybody's helpless, even attorneys."
She worked to get over the feeling of hopelessness by trying to be better on an individual level and to focus on her clients and not the larger issue. 
"This is one human that I'm helping. And I think it's easy to forget that and that's why now that the crisis is over, it's pretty easy for people to forget that that even happened," she said. "Hopefully it's a black mark and not a precedent, like 'the law is black and white, but we can make it gray.' That's essentially what was done — it was made gray so that even attorneys had a difficult time helping people because agencies weren't following the law."
She said things are looking better now that the policy has ended and her last client, who was detained for more than four months, was released earlier this month.
In her primary practice focus, she has recently been working under Walsh on Sarbanes-Oxley compliance and FCPA cases, helping counsel clients on their investigations and what disclosures they need to make to the U.S. government.
She was also recently asked to chair the young professional committee for the Rocky Mountain Mineral Law Foundation, a source for energy-, environmental- and natural resources-related publications. She said the role is an opportunity to work with young attorneys and get them involved in the organization and to build relationships between them and the community. 
"Having grown up in Colorado, and what was once a small town, it's really important to me to have community," she said. That applies to her client relationships as well. After working on a master-planned community negotiation, her clients have asked to work with her directly, something that carries a lot of weight at any firm. "I do value building those relationships, regardless of whether they hire us next time," she said. "That's not what it's about, it's more that you're going to be a better functioning team, and you are a team with your client, if you're working closely with them and getting to know them."
— Tony Flesor