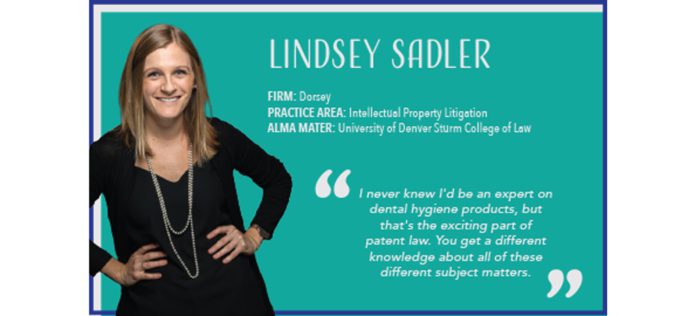 From the time Lindsey Sadler was about 5 years old, she wanted to be an architect. She often drew floor plans for houses while in class, and on her travels as a child, she was fascinated with how buildings in different places looked. So it was a natural progression that she became an intellectual property litigator.
Sadler studied architecture and environmental design as an undergraduate, but ultimately decided she enjoyed architecture more as a personal interest than as a career. Her mother, also a lawyer, worked in real estate while Sadler was in college, which she said seemed like a natural progression from architecture. 
"Watching my mom, growing up with my mom as a lawyer, I just decided to give it a shot," Sadler said. "I took the LSAT, applied to law school, and I realize it's probably the best decision I've made."
Sadler said the intellectual property world incorporates her interest in design, though it might not seem like it would be design-based. Working with patents and product designs, however, fills that need. She now does intellectual property litigation at Dorsey and, though she's only been practicing for two years, she has had opportunities to be the lead associate on cases. 
One case in particular demonstrates another aspect of IP that resonates with Sadler. She was brought in on long-running litigation over a dental hygiene product. She was staffed as the only associate when discovery started, and she got her first opportunity to manage the associate side of a case. 
"In three months, I got to draft more motions than I think I would have otherwise," Sadler said. "I'm really appreciative of Dorsey for staffing me in that role. They put a lot of trust in us, which is great, and they invest in their associates to help us become better lawyers sooner than expected."
Now that the first case as a lead associate is out of the way, she has more confidence to work in that role on other patent cases.
 That first case resulted in a summary judgment win for Dorsey's client, and Sadler gained some new knowledge.
"I never knew I'd be an expert on dental hygiene products, but that's the exciting part of patent law — you get a different knowledge about all of these different subject matters. I didn't even know that this was an area of dental hygiene. And now I can tell you all about it."
Sadler also gained valuable new experience at Dorsey through her pro bono work with the Rocky Mountain Immigrant Advocacy Network on an immigration case. 
She and another Dorsey associate represented a Russian national who had participated in anti-corruption and anti-Putin protests and was marked as an instigator by the Russian government.  
He and his family fled to the U.S. out of fear of how the government would treat him if he were arrested. After being picked up by border patrol at the Arizona-Mexico border, he and the rest of his family were split up; he landed in the Aurora detention center while his wife and daughter were released to a sponsor in North Carolina.  
She said she was motivated to help him reunite with his family, even after billable hours picked up and the work spilled into nights and weekends. 
"It was one of those things where he's sitting in a detention facility in a foreign country miles away from his family," Sadler said. "I can do one more hour, I can do two more hours, I can do that much more if that means that he can get out as soon as possible."
Sadler said the team working on behalf of the man filled out an asylum application for the family and helped him for his merits hearing earlier this year. 
Sadler was the first chair in his hearing and did a direct examination before the judge where she walked through his story. He was granted asylum and released that day. 
Sadler said she and her client stayed in touch while he relocated to North Carolina to reunite with his family, but now that he's settled, they've lost contact. 
"I think that is a good sign. I think he doesn't need me anymore. So that's a good thing," Sadler said. "If he needed me, he knew where to reach me, but I think no news is good news."
Now with the experience of handling one immigration case, she said she now hopes to use that knowledge to continue doing pro bono immigration work.  
— Tony Flesor