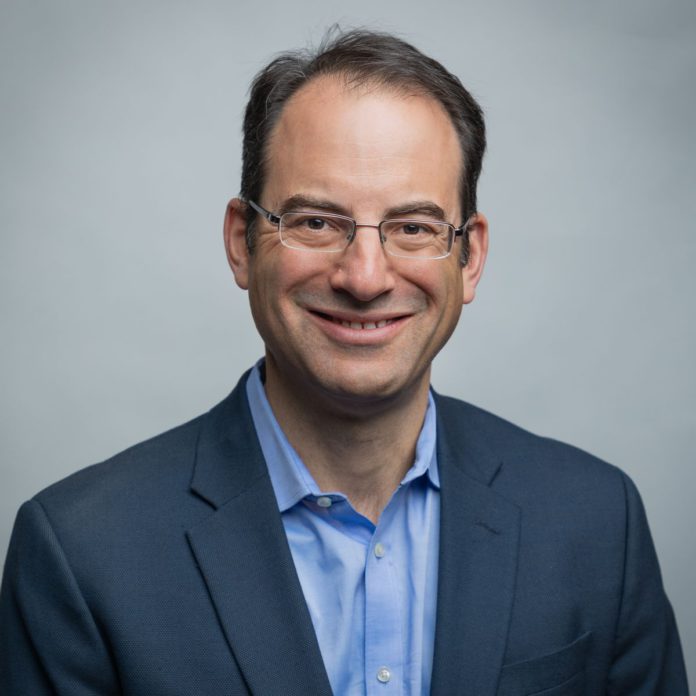 Phil Weiser, candidate for Colorado attorney general, announced that his campaign raised $263,276 in monetary contributions during the reporting period ending Dec. 31. Including in-kind contributions made to the campaign, Weiser's fundraising total since declaring his candidacy in May 2017 exceeds the $1 million mark, coming close to a state record. The campaign begins 2018 with $897,000 cash on hand. 
According to Weiser's campaign, the funds raised this quarter came from 991 unique donors, 86 percent of which were Colorado, based individuals
"For the past seven months, I have traveled across our beautiful state learning about what matters most to Coloradans and what binds us together," Weiser said. "We enter this election year with an inspiring amount of momentum, which will continue to fuel this campaign to protect our freedoms and fight for opportunity for all."
Republican attorney general candidate George Brauchler reported $216,941.45 for the period ending Dec. 31, his initial reporting for the race. Brauchler filed for candidacy for attorney general in Nov. 21 after backing out of the gubernatorial race following the announcement that current attorney general Cynthia Coffman would not seek reelection. Brauchler begins his first full quarter of fundraising with  $206,536.18 on hand.
After Weiser, commercial litigator Brad Levin leads Democratic candidates in fundraising with $234,362 in total monetary contributions and $147,260 in cash on hand. Jefferson County prosecutor Michael Dougherty has raised $120,528, and ended the quarter with $57,393 in cash on hand. Former assistant U.S. attorney Amy Padden has raised $110,448 and has $92,130 cash on hand, and state Rep. Joe Salazar raised $57,009 and has $8,921 cash on hand.
The record for total funds raised for a non-gubernatorial state-race is approximately $1.05 million, reported by Cary Kennedy's 2010 campaign for Treasurer. Weiser expects to pass that mark in the first quarter of 2018.
LATERAL WATCH
Moye White announced Jan. 12 that Lucas Ritchie and Kelsey Bowers have joined the firm as a partner and associate, respectively. Both attorneys will be members of the firm's trial section.
In his practice, Ritchie represents companies and individuals in regulatory investigations and complex commercial litigation. He has experience in representing clients before federal, state and private regulatory authorities, including the Securities and Exchange Commission, Financial Industry Regulatory Authority, Colorado Department of Law, Colorado Public Utilities Commission, Colorado Civil Rights Division, and the Federal Motor Carrier Safety Administration. 
His trial court experience includes prosecuting and defending claims involving securities, corporate governance, business "divorce," business torts and fraud, employment and insurance matters.
Ritchie co-chairs the securities subsection of the Colorado Bar Association and serves on the executive councils of both the litigation and business law sections. Prior to joining Moye White, Ritchie was a shareholder at Jones & Keller in Denver.
Bowers practices in insurance defense where she has handled issues of workers' compensation, employment law, Medicare and general liability. In relation to her court experience, she has presented at administrative court hearings, depositions, settlement conferences and subrogation mediations. She has also drafted settlement agreements, position statements, appellate briefs, motions and client communications.
Bowers was previously an associate at Lee & Kinder in Denver. Prior to that, she worked as a legal extern at Anthem Blue Cross and Blue Shield.
Bowers is a graduate of the University of Denver Sturm College of Law and holds a bachelor's degree from the University of Florida.
Jackson Lewis announced Tuesday that Megan Holstein joined the firm's Denver office as a principal.
Holstein joined the firm from ReedGroup, where she was vice president of compliance. Her work focuses on the Family and Medical Leave Act, the Americans with Disabilities Act, and their state law equivalents, as well as disability and family leave benefits including ERISA as it pertains to short- and long-term disability plans.
Holstein previously served as in-house counsel with two publicly traded companies and ran her own consulting and law firm. Before that she also was in private practice where she represented clients in state and federal courts and agency proceedings in all areas of employment law. 
Holstein is a former planning commissioner for the Town of Erie and an adjunct professor in employee benefits law at the University of Colorado School of Law.
Holstein received her law degree from the University of Colorado Law School and her bachelor's degree from the University of Illinois at Chicago.
Brownstein Hyatt Farber Schreck announced Wednesday that Sarah Auchterlonie has joined the firm's litigation department as a shareholder and will be based in the firm's Denver office.
Auchterlonie is a former acting deputy enforcement director and one of the founding employees of the Consumer Financial Protection Bureau, the federal agency charged with investigating and prosecuting violations of laws that protect consumers of financial services.
During her time at the CFPB, Auchterlonie managed more than 20 enforcement attorneys as an assistant litigation deputy and an acting deputy enforcement director. Her notable work includes handling the CFPB's first administrative proceeding and appeal to the bureau director, In the Matter of PHH Corp.
At the Treasury Department, Auchterlonie represented the Office of Thrift Supervision as a trial attorney on issues involving regulatory capital, lending limits and loan concentration, the Bank Secrecy Act/Anti-Money Laundering Act, releasing confidential supervisory information, the Freedom of Information Act, investigations of bank employees and investigations arising from the financial crisis.
Oklahoma-based law firm Hall Estill announced Wednesday that Gordon Lindeen III joined as a shareholder in the firm's Denver location. He will lead Hall Estill's intellectual property practice in that office. He was previously a shareholder with Blakely Sokoloff Taylor & Zafman in Denver.
Lindeen is a patent attorney who assists clients with issues related to intellectual property acquisition and protection. In his 30 years of practice, he has counseled large corporations and start-up companies on developing, building, enforcing and maintaining patent portfolios in the U.S. and abroad. 
Lindeen received his law degree from California Western School of Law and his bachelor's degree from the University of California, Los Angeles.
JUDGE APPOINTMENT
Gov. John Hickenlooper on Thusday appointed Rachel Olguin-Fresquez to the Eagle County Court in the 5th Judicial District. She fills a vacancy created by the resignation of Judge Katherine Sullivan.
Olguin-Fresquez most recently served as a County Court judge in Clear Creek County, a position she has held since 2006. Previously, Olguin-Fresquez was a deputy district attorney in the 5th Judicial District from 1999 to 2006.  She earned her undergraduate degree from the University of Colorado in 1991 and her law degree from Tulane University School of Law in 1998.
Olguin-Fresquez' appointment is effective immediately.
BOARDS AND COMMISSIONS APPOINTMENTS
Gov. John Hickenlooper on Thursday announced appointments to the 3rd Judicial District Judicial Performance Commission.
Commissions on judicial performance were created in 1988 by the Colorado General Assembly for the purpose of providing voters with fair, responsible and constructive evaluations of judges and justices seeking retention. The results also provide judges with information to help improve their professional skills as judicial officers.
For terms expiring Nov. 30, 2021:
Lola Spradley of La Veta, to serve as a non-attorney, was reappointed;
Sharon Vezzani of Walsenburg, to serve as a non-attorney, was appointed.
CLARIFICATION
The Jan. 15 article Rules Unveiled for Speeding up FLSA Cases incorrectly identified the Institute for the Advancement of the American Legal System as being based in the Sturm College of Law. IAALS is physically located on the University of Denver campus near the law school but is not part of the DU Sturm College of Law.