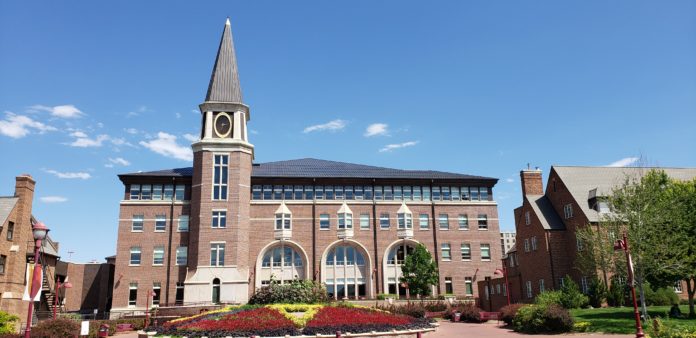 The legacy of Robert Yegge, a former dean at the University of Denver Sturm College of Law, continues to live on through scholarship.
According to a University of Denver Magazine article written after Yegge's death in 2006, he was committed to connecting the social sciences to law school studies and to civil rights making sure the law school was open to minorities. 
According to an article from the University of Denver Sturm College of Law, in 1967 a grant was received from the Ford Foundation to sponsor the legal education of 20 Hispanic students for three years — Yegge was instrumental in getting that program off the ground. Those original scholars included retired chief justice of the New Mexico Supreme Court Patricio Serna.
Currently, there are two scholarships named after Yegge at the school. The Robert B. Yegge Memorial Scholarship is a merit scholarship aimed at promoting diversity in the legal profession. The Robert B. Yegge Endowed Hispanic Scholarship is awarded to one or more outstanding students as a preference is given to Hispanic students, which is consistent with the underlying gift agreement. Neither of the scholarships require an application and all incoming students are evaluated for them.
According to a recent Law Week Colorado study, law school first year classes are becoming more diverse as the years go by including at the University of Denver Sturm College of Law. For that school, the study found the 2022 first-year class was 30% diverse concerning race and ethnicity, which is up from 15% in 2013.
Alexi Freeman, the associate dean of diversity, equity and inclusion at the University of Denver Sturm College of Law, noted scholarships overall are very important for legal education where the cost can be very high. 
"We need to find different pathways to help people fulfill their goals," Freeman said. "We need more scholarships because law school is just too expensive and that's a huge barrier to access and to diversifying the profession."
Freeman added it's important to recognize the inequities in the law. According to a 2022 report from the American Bar Association, about 80% of attorneys are white and 38% of attorneys are women. According to a 2022 report from the Colorado Office of Attorney Regulation Counsel, 49% of respondents were women while about 85% identified as white or Caucasian. 
"We have students who are first-generation who don't come from families of lawyers who don't have that insider access and knowledge. … These types of scholarships really matter for them," Freeman said. "We have students who come from rural areas. … It allows them to potentially go home and practice law in their community."
Ryan Tseng, who received the Yegge Memorial Scholarship, is entering his third year of law school. 
"The Yegge scholarship allowed me to attend law school and has provided me with the opportunity to pursue a legal career free of financial pressures," Tseng wrote. "It is both an honor and a privilege to be selected as a Yegge scholar."
Over the summer Tseng interned at a large firm where he got some great news.
"I have since accepted a return offer to join the firm post-graduation. I will be joining the litigation group practicing construction defect," Tseng said. 
Denver Law Ascent
Freeman noted the law school has the Denver Law Ascent program, which is open to all incoming first year students. The program starts with a pre-orientation and it's designed to support students from historically underrepresented communities in the profession by introducing students to each other and meeting some key figures in the building, helping them find a sense of belonging. 
"We designed this program to give them a boost in that direction, to get them a little more comfortable before they start," Freeman said.
Freeman explained they are in year three of the program, adding it could attract more students as only so many schools offer a program like it. According to the University of Denver Sturm College of Law's website, 20 students attended this year's Ascent program.
If you would like to donate to the Yegge scholarship programs, more information can be found here and here.