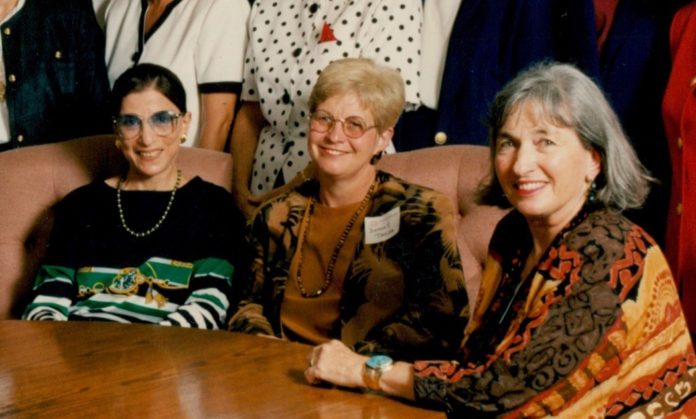 Zita Weinshienk, the first woman appointed to the federal bench in Colorado, died at age 89 Oct. 7. In Colorado's legal community, Weinshienk is remembered as a pioneer and inspiration to many lawyers and judges. 
Weinshienk passed away at her home in California surrounded by her family, according to a press release from the United States District Court for the District of Colorado. 
She was the first woman to ever be appointed to the United States District Court for the District of Colorado where she was an active judge from 1979 through 1998 and assumed senior judge status from 1998 through 2011. She was also the first woman to be appointed to the Denver Municipal Court (now the Denver County Court), from 1964 through 1965, and the first woman on the Denver District Court from 1965 through 1971. 
"She was a trail blazer throughout her career, whether as one of the first women to attend Harvard Law School, as the first female jurist in Denver or as the first female judge on the United District Court for Colorado," said U.S. District Court for the District of Colorado Chief Judge and a former Weinshienk law clerk Philip Brimmer in the release. "She inspired generations of young attorneys."
Weinshienk was born in 1933 in Saint Paul, Minn. She graduated from the University of Arizona with a bachelor's degree before graduating in 1958 from Harvard Law School. Weinshienk was among the first wave of women to attend Harvard Law School in the fall of 1955. The very first class with any women graduated only two years earlier in 1953. 
Weinshienk came to Colorado in 1959 as a probation counselor, legal advisor and referee at the Denver Juvenile Court. In an oral history with the American Bar Association's Women Trailblazers Project, Weinshienk recalled that law firms weren't keen on hiring women at the time and she had difficulty finding a job after Harvard Law. 
In 1964, Weinshienk was appointed to the Denver Municipal Court, kicking off her long career as a judge. 
"She was an inspiration to me and of course was an inspiration to many, many women lawyers who became judges and followed after her," said Judge Gary Jackson. 
In 1970, Jackson, was a new lawyer and the only Black district attorney in Denver and the state. As a young prosecutor, Jackson was assigned to Weinshienk's courtroom and said he appeared before her almost every day for nine months. 
"She was just so professional in terms of everything she did, in terms of handling her courtroom, her relationship with lawyers and other judges. She was the epitome of being a professional," said Jackson. 
Weinshienk oversaw the high-profile criminal trial of former Denver Black Panther Party leader Lauren Watson. Watson was found not guilty on charges of resisting arrest and resisting a police officer in a case that made national headlines as part of the civil rights movement. The entire four-day trial in March 1969 was filmed and eventually turned into the 1970 documentary Trial: The City and County of Denver vs. Lauren R. Watson. At the time Colorado was one of two states to allow cameras in the courtroom. 
Her 1979 appointment by former Pres. Jimmy Carter to the U.S. District Court for the District of Colorado was especially historic, Jackson recalled, since the Colorado federal bench had never had any judges who weren't white or men. 
As a federal judge, Jackson said Weinshienk always made an effort to welcome him in the court. Jackson, who was then in private practice, said he was still often the only Black person in the room and Weinshienk made an effort to introduce him to other federal judges and welcome him to her chambers. 
"It was for me, personally, a welcoming experience to have a relationship with her that provided me with comfort when I was over in federal court," said Jackson. 
Weinshienk had an impact on many others in the legal community. Former Denver District Court Judge and trial lawyer Christina Habas in 2018 recalled how seeing Weinshienk preside in court inspired her to become a judge and pursue a career in law. 
Accepting a lifetime achievement award from the Colorado Trial Lawyers Association, Habas recalled that as a child her mother brought her to the Denver District Court to watch Weinshienk in action. 
"I could not take my eyes off her," Habas said.
Among many other recognitions, Weinshienk was the one of Colorado Women's Bar Association 1995 Mary Lathrop Trailblazer Award recipients and the 2007 CWBA Foundation Raising the Bar Award recipient.