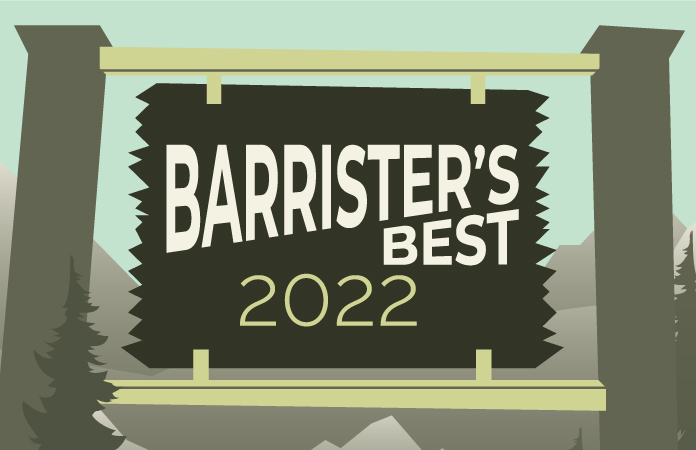 Personal Injury law lawyer
People's: David Hersh at Burg Simpson
In his sixth year of recognition in Barrister's Best, Dave Hersh has focused his practice on civil trial work for more than 35 years, trying more than 100 civil jury trials. He's served as lead counsel in catastrophic personal injury cases in cases involving brain injury, limb loss and severe disfigurement.
Barrister's: Ross Ziev
Ross Ziev started his practice Legal Help in Colorado to represent clients in personal injury cases and he's won millions of dollars for his clients. He's actively involved with the Colorado Trial Lawyers Association and was formerly on the board of directors for Reading Partners Colorado.
DUI lawyer
People's: Jay Tiftickjian at Tiftickjian Law
Jay Tiftickjian specializes in DUI defense in Colorado. He's been recognized as a Colorado Super Lawyer from 2010 to 2019 and he's been a regular in our Barrister's Best issue dating back to 2012. Outside of his trial work, Tiftickjian is also a legal analyst, lecturer and published author.
Barrister's: Abe Hutt at Recht Kornfeld
Abe Hutt has worked steadily as a trial lawyer in Denver for 38 years, where his primary focus is criminal defense. Hutt has successfully secured dismissals or acquittals in everything from DUI to first-degree murder and has served as faculty at both the University of Denver Sturm College of Law and the University of Colorado Law School.
Marijuana lawyer
People's: Aly Jaen at Messner Reeves
Alyson Jaen specializes in cannabis law and advises clients on cannabis licensing and regulatory compliance matters. She's the definitive "new but notable" lawyer – already being recognized by Best Lawyers in 2020 and 2021.
Barrister's: Dan Garfield at Fairfield and Woods
Dan Garfield has decades of experience in everything regarding cannabis and hemp. He represents a variety of businesses, including both public and private companies, investors, manufacturers and hemp farmers. Garfield previously represented the buyer of three retail cannabis stores in Denver in a multi-million dollar transaction.
Criminal defense lawyer
People's: David Lane at Killmer, Lane & Newman
Over his four-decade career, David Lane has taken more than 200 cases to jury trial, including death penalty cases and has argued cases at several state Supreme Courts. Outside of practicing law, Lane has also used his legal background to serve as an expert commentator to the media and teach at the University of Colorado School of Law and the University of Denver Sturm College of Law.
Barrister's: David Beller at Recht Kornfeld
David Beller, an experienced criminal defense attorney and former state public defender, focuses on criminal defense, attorney and judicial discipline and internal investigations. Beller celebrates many recognitions as a leading attorney in Denver and is has served in multiple leadership positions including as a past president of the Colorado Criminal Defense Bar.
Criminal defense white collar lawyer
People's: Fred Winocur at Ridley, McGreevy & Winocur
Fred Winocur's practice focuses on both white-collar defense and general criminal defense, and he's been recognized by his community as a Colorado Super Lawyer and one of the Top 100 Lawyers in Colorado Since 2006 and 2012, respectively. He's defended clients accused of financial fraud, healthcare fraud, mail and wire fraud, securities violations and environmental crimes.
Barrister's: Harvey Steinberg at Springer & Steinberg
Since founding Springer & Steinberg nearly 40 years ago with his partner Jeffrey Springer, Harvey Steinberg has made more than just a respected name for himself in criminal defense. He's ranked in the Top 100 Trial Lawyers by The National Trial Lawyers and he's been recognized by highly regarded peer review organizations like Best Lawyers.
Immigration lawyer
People's: Christine Hernandez at Hernandez Law
While practicing criminal and immigration law, Christine Hernández remains involved in various associations within her field including the Hispanic National Bar Association for which she has served as the chair of their immigration section for more than five years. Hernández was one of our lawyers of the year in 2019 and appeared in Barrister's Best in 2020.
Barrister's: Hans Meyer at Meyer Law
Before starting his firm, Hans Meyer spent years working in Latin America focused on human rights issues. He previously served as a trial attorney with the Colorado State Public Defender and worked as the director of public policy for the Colorado Immigrant Rights Coalition.
Trust/estates lawyer
People's: Julie Groves at Groves Law
Julie Groves, a lawyer at Groves Law, LLC for more than 11 years, is devoted to spreading awareness regarding the importance of future planning, particularly for women. Groves hosts an educational series for women that discusses estate, financial, retirement and caregiving planning to empower women.
Barrister's: J.P. Stouffer at Coan Payton & Payne, LLC
Having practiced law in the Denver area for nearly 50 years, J.P. Stouffer has developed a strong reputation in estate planning and administration and has frequently spoken to community groups and presented seminars on these topics. He is a member of the Title Standards Committee of the Real Estate and Titles Section of the Colorado Bar Association and has been listed in Best Lawyers since 2010.
Editor's note: This article was updated on Oct. 25 to reflect Ross Ziev's current board activity.