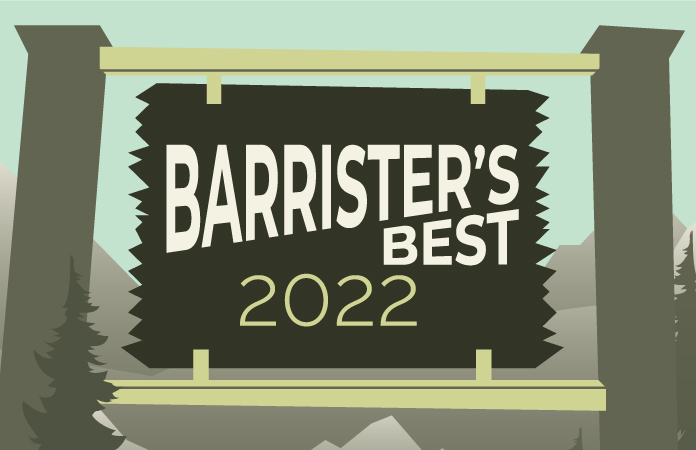 Corporate law lawyer
People's: Aubyn Krulish at Armstrong Teasdale
From her studies at the University of Denver Sturm College of Law to her present-day role as a partner and the managing attorney at Armstrong Teasdale's Denver office, Aubyn Krulish has spent her entire legal career in Colorado. Krulish works with both large companies and smaller startups to assist them in corporate law issues, including mergers and acquisitions, financing and restructuring. This is her third time appearing in this category in Barrister's Best.
Barrister's: Darren Hensley at Polsinelli
Darren Hensley has practiced in Colorado for the past 32 years and has an extensive and industry recognized corporate law practice. He's been included in Best Lawyers for corporate law since 2013, has been ranked in Band 2 in corporate law by Chambers USA since 2014 and was recognized by Super Lawyers twice for his expertise in this area.
Appellate law lawyer
People's: Anne Whalen Gill at Anne Whalen Gill LLC
Anne Whalen Gill began her legal career at the New York Supreme Court more than 40 years ago. Gill is a significant name in appeals litigation in Colorado, tackling everything from constitutional issues to zoning dispute appeals and has been recognized by Super Lawyers and is a mainstay in our Barrister's Best issues in this category.
Barrister's: Sean Connelly at Connelly Law
Sean Connelly is a former Court of Appeals Judge and U.S. Justice Department prosecutor, but in 2018 he shifted his focus to appellate law. He served as the lead appellate attorney in the Oklahoma City bombing cases and he's previously helped an oil company in the dismissal of a $100 million lawsuit. This is his third appearance in this category in Barrister's Best.
Family law lawyer
People's: Steven Visioli at BAM Family Law
Elected to partner at BAM in September 2021, Steven Visioli already had plenty of experience in the field of family law. He joined BAM in his last year of law school and oversees a litany of domestic cases, including high asset divorce, high conflict custody and dependency and neglect cases. He's a Best Laywers Ones to Watch recipient for 2021 to 2023 and has been a Super Lawyers Rising Star for the past two years.
Barrister's: Suzanne Griffiths at Griffiths Law P.C.
Suzanne Griffiths is familiar with industry accolades throughout her 39-year career — and she's certainly familiar with Barrister's Best recognition. She's been listed in this category consistently since 2013. Griffiths is a regular in Super Lawyers too, appearing in lists for Top 50 Women and Top 100 Lawyers since 2017.
Private equity lawyer
People's: Keith Trammell at WilmerHale
Keith Trammel's name may be familiar to Law Week readers since he was recently profiled as one of our Lawyers of the Year last year. He's also been recognized in Barrister's Best before in this category from 2016 to 2020. Trammel's diverse practice in corporate law, mergers and acquisitions and private equity have garnered more than a decade of industry attention and peer recognition.
Barrister's: Douglas Griess at Hackstaff Snow Atkinson & Griess, LLC
Douglas Griess worked in various fields of law before opening up his own firm in 2010 to focus on building his business practice. In 2016, he joined Hackstaff Snow Atkinson & Griess as a partner and since has counseled high-value mergers and acquisitions of companies in technology, manufacturing, distributing, construction and professional service.
Real estate lawyer
People's: Rita Connerly at Fairfield and Woods
Rita Connerly is known for her mix of knowledge and experience in public sector and real estate law that allows her to help clients navigate the processes of land entitlement and development. Profiled as one of Law Week's top women lawyers of 2019 and 2012, Connerly has overseen many deals that have developed the Front Range.
Barrister's: Jay Kamlet at Kamlet Law
Throughout his 25 years of practice, Jay Kamlet has displayed his entrepreneurial spirit and enthusiasm for clients focusing on the negotiation and structure of complex real estate development, dispositions and leasing. Kamlet's been listed in Super Lawyers for 15 years and has negotiated more than $15 billion worth of property development agreements.
Banking lawyer
People's: Christian Otteson at Otteson Shapiro
Christian Otteson oversees Otteson Shapiro's financial services practice. His areas of focus include assisting financial institutions with regulatory agreements and mergers and acquisitions and working with corporations on state and federal banking issues. He's been a mainstay in Barrister's Best for this category, appearing as either a barrister's or people's choice since 2016.
Barrister's: Chalyse Robinson at WilmerHale
Chalyse Robinson assists public and private companies through all facets of debt financing. Profiled as one of Law Week's Top Women lawyers of 2021, Robinson is also an active member of her community, offering pro bono work to a variety of local organizations.
Bankruptcy lawyer
People's: Mike Pankow at Brownstein Hyatt Farber Schreck
Throughout his 30 years of experience in corporate restructuring and Chapter 11 bankruptcy, Mike Pankow has garnered his fair share of peer and industry recognition. He's been listed in Best Lawyers since 2010 and was in our 2015 Barrister's Best issue for this category.
Barrister's: Rob Cohen at Cohen & Cohen
Rob Cohen focuses on consumer and corporate bankruptcy and he's overseen more than 8,000 Chapter 7 bankruptcy cases. He's been a Super Lawyer since 2013 and appeared in our 2017 Barrister's Best issue for bankruptcy law.
Tax lawyer
People's: Greg Berger at Brownstein Hyatt Farber Schreck
Greg Berger is the co-chair of Brownstein's tax group and he's been recognized by Best Lawyers since 2010. Berger was also profiled in Barrister's Best for the past three years and leverages his knowledge of big picture tax issues to aid clients in navigating this complex legal area.
Barrister's: John Snow at Hackstaff Snow Atkinson & Griess, LLC
John Snow focuses on tax advice for nonprofits. In 2020, he was awarded the Pro Bono Achievement award from the Colorado Supreme Court. Prior to joining his current firm in 2005 as a partner, Snow served as a lawyer for the U.S Postal Service, bringing a unique viewpoint to his tax practice.
Securities lawyer
People's: Luke Ritchie at Moye White
Recognized by Best Lawyers since 2020, Luke Ritchie concentrates his practice on securities. He was appointed by the Colorado Supreme Court to serve on the Colorado Civil Rules Committee and serves as the current Chair of the Colorado Bar Association's Business Law Section. Ritchie has also been recognized in Barrister's Best for the past three years in a row.
Mergers and acquisitions lawyer
People's: Rochelle Rabeler at Holland & Hart
Rochelle Rabeler has appeared in our Barrister's Best issue every year since 2014. She concentrates her mergers and acquisitions practice on power purchase agreements, and her clients depend on her solution-oriented method and advice as she counsels them through the stages of a complex project's lifecycle.
Barrister's: Aubyn Krulish at Armstrong Teasdale
Focusing on merger and acquisition, Aubyn Krulish counsels clients through the complexities of their deals and balances her efforts to close a deal with the needs of each client to keep risk as low as possible. She's been in Barrister's Best since 2020 for her broad and extensive corporate law practice and she's been listed in Best Lawyers for M&A for the past three years.
Renewable energy lawyer
People's: Michael Hazel at WilmerHale
Michael Hazel's represented a major wind-power company through a DOJ investigation into wind turbines' potential impact on wildlife, as well as providing counsel for an oil and gas company through multiple investigations and lawsuits. He has an active pro bono practice representing asylum seekers. Hazel has been in Best Lawyers since 2018 and was a Rising Star in Super Lawyers in 2018 and 2019.
Barrister's: John Snow at Hackstaff Snow Atkinson & Griess, LLC
Snow's second appearance in our Barrister's Best list this year highlights one of his other focus areas, renewable energy project development. He's negotiated more than 1 million acres on easements and leases for farmers and ranchers.
Oil and gas lawyer
People's: Lance Astrella at Astrella Law
Lance Astrella, a lawyer of nearly 40 years, focuses his practice on energy and environmental issues. His firm represents a variety of landowners in oil and gas matters, and strongly advocates for new forms of energy and resource development, finding a balance between energy development and its effect on the world.
Water law lawyer
People's: James Eklund at Sherman & Howard
James Eklund oversees Sherman & Howard's water and natural resources practice, in which he advocates for smart water infrastructure across the West. Serving as the lead signatory and negotiator for Colorado's River Drought Contingency Plan and the director of the Colorado Water Conservation Board, he became known for his mixture of diplomacy and crafting common ground between opposing interests.
Barrister's: Steve Leonhardt at Burns, Figa & Will
Steve Leonhardt has represented local water suppliers, developers and individuals with the establishment, protection and modification of water rights in hundreds of cases. He's involved in the Colorado Water Congress and, in addition to appearing in our Barrister's Best issue,  was also recognized by Best Lawyers this year.