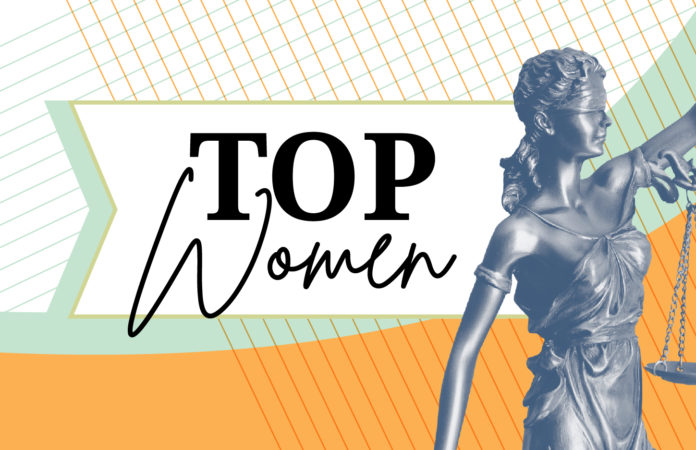 Emily Kimball is at the forefront of many arenas of the law like railways, drones, the environment. She has even been working to get those in need out of Afghanistan.
Kimball, a partner at Hogan Lovells' Denver office, first obtained an interest in the legal field after graduating as a public policy major from Duke University. She then got the opportunity to work for New York U.S. Sen. Chuck Schumer and noticed a lot of the people she interacted with were lawyers who had interesting legal careers outside a courtroom. 
"It showed me that this was a way to kind of merge my interests in public policy with a career, with a practice of law, in a way that I thought would open a lot of doors and give me a lot of unique experiences," Kimball said. Many of the issues she worked on in Schumer's office were related to transportation. 
And those doors have opened wide for Kimball who has made the most of her legal career. She considers herself an environmental lawyer with a focus on transportation, finding those areas often come together when it comes to the Clean Air Act and emissions requirements. She also does work on the transportation of hazardous materials by rail. 
Kimball works as outside counsel and strategic advisor to the Railway Supply Institute, a trade association that represents suppliers for the railway industry, which includes suppliers of tank and freight cars. When the COVID-19 pandemic hit, Kimball worked with RSI's members to stay open as essential workers.
"I think this is where a lot of aspects of my practice came together in terms of advocacy before the federal government, responding to [the] business environment, how … rules [and regulations] impact the business environment and we were working pretty much around the clock to establish suppliers to the rail industry as part of the nation's critical infrastructure," Kimball said. 
After the train derailment in East Palestine, Ohio, that led to a chemical spill and fire, Congress, the U.S. Department of Transportation and the public have focused on reforming rail safety. Kimball has been working with RSI during this period, helping the organization respond to reform proposals.
Kimball is also the deputy director of the Commercial Drone Alliance. CDA is a trade association that brings together the entire system of commercial drones which includes domestic drone manufacturers. 
"What we're trying to do is support efforts to ensure that commercial drones can be [scaled and] safely and securely integrated into the national airspace system," Kimball said. 
Kimball also has a humanitarian pro bono practice, working with families in Afghanistan who are trying to escape the Taliban-led country. Hogan Lovells has more than 270 U.S. colleagues (with 15 in the Denver office) working on applications pro bono to get families out of the country. The one Kimball worked on was for a 30-member family that was trying to get out. Kimball's application is still pending, as she noted there's a large backlog, but the firm has had strong success getting people out of the country, with many of them reaching the U.S.
"It was incredibly rewarding work, it was also emotional work," Kimball said.
Kimball has also done pro bono work with the Rape, Abuse & Incest National Network for several years alongside many other lawyers in the firm. Kimball helps review and update legal reference databases RAINN has.  
Kimball mentors young lawyers at the firm both formally and informally. She is part of a program at Denver's Hogan Lovells office that creates opportunities for more senior women lawyers to mentor junior lawyers. 
"In my informal role mentoring attorneys, I think helping our younger attorneys through that phase in their lives [when they are starting families and have young kids] has been really important to me because of my experience here at the firm and because I had that, particularly from more senior women who had been in that position before me," Kimball said.
Kimball noted it can be tough trying to figure out how to work at a large law firm while raising a family. Kimball has two boys, ages eight and five.
Kimball noted Hogan Lovells offers different resources and tools to help people find the flexibility they need during different points in their life. Since returning from maternity leave after her second child, Kimball has worked two-thirds time and was still able to make partner. 
Balancing family and a career can be tough, but Kimball said she's been able to do it through getting help and accepting you can't be perfect all the time. 
"I think it takes good communication skills with your spouse," Kimball said, explaining they get a lot of help from family, friends and neighbors. "It takes grace. It takes the ability to say 'I'm not going to be the perfect lawyer, mother, spouse every day.'" 
She added you shouldn't judge yourself on any given day, but rather look over longer periods of time.