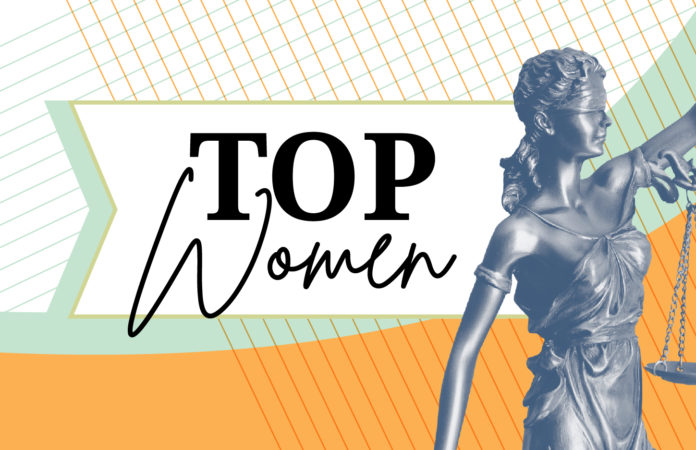 For Kristen Frost, being a defense attorney is closer to a calling than a job. 
"You've got a human being's life in your hands and their liberty," explained Frost, a partner at Denver-based boutique firm Ridley, McGreevy & Winocur, P.C. 
Since she began practicing law around 20 years ago, Frost has racked up a number of wins for her clients. She primarily works in criminal defense but also handles civil defense cases. 
Attorneys who have worked with Frost (both at her firm in Colorado and across the country) described her as tenacious in her nominations for Law Week Colorado's 2023 Top Women. Paralegals and attorneys noted Frost has the ability to combine high-level legal theory with a willingness to get elbows deep in the less glamorous parts of litigation, like extensive document review, to find a needle in the haystack of evidence. 
No matter the case, Frost believes her duty as a defense attorney is to hold prosecutors' feet to the fire and ultimately strengthen the criminal justice system. 
"Federal and state governments both have a lot of resources, a lot of power. And there needs to be a check and balance on that," added Frost, who said underlying her practice is her deeply held belief in "keeping fairness in the courtroom." 
In the last year, Frost has helped secure several high-profile victories for clients. 
Last fall, Frost was part of the Ridley, McGreevy & Winocur team that secured the dismissal of criminal antitrust charges against their client Timothy Stiller, a former poultry industry executive. Stiller was in the last cohort of 10 defendants to have charges dropped after two mistrials and not-guilty verdicts for five defendants in the lengthy antitrust case filed in Colorado federal court. 
Frost considers this case a career highlight and emphasized she is grateful to have worked alongside and learned from the roster of attorneys who represented Stiller's co-defendants. Frost was also part of the Ridley, McGreevy & Winocur team that helped secure the dismissal last March of second-degree murder charges brought against Matthew Dolloff in a high-profile case.  
Growing up in Chicago, Frost said she always wanted to be a lawyer. But after receiving her undergraduate degree from the University of Notre Dame, she took a few detours on the way there. 
Frost received a master's degree in Irish history from the University of Galway in Ireland after her undergrad. In Ireland, she wrote her thesis on British colonialism in the 1800s, which involved weaving together high-level theory and nitty gritty research skills, like digging through centuries-old documents at The British Library. 
Frost returned to Chicago and earned her J.D. from the DePaul University College of Law where she was a Sullivan Fellow at the school's International Human Rights Law Institute. 
After law school, Frost moved to Italy for a fellowship with the Siracusa International Institute for Criminal Justice and Human Rights. She spent the year learning about international criminal law and interviewing women who were former judges in Afghanistan before the Taliban took over the country's government. In her interviews, Frost was able to connect with and learn from the women who were defrocked and often faced violence as former judges. That fellowship helped solidify her interest in criminal law, she explained. 
"International criminal law can be much more focused on prosecution of international crimes and the rights of victims," said Frost. "Whereas I would always think about the defense perspective." 
When she moved back to Chicago in 2005 and a position at a smaller criminal defense firm opened up, Frost took it and started her career. Frost moved to Colorado several years later and worked at the Office of the State Public Defender before she was hired in 2009 at Ridley, McGreevy & Winocur. 
Since then, Frost has defended clients in state and federal court in Colorado and across the country including at the appellate level. She's represented clients facing murder charges to narcotics charges and almost everything in between. Frost is also a member of numerous bar associations for women and defense lawyers and regularly presents lectures on criminal law. 
In the courtroom, Frost sees her gender as an asset. 
Women in the law have made great strides in the almost 20 years since Frost began her practice, but she said she's been on the tail end of plenty of pet names and sexist comments from both lawyers and witnesses alike. 
"But you know, I think it's been a benefit to me in the sense that I've used it to my advantage," said Frost, noting attorneys on the other side of the courtroom have underestimated her before. "You can't let yourself and your representation get affected by it. Instead, you use it to your advantage."
Frost said in the courtroom she thinks of questions and perspectives women on the jury might have that male colleagues might not consider. She also added with certain criminal charges and accusations, like sexual assault, having a woman at the table for a male defendant can bolster the defense. 
Throughout her time as an attorney, plenty of cases stick with Frost including one where she ended up devoting multiple years and countless pro bono hours to a client.  
Frost and her firm represented the client in Colorado after he faced criminal charges that could have resulted in a life sentence. A jury found the client not guilty, but he was extradited to Virginia to stand trial on charges that stemmed from the same accusations. 
The client couldn't afford an attorney for the Virginia case after he'd lost his job while in custody in Colorado. Frost decided she would keep representing the client on a pro bono basis. She was admitted to practice in Virginia and began building a defense for the charges that were nearly identical to the Colorado case. 
Frost said the Virginia prosecutor refused to drop the charges until a couple weeks before the new trial. She said the prosecutor then filed perjury charges. Had her client been convicted of perjury, Frost explained, he wouldn't have been able to take the stand in his own defense for the other case. 
The perjury case went to trial and was dismissed by a court midway through. The Virginia prosecutor refiled the other charges, the case went to trial and Frost's client was acquitted again. 
"That episode probably took I would say four to five years of my life," said Frost. 
Not many lawyers would stick with a client for so many years on a pro bono basis, but to Frost, the thought of an innocent person going to jail for the rest of his life kept her up at night. To her, it was a case where she could hold the government accountable for the high burden of proof that comes with the power to bring criminal charges. And she did just that. 
"Clients are particularly vulnerable. They need advocacy," said Frost. "Protecting the human being who has been accused needs to be done in a manner such that the defense can ensure that the government is playing fair … and that the system is working as it should."