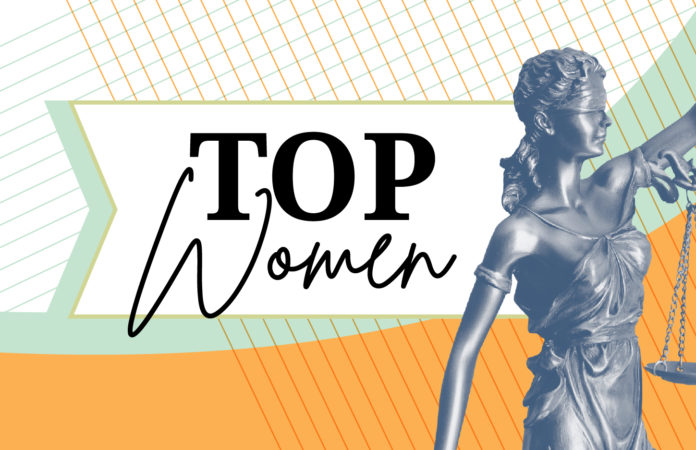 Melissa Reagan is at the top of her career as she continues to fight for diverse voices in law.
As a member at Sherman & Howard in Denver, she has done a lot. From her involvement in the data security and privacy group to serving as the chair of talent acquisition, inclusion and diversity, Reagan is a leader in her own right. 
Born in Colorado, Reagan moved to West Virginia when she was only three years old. From a young age, she always had interest in law, even wearing a Harvard sweatshirt. Reagan attended Washington University in St. Louis where she received a bachelor of science in business administration, graduating magna cum laude. She then moved to San Francisco where she worked primarily in investment banking. But wanting to make a difference, she said she took a pivotal step in her career.
She attended the University of Colorado Law School. Reagan graduated with a law degree in 2005, ranking in the top 10% of students on the dean's list. She went on to join Sherman & Howard in 2006. Although Reagan is practicing at a big law firm, she still wondered how she would make her mark in the world. 
She recalled attending the Colorado Women's Bar Association Foundation dinner. It was at this dinner where Reagan heard powerful stories of judges, pro bono work, public interest work and more. During the event, Reagan turned to one of her law partners and questioned how influential their one law firm could be. "Biglaw firms are where the change needs to happen the most, more so than a lot of these other areas," said her law partner. "Biglaw is where the numbers [for] diversity … [are] just super low."
From then on, Reagan made it her mission to unite diverse voices in law, both practitioners and clients. In 2014, Sherman & Howard's Women Initiative kicked off, focusing on the advancement of women through the firm and business development. Reagan was the chair of it in its formative years as it falls under the firm's diversity and inclusion initiatives which focus on recruiting, retention and promotion.
Sherman & Howard's diversity and inclusion strategic plan was spearheaded by Reagan in 2020 and was presented to the executive committee at the beginning of 2021. Part of this strategic plan was to create and implement a diversity and inclusion task force. 
Reagan also helped launch the Denver Law Firm Coalition for Racial Equity with four other law firms in Denver — Holland & Hart, Brownstein Hyatt Farber Schreck, Wheeler Trigg O'Donnell and Davis Graham & Stubbs. The coalition was formed as a result of George Floyd's murder in 2020. 
"We're not going to increase racial diversity by doing this stand-alone," said Reagan. "This is not an area where a law firm should compete; we should get together … to create a legal community where everyone feels welcome." 
For Reagan, it's also about diversity of thought. 
"Making sure there's diversity in the leadership [has] been really important for me to make sure we start developing potential leaders of our firm at a much earlier stage in their career," Reagan said.
Sherman & Howard member Rajesh Kukreja often offered his free time and effort to assist Reagan in the diversity and inclusion efforts. Reagan decided to create a separate talent acquisition role just for Kukreja. 
"Diversity, equity, inclusion, and workplace flexibility are core to our firm's culture and growth," said Kukreja, when the firm was recognized by the Diversity and Flexibility Alliance for workplace inclusivity and gender equality in 2021. "This recognition underscores our efforts to promote these initiatives across all of our offices."
Lyle Wallace has known Reagan for the six years he's been with Sherman & Howard and thinks highly of her. "What really sets her apart is just everything that she does within the firm and then in the community," said Wallace. 
Wallace recognizes Reagan's impact as an advocate, mentor and example for young female lawyers at Sherman & Howard. "A lot of times, the primary focus is on, 'hey, I need to do good work and be a productive attorney so that I can become a partner,' but then that's kind of where it stops," said Wallace. "And [then] they don't see avenues for becoming a leadership voice within the firm … so she's done a great job of demonstrating that … as an example." 
As a mother of two girls, Reagan wants to show them they can achieve anything. 
"Another challenge for female attorneys is balancing a career and raising kids, and she does a great job of that as well," said Wallace. "And so that's another way in which some of our female attorneys see that you can manage that and be a leader within the firm, while having a family life as well."
In Reagan's family, her dad was a college football coach, so she grew up in the world of sports. She even became a letter-winner for women's basketball at Washington University. 
"A team can be so empowering and incredible," said Reagan. Inspired by this passion, she searched for ways to give back to the community and eventually joined the Colorado Sports Hall of Fame board. Part of the proceeds are raised to build programs and provide resources for youth to "cultivate character and citizenship as they grow toward leadership."
As Sherman & Howard welcomes eight brand new associates for its summer program, the firm is also welcoming fresh perspectives and new energy. To these up-and-coming lawyers, Reagan says you can always grow your voice. 
"There are so many opportunities to use that voice, not just at a law firm," said Reagan. "There's a lot more opportunities for people to have a voice at the table and be invited to have that voice."