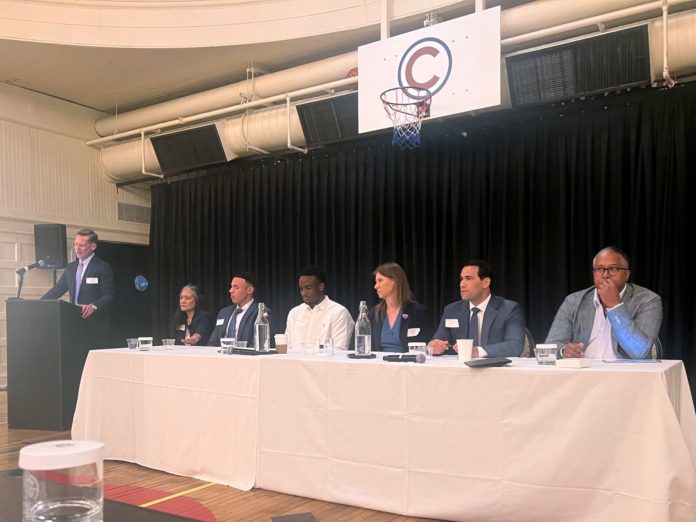 Independently, Colorado's five largest law firms had been facing the same retention challenge: a Black attorney was hired and moved to Colorado, but shortly after left the firm and the state. The lawyers reported bad experiences at the firm, but more than that, they didn't feel a sense of belonging in Colorado where just above 3% of lawyers are Black. 
Katie Reilly, a partner at Wheeler Trigg O'Donnell, was thinking about that problem on a bike ride in 2019. Changing a law firm's culture to be more inclusive is challenging enough, but how can you change a professional community to create a greater sense of belonging for diverse attorneys? Sparking that kind of change would require collaboration on a large scale, Reilly thought. 
In 2020, that thought came back to Reilly. The killing of George Floyd at the hands of police officers had sparked national uproar and opened up questions about systemic racism and its harms. In the law, firms and others reflected on the historic exclusion of people of color from the industry. 
Reilly approached leadership at Colorado's four other largest law firms — Davis Graham & Stubbs, Brownstein Hyatt Farber Schreck, Holland & Hart, Sherman & Howard — to start the Denver Law Firm Coalition for Racial Equity. Together with Wheeler Trigg O'Donnell, the Colorado-founded firms account for more than 800 attorneys in Colorado and were the five largest firms locally according to findings from Law Week's 2022 Colorado 200 report. 
"We wanted to create a situation where even if our firm was losing a diverse lawyer, the Denver legal community wasn't," said Reilly, who explained as long as she's been an attorney, she's observed diversity, equity and inclusion programs at individual firms that don't always pan out. But joining forces could change that, the group of firms hoped. 
Since its founding in 2020, the coalition has worked toward improving recruitment and retention rates for racially diverse attorneys, with an emphasis on Black attorneys, in Colorado's legal and business communities. 
More than two years in, representatives with the coalition say it has partnered with existing organizations committed to increasing racial diversity in Colorado, held events to encourage out-of-state diverse attorneys to Colorado and worked to build a sense of inclusion for coalition members and others in Denver. 
While the five firms are still fierce competitors when it comes to attracting and retaining talent, firm leaders said they felt joining forces to move the needle would have a bigger impact than anything they could do on their own. 
"This is an issue that we all feel very strongly about and that we decided we could work together to try to harness some of the energy in the marketplace and in our respective firms to make genuine improvement, not just to the legal community, but the business community in Denver," explained Chad Williams, co-managing partner at Davis Graham & Stubbs. 
One of the first projects the collaborative worked on was creating a report with input from the judiciary, private practice, in-house counsel, government attorneys and other stakeholders to better understand what challenges impact recruitment and retention of diverse lawyers. The report, created by the Institute for the Advancement of the American Legal System at the University of Denver, offered recommendations for building a more inclusive legal and business community. 
The coalition also hosted Jerry Blackwell, the lead prosecutor in the trial against Derek Chauvin who was convicted of killing Floyd, for a fireside chat last year and has partnered with organizations like Law School… Yes We Can! and the Center for Legal Inclusiveness.
In March, the coalition hosted its second recruitment event in Chicago with the hopes of persuading diverse, out-of-state attorneys to consider practicing in Colorado. The Practice Denver initiative brought a panel of speakers, with representatives from each of the five law firms, to present to Chicago-area law school students. Following the panel, the firms hosted a mixer for students. The program hopes to recruit current students for summer associate roles in Denver and teach students more about Colorado. 
Last year, between 15 and 20 students joined and in April a higher number of students, between 30-35, attended, according to coalition members. This year, Colorado Court of Appeals Judge Christina Gomez also joined Practice Denver to share her insights around practicing and Colorado. 
While the coalition has long-term goals around changing the professional culture in Denver, smaller steps, like Practice Denver, are bringing them forward. 
"This is the kind of thing you can't fix overnight," said Ali Metzl, a shareholder at Brownstein. "So Practice Denver is about changing the impression … of what it means to come and live in Denver and practice law here." 
Recruiting more diverse attorneys is one piece of the coalition's goal, but Phyllis Wan, a longtime attorney in Denver and current chief diversity and inclusion officer at Holland & Hart, explained keeping diverse lawyers is an equally important part. Bringing diverse lawyers together to help establish a sense of community and belonging is one way Wan said the coalition hopes to improve retention. 
Reilly said the five firms are hoping to foster a community for diverse attorneys through a summer associate event this year that will bring together diverse associates from across the firms. 
"It's showing them that you're not just joining this firm, you're joining this legal community, and we are going to facilitate introductions outside the firm," said Reilly. "We are going to be intentional and committed to helping you build that community because we know we can't do it just within our respective groups." 
Looking toward the future, members of the coalition said they hope fostering equity, inclusion and diversity will create a sense of community for diverse attorneys coming to Colorado and in turn that will create a more diverse bar. 
"It is hard to measure whether someone feels that they have that inclusion, that belonging. But if we build up the community for the people who are here, and we see less movement around and attrition, I think we will know [we've met our goals]," said  Wan. 
While other states have initiatives to increase diversity, Reilly said Denver is the only place she knows of where a coalition of direct private practice competitors have come together to spark change. She added she thinks it's a reflection of a larger part of Colorado's legal community and hopes the momentum will continue. 
"As I understand it, this is pretty unique. And I have to say, I don't think that's by accident," said Reilly. "We're going to have to approach this as a full Denver community. It can't be siloed to get that really critical mass, which is what we need for people to truly feel comfortable in a sense of belonging in this community."