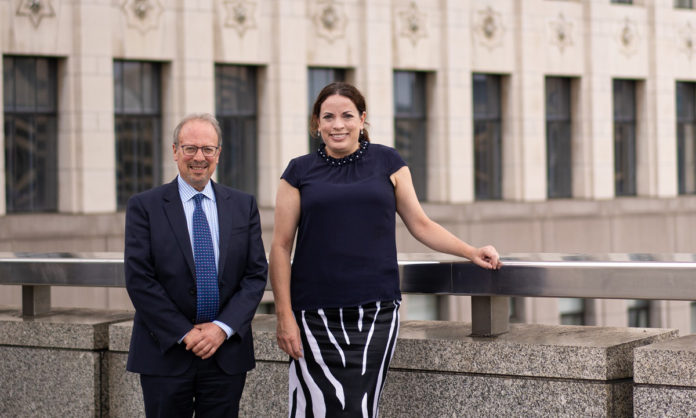 Companies have a lot of options for outsourcing legal work, with BigLaw firms, accounting giants and alternative legal service providers offering different types of help for in-house counsel. Now a global firm is bringing these services under the same roof. 
Last week, Bryan Cave Leighton Paisner announced BCLP Cubed, which aims to be a one-stop shop for complex legal advice, high-volume services and legal operations support with the goals of "speeding up transaction cycles, reducing costs and providing data insights," according to a news release.
"For us, it was really a no-brainer that we put all of that together for end-to-end services so our clients don't have to go around and cobble together different types of service depending on their needs," said BCLP Chief Innovation Officer Katie DeBord, who will lead product development for the new service. 
DeBord, who is based in Denver, developed the concept with London-based BCLP partner Neville Eisenberg, who will serve as full-time CEO of BCLP Cubed. The new service will officially launch in September.
Bryan Cave first launched a legal operations consultancy under the name BCXponent in 2016, which was rebranded as Cantilever after being combined with Berwin Leighton Paisner's Streamline service following the 2018 merger of the two firms. 
Cantilever has focused on helping corporate legal teams improve workflow and efficiency through its consulting services and tech tools, including data analysis, artificial intelligence and automation.
"Most BigLaw firms, frankly, were not even touching legal operations back when we were touching it. So that was sort of the first step of BCLP Cubed," said DeBord, who co-leads Cantilever.
Cantilever's legal operations work will be rolled into BCLP Cubed, which will add complex legal advice and high-volume services, such as contract negotiation and real estate management, to its menu of services. BCLP Cubed will remain a division within the firm so it can offer the kind of complex advice that only attorneys can give.  
"The reason we launched BCLP Cubed was because the reality is that there's only one type of entity that can provide what I would say is all three levels of service," DeBord said. 
BCLP Cubed was announced a day after global law firm Eversheds Sutherland said it was creating an alternative legal services arm, Konexo. Earlier in June, Greenberg Traurig announced a new legal services platform, Recurve, with headquarters in Denver. The Big Four accounting firms have also expanded rapidly into the legal services market, where they compete with alternative legal service providers like Axiom and UnitedLex. 
But DeBord isn't worried about a crowded market. She said the ability to provide complex legal advice on top of the high-volume work that alternative legal services provide sets BCLP Cubed — and law firms in general — apart. 
"First of all, I know the value proposition that we bring to the table. Second of all, I know the market size, and the market size is huge. And third of all, it's what our clients need,"DeBord said. "And so I don't think it's anywhere close to saturation."
"When you're responding to your clients' needs — because of the way they operate and how they've changed operations — it's the right thing to do, regardless of who also is doing it," she added. 
While BCLP Cubed will gather these services into a single division, its staff will be located on both sides of the Atlantic, with high-volume teams in St. Louis and Manchester, England, as well as employees in London and Denver, reflecting the international needs of many of the firm's clients. DeBord said the global nature of the operation also presents opportunities for learning.
"The UK market is a different kind of legal market than the U.S. market, and there's a lot we can learn from the UK market in terms of how we can support our clients and vice versa," she said.
DeBord said in-house legal teams increasingly expect service providers, whether law firms or alternative legal services, to provide the technology and data needed to improve efficiency and legal operations. 
"I would say almost as important, if not as important, as the ability to provide end-to-end services is the ability to provide, collect and analyze data for clients," she said.
DeBord said clients know that law firms are sitting on troves of data and expect them to use it to help them make decisions, mitigate risk and maximize revenue. For example, she said, data analysis could reveal that a certain contract provision is always rejected during negotiations, resulting in wasted time. In that case, the client would be better off leaving the provision out from the beginning.
"The only way to say that to your client is if you have the data to show that that's happening on a systematic basis," said DeBord.
BCLP already has proprietary software, called CrossLite, to help manage workflow and data. DeBord said that BCLP Cubed's technology platform will incorporate this software while adding new functionality.
— Jessica Folker