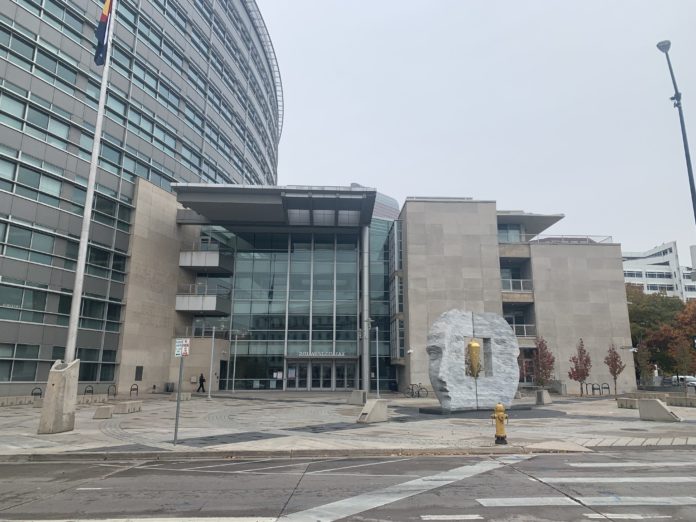 Usually, before a case ever hits the desk of one of the Denver District Attorney's prosecutors, it's taken on by one of the office's victim advocates. While not recognized as traditional legal professionals, victim advocates play an essential role behind the scenes of Denver's justice system. 
On paper, the 28 victim advocates at the Denver DA's office inform victims of crimes of critical case stages, help witnesses with the logistics of trials and connect victims with resources. But off paper, the job requires empathy and emotional intelligence to guide victims of crime through the justice system. 
It is a role that Chief Deputy District Attorney for the 2nd Judicial District Andrew Luxen said is essential for his work as a public sector attorney. "That supportive first interaction can make all the difference" for a victim of crime navigating the criminal justice process, Luxen explained, "and I've heard victims of crime say that." 
Under the Crime Victim Rights Act, those directly affected by crimes ranging from murder to first-degree burglary are entitled to be informed of all critical stages of the criminal justice system, be treated with "fairness, respect and dignity" and be protected from "intimidation, harassment and abuse." Victim advocates help the Denver DA's office inform victims of crimes during all these stages, but more importantly, they play a key role in explaining the court system to those who may not be familiar with the process. 
They also get to know the victims and build rapport, which can be a crucial step in keeping both victims and witnesses on board throughout a criminal process. 
Jenny Johnson, Denver DA's director of victim services and a victim advocate with 30 years of experience, explained that the criminal justice process can be incredibly difficult for victims of crimes. On top of any emotional distress caused by the crime, victims can find themselves in the middle of a stiff, formal and unfamiliar court system. Part of the advocate's work is explaining the process, Johnson said. "It's really kind of a foreign language, 'cause if a victim were to go to court and just sit there, they would not have any idea what was being said." 
Their work also involves acting as an in-between for prosecutors following the law and those impacted by crime. "Sometimes it's really difficult to explain to a victim why a plea bargain might be the best outcome in a case as opposed to going to a trial," said Johnson, "so a victim advocate plays a really big role in having those conversations." 
Maribel Salazar has been with the Denver DA's office for 27 years. She started as a secretary who frequently translated for victim advocates before becoming a victim advocate herself. It's a career that "chose her," she said. 
She became a victim advocate to be part of a team that is doing the right thing, she said, but she has stayed in the often difficult and emotionally taxing position to support victims. "I was hesitant about it and then it just became my passion," said Salazar. 
"Just being able to get them [victims of crime] through what is probably the hardest time in their life, to just be there, to just be the additional ears to hear what they're being told" is Salazar's favorite part of the job, she explained. 
Salazar was recognized by the Colorado Organization for Victim Assistance as this year's Outstanding Victim Advocate within the Public Sector. 
Luxen nominated Salazar who works on his team for the award. Luxen thinks the public might not know the full extent of work that victim advocates take on in the legal system. "What the job description doesn't talk about is the hours and hours victim advocates spend on the phone, in person, providing comfort, providing empathy, drawing upon their own deep well of experience and compassion and sharing that with the victims of crime." He added that victim advocates are essential to his work as an attorney. 
In the court system, Luxen said, victim advocates bring empathy to those impacted by crimes, which is something the law can't always do. "The bad thing that happened isn't going to go away, but the way a victim of crime is treated can make a huge difference," said Luxen. "When you have a group of people that are as caring, willing to lead with their hearts and to share with the victims of crimes themselves, I think that's the part that makes the big difference." 
During trials, victim advocates in the Denver DA's office fill a wide range of roles to support public sector attorneys. The roles can range from voicing a victim's interest on a potential legal move, asking questions attorneys may not have considered but the jury could be wondering and offering emotional support to victims of crimes so that testimony goes smoothly. 
"We have to make sure the trial itself goes so smoothly," explained Salazar, which means a lot of behind-the-scenes work. 
"Per judges' instructions, we cannot show any kind of emotion when we go into the courtroom, that includes the victims," explained Salazar. "Unless they're on the stand, we have to tell them [victims] no emotional outbursts." 
"We will be out in the hallway holding people up when they're about to take the stand, holding the trash can when they're throwing up," Salazar said. "We tell the victim how to get through it." 
Trial work can also involve witness considerations, Salazar explained. When she worked in the Denver DA's gang unit, she would keep witnesses in separate parts of the building to ensure a smooth trial.  
The job can be emotionally taxing, Salazar explained, "especially when you can relate [to] whatever they may be going through, whether it be because you have children the same age or an elderly parent. It might be hard to come home to your three-year-old when you've just worked on a horrific case with a victim that was a three-year-old." 
Drawing boundaries between work and home has come with time, Salazar says, but empathy and emotion are parts of the job. "I think that's part of being human," said Salazar. "It just goes hand in hand, there's no way of separating yourself from the pain that they're going through." 
"I could not do my job without people like Mari [Salazar], without her colleagues that work as victim advocates," Luxen emphasized, "it would be impossible." 
"The support they provide, the context they give to victims and other participants in the process is essential for us to be able to get a case from point A all the way through to trial and disposition," Luxen added. "Without them, this process wouldn't work."