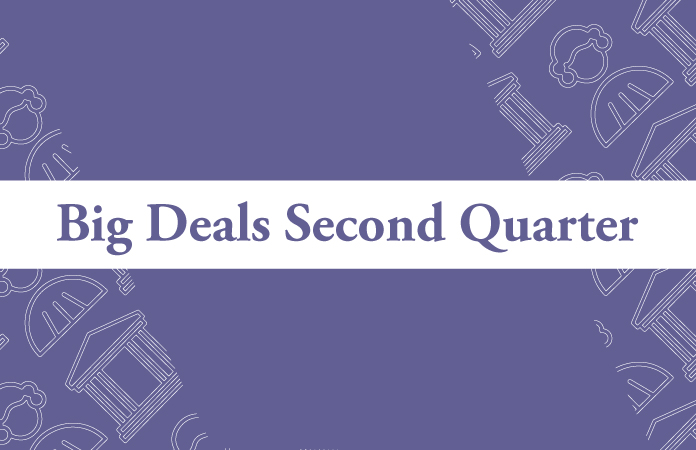 A lot of companies made huge investments this quarter. All to the tune of millions of dollars, as vested parties looked to bounce back after the pandemic in really big ways. Technology, gaming and clean energy were the winners as the world continues its shift to something new post-2020.
Davis Graham & Stubbs LLP | Atomos Nuclear and Space Corporation | $6 million
Trent Martinet, Partner; Jessica Dangoia-Crandall, Associate | DGS represented Atomos Nuclear and Space Corporation in its equity finance.
Gibson Dunn & Crutcher LLP | Atmos Energy Corporation | $1 billion
Robyn Zolman, Partner; Meredith Ashlock, Associate; Sarah Ediger, Associate | Gibson Dunn represented Atmos in connection with a SEC registered at the market offering with respect to $1 billion of shares of its common stock.
Hogan Lovells | The San Antonio Spurs 
Matthew Eisler (M&A Partner, Denver/New York); Russell Hedman (M&A Partner, Denver); Craig Umbaugh (M&A Partner/Global Head of Sports, Media & Entertainment, Denver); Mark Weinstein (Tax Partner, New York); Melissa Moravec (Corporate & Finance Associate, Denver); Brandon Leppke (Corporate & Finance Associate, Denver); and Jeff Nwagbo (Corporate & Finance Associate, Los Angeles) | A Hogan Lovells team represented the NBA's San Antonio Spurs in a strategic investment from Sixth Street, a leading global investment firm, and Michael Dell. Michael Dell is Chairman and Chief Executive Officer of Dell Technologies. In connection with the transaction, Peter J. Holt was named managing Partner of the team. Financial terms of the deal were not disclosed. This transaction closed contemporaneously with the company's acquisition and repurchase of membership interests from 13 other investors.
Holland & Hart | Verdant Microgrid, LLC | $150 million
Sam Edwards, Partner; Leslie Boyle, Partner; Rochelle Rabeler, Partner; Ryan Martin, Associate; Rocío Portela-Berríos, Law Clerk; Byron Crowe, Associate | Holland & Hart represented Verdant Microgrid, LLC ("Verdant"), a leading clean energy development company, in a $150 million exclusive financing agreement for the development of microgrid projects with ClearGen, LLC, a Blackstone Credit portfolio company that works with partners to deliver efficient and reliable energy infrastructure to consumers. Verdant develops, designs, builds and operates distributed generation projects for leading global commercial and industrial customers. This new partnership with ClearGen enables projects to be owned by ClearGen and operated and managed by Verdant. Energy that is produced by the microgrids is sold to the customers under long-term energy services agreements. This collaboration will address the growing market for on-site, distributed generation using multiple clean energy technologies.
Holland & Hart | The Last Gameboard, Inc. | $4 million
Mike Dill, Partner; Leah Neumann, Associate; Lindsay Silber, Partner; Sarah Ritchey Haradon, Partner; Kevin Selzer, Partner; Benjamin Gibbons, Associate; Craig Dammeier, Associate | Holland & Hart represented The Last Gameboard Inc., a company building the world's first tabletop gaming platform that blends physical objects with digital gameplay to enhance social interactions and build community, in its $4 million Series Seed financing round. The investment was led by TheVentureCity with participation from SOSV, Riot Games, Conscience VC, Corner3 VC, and others. The investment transaction will allow The Last Gameboard to continue to launch first-of-its-kind platforms for tabletop games and allow for wider distribution.
Holland & Hart | NextWorld Evergreen | $45 million
Chuck Cotter, Partner; Robert Denzer, Associate; Holly Ellsworth, Associate; Scott Havlick, Partner; Brent Johnson, Partner; Jeff Larson, Associate; Candace Alai, Venture Analyst | Holland & Hart represented NextWorld Evergreen, a San Francisco-based investment partnership, in its $45 million Series F Preferred Stock financing investment in Sambazon, the first certified Organic and Fair Trade Açaí company. Under the terms of the transaction, NextWorld partners David Fife and Tiffany Obenchain will join Sambazon's board of directors. NextWorld Evergreen invests in minority and majority positions in companies with revenues of $10 million to $100 million that focus on conscious consumer brands and practice transparency and accountability to the planet and the people who share it, while generating profitable growth. Sambazon, an acronym for "Sustainable Management of the Brazilian Amazon," invests a percentage of its fruit purchases directly back into communities in Brazil to support local farmers. The US company has a national presence across the natural and conventional grocery channels, retail stores, and a growing food service business, as well as international distribution in more than 45 countries.
Holland & Hart | CircleUp Growth Partners | $4 million
Chuck Cotter, Partner; Lauren Schoeffler, Associate | Holland & Hart represented CircleUp Growth Partners, an early-stage consumer investment fund with a data-driven, scalable approach to investing in visionary entrepreneurs, as lead investor in its $4 million Series A financing round of Ohza, one of the fastest-growing ready-to-drink cocktail companies in the industry. The round included participation from Branch Venture Group, Ruttenberg Gordon Investments, Riverside Ventures, and other individual investors. The investment will allow Ohza to support its newly inked partnerships with some of the largest distributors in the country, as well as expand their direct-to-consumer efforts.
Holland & Hart | The Pro's Closet Inc. | $40 million
Chuck Cotter, Partner; Lauren Schoeffler, Associate | Holland & Hart represented Colorado-based The Pro's Closet, an e-commerce retailer of pre-owned bikes, in a $40 million Series B financing round, led by The Chernin Group with participation from existing investors Foundry Group, Edison Partners, and Ridgeline. The investment will allow The Pro's Closet to grow its operations and technology teams, and retail and manufacturing partners, and to also facilitate physical expansion in new markets.