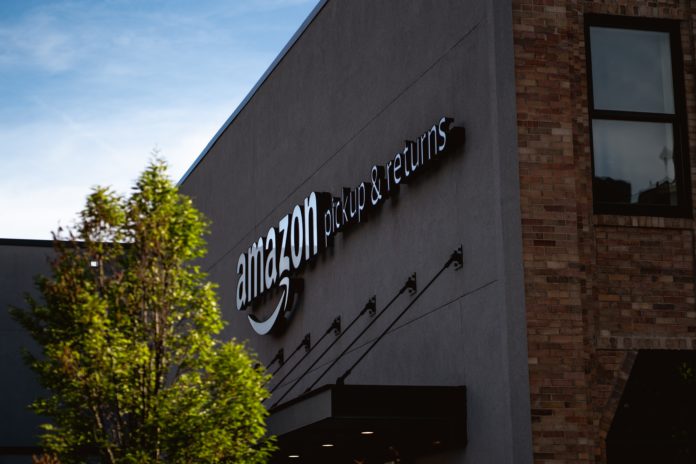 A former Amazon warehouse worker claims the online retail giant's policies violated Colorado employment law, according to a class action complaint filed last week. The suit, filed Oct. 1 in the U.S. District Court for the District of Colorado, claims that clock-in policies mean that at least 10,000 Amazon employees across five Colorado warehouses were uncompensated for work and overtime before and during the pandemic. 
Jennifer Vincenzetti worked at two Colorado Springs warehouses from October 2018 through December 2020 where she mostly sorted and packed packages and routed them for delivery. Vincenzetti was fired "for returning from a break late," according to the complaint. 
Vincenzetti says she was not allowed to clock in when she first arrived at work but did two to five minutes of work duties including picking up her badge and meeting with a shift assistant to get her job duties. The complaint adds that at some facilities, employees had to participate in uncompensated security screenings after clocking out. 
When the pandemic hit around March 2020, according to the complaint, COVID screening procedures meant "the off the clock duties required of Amazon's employees increased dramatically." Before work, employees were required to wait in a line outside the facility, have their temperatures checked and answer screening questions. The complaint alleges lines could last 20 to 60 minutes. 
According to Vincenzetti, who worked 40 hours a week, Amazon's policies punished employees who clocked in early or late. And, "if an employee clocked in early or out late too often, it would result in eventual termination."
The lawsuit claims that Amazon violated the Colorado Wage Act, the Colorado Minimum Wage Act and committed civil theft under state law. 
"These violations were committed knowingly, willfully and with reckless disregard of applicable law," the complaint reads, "Amazon knew it was requiring its employees to perform off the clock job duties and knew it was paying them nothing for these off the clock job duties."
The class action complaint joins "all current and former non-exempt hourly employees" who worked at Amazon's warehouses in the state "within the statute of limitations." Vincenzetti says the class is "so numerous" that she does not know the number of potential class members. But, based on the size of Amazon's operations, the complaint estimates that well over 10,000 people were affected. 
In the complaint, Vincenzetti asks for a trial by jury and asks the court to issue an order and judgement to certify the Rule 23 class and name her and her counsel as class representatives, to rule in favor on Vincenzetti and the class, to award actually actual and applicable statutory damage, to award costs and attorney's fees, to award pre-judgement and post-judgement interest when allowable by law and to grant other reliefs the court finds are just and proper. 
This isn't the first class action lawsuit to claim Amazon's policies broke employment laws. Lawsuits from across the country challenged mandatory and unpaid security screenings at the end of shifts. 
In the 2014 case Integrity Staffing Solutions, Inc. v. Busk, the U.S. Supreme Court ruled that security screenings are not compensable under the Fair Labor Standards Act and the Portal-to-Portal Act. 
In July, the Pennsylvania Supreme Court ruled that unpaid and mandatory bag checks and security screenings violated the Pennsylvania Minimum Wage Act. Amazon agreed to pay $13.5 million to more than 42,000 workers in the class action settlement. 
Vincenzetti is represented by Alexander Hood, David Seligman and Brianne Power from Towards Justice and Brian Gonzales from The Law Offices of Brian D. Gonzales, PLLC.